Like many other aspects of construction, Ontario's building codes are becoming ever more complex and it's tough to keep track of the many amendments that are now introduced between formal overhauls.
That explains, in part, why a recent seminar at Toronto's Construct Canada conference Nov. 29 drew a packed house of mechanical and structural engineers, architects and others, said Leslie Sims, principal and managing partner at Arencon Inc. and presenter at the seminar.
Sims, a mechanical engineer and building code consultant for over 25 years, who was also a vice-chair of Ontario's Building Code Commission from 2006 to 2016, told delegates with the Ontario Building Code getting thicker all the time and staff resources apparently stretched, Ontario no longer manages to complete a full revision every five years the way it formerly did.
What ends up happening is piecemeal upgrading and "patching" of the Building Code between formal updates, said Sims. Policy-makers have political imperatives to act on, such as accessibility, climate change, energy efficiency and the rise in wood structures in recent years, she said. Her seminar outlined seven sets of revisions that have been introduced since Ontario last approved a full package of codes in 2012.
And then there are unfortunate incidents, such as the collapse of the Algo Mall in Elliot Lake, Ont. in 2012. New measures such as requirements for parking garage inspections will take effect when the next Building Code is released in 2019.
Ontario's Building Code is generally based on the National Building Code prepared by the National Research Council.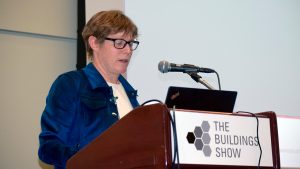 "The building code has been changing faster because of these amendments," said Sims in an interview. "The fire code, it is from 2007, here we are 10 years later, they have not been able to bring out new codes. I really think it comes down to resources within these ministry groups."
Sims said there will be some 450 amendments incorporated into the next Building Code in 2019, some of which have already been introduced.
"Everyone's got to agree, and it takes a while to get everyone on side," said Sims.
Amendments to the Ontario Code since 2012 have included sprinklering of retirement homes, which came into effect Jan. 1, 2014, changes to Exterior Insulation and Finishing Systems (EIFS), in effect Jan. 1, 2015, changes to increase accessibility, also in effect Jan. 1, 2015, revisions to mid-rise wood construction, effective Jan. 1, 2015, and revisions to retirement homes, effective July 1, 2017.
"The wood construction had some resistance to it. It took awhile to get all groups to agree on what is acceptable," said Sims.
A round of amendments reflecting the policies of Ontario's new Climate Change Action Plan will come into force next month, on Jan. 1.
Changes will include revisions to sewage system leaching chambers, to plumbing and pipes and to accommodate electric vehicle charging systems.
Looking into the future, Sims outlined changes to the National Building Codes of 2015 that will be introduced in Ontario, such as measures to ensure buildings are more resilient and can withstand seismic, wind and precipitation volatility.
And, she said, her crystal ball suggested there will be more accommodation of smart devices for functions such as fire safety and overall monitoring through wireless sensors; there will be alternative building materials to incorporate into existing standards; the code is already accommodating more performance-based design, allowing designers to find alternative solutions to reach objectives; and Sims suggested there will be more integration of systems, such as fire and life safety systems controlled through central digital devices.
Said Sims, "We've got some great opportunities using this technology but we've just got to make sure it is always talking."
The future will also require the Building Code to deal with flexible and changing building usage, she said.
For example, Costco is classified as a warehouse. And some churches with their elaborate media systems are more like entertainment destinations, Sims said.