The leadership of the Ontario Sewer and Watermain Construction Association (OSWCA) took the fight against Region of Waterloo restrictive tendering practices to the OSWCA membership at the association's recent conference held in Niagara Falls, Ont.
During a Feb. 12 presentation by labour lawyer Keith Burkhardt of Sherrard Kuzz LLP, OSWCA members were presented with a set of strategies to attempt to ensure the monopoly the Carpenters' Union has on Region of Waterloo ICI work does not spread to other municipalities.
OSWCA executive director Giovanni Cautillo said the fight was not necessarily against the Carpenters' Union in Waterloo, where the regional government has been certified as a construction employer bound to the Carpenters' since 2014, rather it is against the system itself.
The session was billed as The Carpenters Union Certification of Waterloo Region and How to Avoid it in your Area.
"It is not about the union or not, it is about the ability to bid the work," said Cautillo. "If it had been another union that had come in, we may have been fighting them. It just happened to be the Carpenters'.
"We want municipalities to be able to select the best contractors for the jobs, and that doesn't necessarily mean unionized."
Cautillo called the way the region became certified "questionable."
"Our contractors are specialists in what they do," he said.
"The fact that carpenters lay claim to any training in our sewer and watermain work is almost laughable."
Representatives of the Carpenters' District Council of Ontario declined to comment at this time.
Last fall OSWCA joined forces with the Progressive Contractors Association of Canada and the Conestoga Heavy Construction Association to urge the Region of Waterloo to ensure construction projects are tendered to all qualified contractors. In early December the Kitchener-Waterloo, Cambridge and Hamilton chambers of commerce held a lunch session and joined the fray in calling on regional and municipal governments to curb the expansion of restrictive tendering.
Cautillo said the OSWCA conference was an opportunity for members to become better acquainted with the issues and to encourage them to engage in conversations with representatives of other municipalities.
"It is educational for two reasons," he said in an interview. "One, because of the way that a municipality can get certified, and two, every other municipality, there's 444 of them, are not immune to this. If it can happen to one, any other municipality can be certified. And so we are educating the contractors so that when they go and talk to the municipalities, they can say, just be leery.
"Sewer and watermain have never shied away from ensuring that a specific jurisdiction is ours."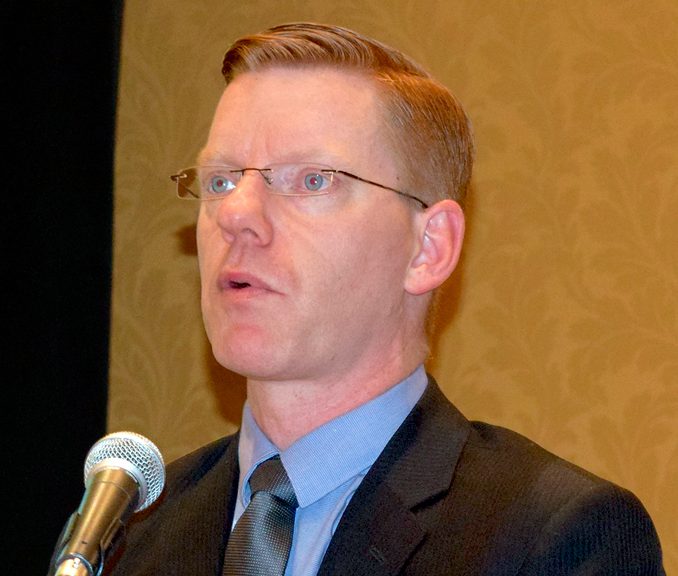 Municipalities should be leading the charge on open tendering, said Burkhardt.
"A lot of the municipalities aren't aware of it," he said.
Contractors, Burkhardt said, should be "making sure the people on their regional council or in provincial politics are aware of these issues and how it is impacting the local level."
Burkhardt told OSWCA delegates Waterloo Region has increasingly begun to misclassify projects as ICI to avoid being taken to the Ontario Labour Relations Board (OLRB) by the Carpenters'.
"If you call it a sewer and watermain contract, or a roads contract, and you give it to someone who is non-union because their collective agreement says they don't need to give it to someone who is bound to the Carpenters' when it is a roads project or a sewer and watermain project, the Carpenters' will likely complain and say that should have been our work," he explained.
The penalties are high if the OLRB rules for the Carpenters', Burkhardt said.
"It has meant that the region has been overly conservative, what we are calling scope creep," he said. "Work that we would have believed to be very clearly not ICI work, the region has been calling it ICI work because they have been afraid of the ramifications if they are wrong."
The way contracts have been classified has led to a paucity of qualified bidders, he explained, causing costs of projects to spike. The strategies identified at the meeting included:
municipalities should establish and adhere to policies regarding subcontracting of all construction work;
contractors should maintain positive employee relations and communicate with employees about construction unions;
stakeholders should be cognizant of small construction projects and weekend work (that could lead to questionable union certification); and
stakeholders should remain up to date on open tendering initiatives.