The Hamilton region is a happening place right now for the construction sector, so much so that the Hamilton-Halton Construction Association (HHCA) had trouble deciding which sectors to highlight at its annual Construction Forecast Seminar held recently.
The HHCA and its general manager Sue Ramsay played host to a half day of presentations from a diverse group of public and private sector stakeholders on Jan. 24.
"The secret is out about Hamilton," said Ramsay after the final presentation had wrapped up. "There is a lot of opportunity here and I think the city government is positioning itself as a supportive partner rather than being an obstacle as sometimes happens in some jurisdictions.
"There is a lot of confidence and a lot of optimism. People know that there are these massive projects coming down the pipe."
Hamilton's waterfront is increasingly a focus of investment, Ramsay said.
"There is so much development going on on the waterfront with Pier 8 and the Westport Revitalization Project and others," she said. "The city and its partners are making all the right decisions to turn Hamilton into the renaissance place that those of us who live here know it is, but people who haven't been to Hamilton in 10 years are missing."
Following a presentation by City of Hamilton LRT Project Office director Kris Jacobson outlining a potential timetable for that $1-billion project — construction could begin before the end of the year, if the Ontario government gives a green light — the waterfront took the spotlight with presentations by Brad Keeler of Forrec Ltd., reporting on the Hammer City waterfront promenade project that is part of Pier 8; by Philbert Kim, a senior consultant with the City of Hamilton, discussing the city's West Harbour development and disposition strategy; and by Jonathan Wetselaar of the Hamilton Port Authority, laying out the HPA's recently launched $36-million Westport Modernization Project.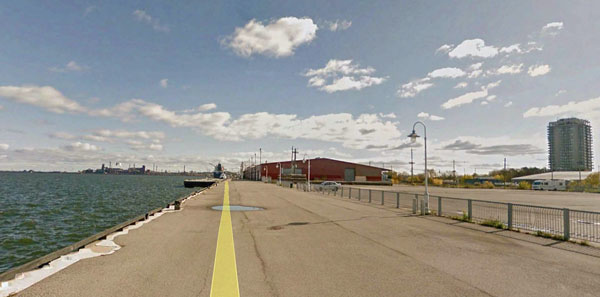 Keeler outlined key areas of development activities on Hamilton's waterfront including future development in the Barton-Tiffany community, public amenity redevelopment at Piers 5 to 7, the West Harbour Go Station and, most notably, Pier 8.
Last June, the City of Hamilton formally selected Waterfront Shores Corporation as the preferred proponent to develop Pier 8. The 5.24-hectare site, which has been renamed Copps Pier, will include new residential, commercial and institutional spaces over nine development blocks, with the housing component to accommodate 2,000 residents.
First up at Copps Pier, though, will be construction of the Hammer City promenade. Working with Forrec are CIMA+, exp Services, Creative Irrigation Solutions, Andrew Davies Public Art Consulting and Altus. Their winning plan was unveiled following a competition in 2017.
The project for the 1.41-hectare promenade has a construction budget of $6.4 million, Keeler said, with a tender expected to go out this spring.
"We wanted to capture the character of the site," he said, outlining how ample use of steel shaped as ships' hulls will create artworks that reflect Hamilton's identity as both a Great Lakes harbour and a city of steel-makers.
A highlight of the design phase has been the use of Revit, which enables designers to walk through the parkscape using virtual reality to assess esthetics and identify problems, said Keeler.
Before public artworks and other amenities are installed, Keeler noted, extensive site preparations including installation of utilities below ground will take place.
"The good thing for us it that it is pretty well a clean slate to deal with, at least from the surface level," he said. "But beneath that surface is what possesses the most design problems for us."
Prep work includes new shorewalls and sheet piling going up and extensive tiebacks, new streets, sewers and electrical all being installed.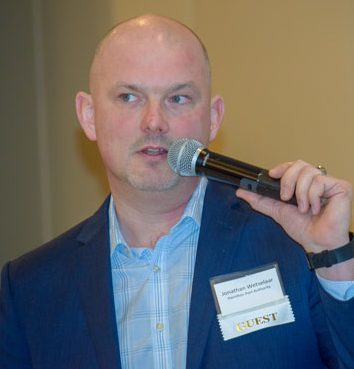 Wetselaar said the Westport Modernization Project came together quickly, with the port authority benefiting from federal funding under the National Trade Corridors Fund. The federal award of $17 million was announced in November.
The project will allow strategic improvements in four areas — marine infrastructure, storage and warehousing capacity, rail infrastructure, and roadways and utilities.
One tender to watch for is a phase three marine infrastruction solicitation to go out this fall, said Wetselaar.
There will also be a tender for a $10-million combined-use cargo-handling and warehousing project going out in the fall. Construction of that component will take place throughout 2020.
The goal is to develop significant new multi-modal site capacity, explained Wetselaar.
"When we are done we'll have this piece of property ready for future development," he said.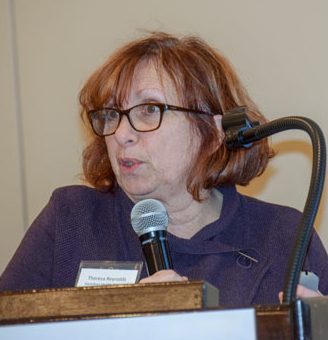 Other presenters included Theresa Reynolds, director of capital development for Hamilton Health Sciences, and Beth Goodger, public works general manager for the City of Brantford.
Upcoming projects for Hamilton Health Sciences include construction of a hybrid operating room, emergency department, orthopedic clinic and cafeteria at Hamilton General Hospital; several works at Juravinski Hospital including construction of a radiation bunker; a handful of builds at McMaster medical centre including an inpatient pharmacy clean room; and demolition of the south wing at St. Peter's Hospital and relocation of administration offices.
In several cases, Reynolds said, the administration was awaiting go-aheads from the provincial government.
Goodger said Brantford is gearing up to experience major growth in the next 22 years, with the city's population expected to reach 163,000 in 2041 from 102,000 in 2016.
To accommodate the growth, the city has annexed lands from neighbouring Brant County and, critically, the first major roadway expansion plan in 15 to 20 years is being developed, with plans to build a four-lane highway from Colborne Street to connect with the 403.