With the COVID-19 pandemic inhibiting a ribbon-cutting ceremony, the Hamilton-Halton Construction Association (HHCA) and Habitat for Humanity Hamilton officially launched a new joint venture project June 30 with a social media campaign.
The project, a semi-detached two-unit home located at 134 Catharine St. N. in downtown Hamilton, has been adopted by the HHCA as a Legacy Build to mark the 100th anniversary of the association's founding.
"When our 100th was approaching we were trying to come up with something that was really going to mark 100 years of service to the local construction industry and building a home with Habitat seemed like the natural thing to do," explained HHCA general manager Sue Ramsay.
"Construction is what we do, it is what we are good at, and home ownership especially in southern Ontario seems to be getting more and more out of reach for people so it's a physical representation of the people in our community and we are excited to be helping two families."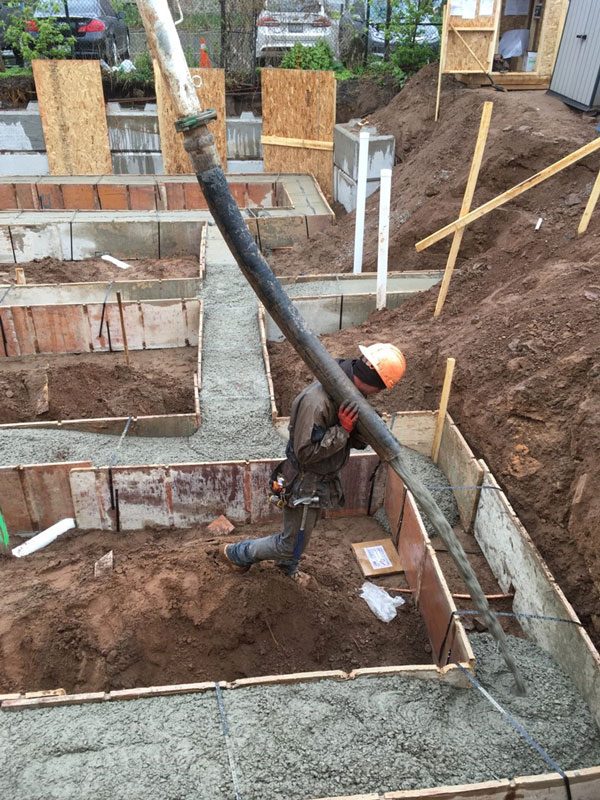 The HHCA has been a supporter of Habitat Hamilton for almost two decades. A couple of years ago the HHCA's Women in Construction group decided to get involved in a build around the same time as Habitat Hamilton received a donation of land from the Diocese of Hamilton. The HHCA executive approved the legacy project idea under the condition that the Women in Construction committee act to spearhead the HHCA's efforts.
Ramsay said the group threw itself into organizing and fundraising and now over $150,000 has been raised in cash, pledges, products and services.
It's appropriate that the women lead the charge given the construction sector's recognition of the need to become more inclusive, Ramsay said.
"They have to be able to imagine themselves doing something, whether it's females or people of colour or Indigenous," she explained of recruiting strategies.
"You have to be able to see yourself in an industry before you can imagine yourself there."
Habitat Hamilton executive director Sean Ferris noted that his organization has undertaken 30 housing projects in the city with each project developing with different partnership arrangements. With the Catharine Street project, Habitat Hamilton is grateful to have the energy and reach of the HHCA and its members along with its building expertise, he said.
"It is a great opportunity to engage with the HHCA and their contacts. Their membership have been huge in terms of spreading the word and donating services, products and cash," Ferris commented.
Ramsay added, "The benefit of being a construction association building a house, when the construction manager of Habitat identifies a need he gives me a call and says, 'Do you know anybody who would be interested in doing this and I say, of course I do.' Even during this difficult time, the members I have reached out to, either through straight-up donations or friends and family rate, they come through."
Other major supporters have included Cogeco Connexion, Genworth Canada, Grant Somerville Design, Hanson Ready Mix, Historia Building Restoration, Lancaster Group, LJ Barton Mechanical, Marini and Sons Construction and Miranda Construction.
Soil remediation and excavation have already taken place and concrete poured with Miranda digging the foundation, Joseph Haulage removing materials, Tri-Star Forming doing formwork and Marini involved in building a retaining wall and other jobs, Ferris noted.
Completion was originally targeted for later this year but Ferris said with some delays, including complications due to COVID-19, the project might not wrap up until early next year.
Among the two tenants will be a single mother of three who works in child care and has limited means, and another family of four with regular but precarious income who currently live in a small, broken-down rental unit.
The new homeowners are not charged interest but will work to pay off a mortgage.
"They are wonderful, hardworking folks who could use a hand up," said Ferris.
Habitat Hamilton celebrated the launch of the project with videos, posts and photos throughout the day, across Facebook, Instagram and Twitter.
Follow the author on Twitter @Don Wall_DCN.