New Doug Chalmers Award winner Rob Ellis recently urged Ontario General Contractors Association (OGCA) members to continue to reach out to young people with messages of safety, saying the next generation is looking for leadership.
Ellis, the founder of MySafeWork and the inspiration behind the launch of the League of Champions by the OGCA, received the Chalmers award on March 5, the first day of the virtual OGCA and IHSA (Infrastructure Health and Safety Association) Annual Leadership Conference.
The Doug Chalmers Award for Safety is presented annually by the OGCA to "an individual or a group, a member company or an association that has made significant contributions to advancing occupational health and safety in the construction industry."
Ellis noted a recent MySafeWork event attracted an audience of hundreds of young people from around the world.
"We had just amazing engagement," said Ellis.
"This is a business that will attract people with that passion and with that desire to get better. And I think that the next generation of leaders can look to the OGCA and find that there will be a great match.
"This is a competitive world that we live in today and I know that all of the industry leaders including those at the OGCA want to get engaged with the next generation of leaders. They need those leaders to jump on board with them. That includes all skilled trades and apprentices and includes engineers and computer scientists, including business grads."
Ellis became an advocate for construction health and safety and launched MySafeWork after his son died in a workplace mishap in 1999. The League of Champions, a construction safety organization for contractors, is now run independent of the OGCA but is supported by the contractors and Ellis remains a supporter.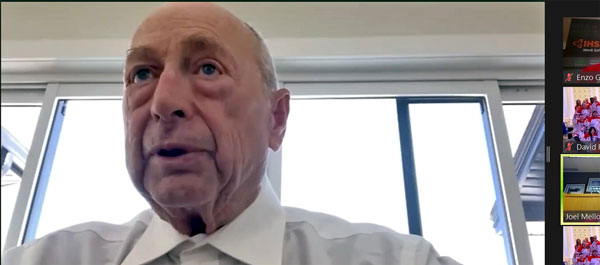 Ellis said he recently spoke to Doug Chalmers, a former OGCA chair, to discuss the award and the current state of health and safety culture in construction.
"He said, 'you know Rob, it's real simple. When you lead with safety you have less turnover in your business. You have a lot more money to spend on training. You have a lot less absentees on your job. You have a lot more time to spend on productivity.' I think that's just the kind of breakdown we need. We will talk of systems and so on, but it takes some somebody like a Doug Chalmers to simplify things for us."
Introducing Ellis as the award winner, OGCA health and safety committee chair Craig Lesurf noted that Ellis remains an effective advocate for health and safety through his Courageous Safety Program.
"He continues to challenge construction leaders across the province, Canada and the U.S. Rob has a great following.
"We talk about looking for great leaders. I would say to you, there is no better advocate for safety, and there was no better model to get the League of Champions kicked off."
The OGCA event also included recognition of new League of Champions members and others with new certifications.
League of Champions new members and patrons — 1st Choice Disposal, 4S Consulting, Bronnenco Construction Ltd., Chandos, Dineen Construction (2017) Corporation, Golden Horseshoe General Contractors Association, Harbridge & Cross Limited, Magil Construction Ontario Inc., Modern Niagara, Rossclair Contractors Inc. and Steelcore Construction Ltd.
League of Champions COR crest recipients — Bronnenco Construction, Dineen Construction (2017), Harbridge & Cross Limited, Magil Construction, Modern Niagara, Rossclair Contractors and Steelcore Construction.
Follow the author on Twitter @DonWall_DCN.