A new report says about 75 per cent of construction firms rate their digital maturity as fairly low relative to their competitors, and Mary Van Buren, president of the Canadian Construction Association (CCA), sees it as an opportunity for firms to begin their digital journey.
"The headline is really that there remains a significant opportunity for construction firms to become more digitally savvy and to adopt innovation," she said. "Now is the time to start on your journey and there is a lot of benefit to doing that for individual companies and for the industry as a whole."
KPMG in Canada partnered with CCA in November 2020 to survey construction companies across the country in an effort to determine where they are in terms of adoption of digital technologies.
The report is called Construction in a Digital World: A Deep Dive into Technological Adoption in Canada's Construction Industry.
By adopting digital solutions, construction companies can achieve greater efficiency, generate substantial productivity gains, improve onsite safety for workers, reduce the cost of goods sold and modernize operating models, the report says.
Twenty-five per cent of companies say they are in a considerable or great position relative to their competitors in terms of technology or digital implementation and 23 per cent said their decisions are supported by and based on data to a considerable or great degree.
Almost three in five respondents said their organization "needs to moderately or considerably adapt their digital strategy, with most unsure about which technologies and applications would offer them a competitive advantage."
The majority of respondents classified their adoption of several technologies as experimental or said they were not leveraging them at all, including in the areas of demand-driven supply chain (65 per cent), big data (66 per cent), additive manufacturing (73 per cent) and robotics (82 per cent).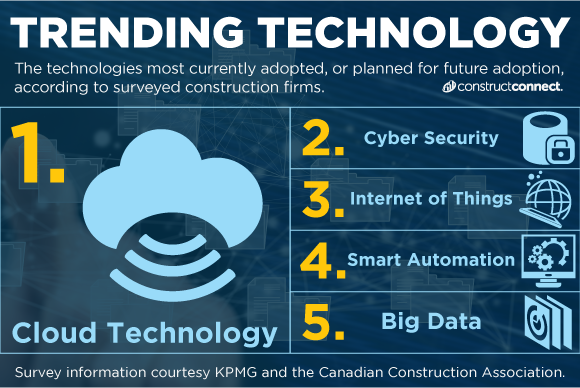 "We did a study a couple years ago in 2019 and it echoed the same finding, that construction firms were not as far along on the digital curve as others," explained Van Buren. "Some of the reasons for that is just the way procurement goes in that it's often low-cost bidder and that just doesn't leave a whole lot of margin for reinvesting in businesses.
"Another issue is that the ecosystem itself is not consistently digital. For example, permitting is not always done online," she added.
"The more the ecosystem becomes digital and online the more that businesses will naturally start to adopt digital or innovation."
Furthermore, the construction sector in Canada is primarily made up of small and medium-sized enterprises, Van Buren noted, adding it can be difficult for those firms to implement technology and digital solutions.
The study also found cyber security and cloud technologies are the most commonly adopted solutions today. During the pandemic, the 30 per cent who had implemented cloud technologies saw tremendous benefits and over half of the remaining companies are either planning to implement cloud-based systems or are considering them, the report indicated.
The other technologies that construction companies are either planning to implement or are in discussions to implement include the Internet of Things (75 per cent), intelligent automation (68 per cent), big data (63 per cent) and augmented decision support (61 per cent). More than half of respondents have not planned to implement blockchain (57 per cent), additive manufacturing (61 per cent) or robotics (66 per cent).
The first step is to know where your company is on the digital maturity curve.
"CCA in partnership with KPMG in Canada has a digital maturity assessment tool that is free that they can use and it will give them feedback on how they compare to other firms," said Van Buren.
"It's not a one and done, as we all know with technology. It's about really understanding what do you need to do today and where do you want to be longer term."
Increasing adoption of technology in the industry will also attract more young, tech savvy workers.
"The industry is going to offer more careers in data analytics, artificial intelligence," said Van Buren. "It's going to create a whole new set of careers for the next generation."
It's not too late for firms, Van Buren concluded.
"We've been so inspired by what's happened in the retail sector where we have seen huge advancements in online and that's true of education as well, where people now have more opportunity than ever to access education, skills, information, networking because we've had to do that," she said. "There is significant opportunity today and there is even more opportunity moving forward."
The full report is available here.
Follow the author on Twitter @DCN_Angela.