During the final month of 2017, two significant developments have provided considerable insight into the outlook for residential construction in Canada, in general, and in Toronto and Vancouver, in particular, over the next 12 to 18 months.
First, there is little evidence that non-residents of Canada are acquiring an increasing share of residential properties in the country as a whole nor in Toronto and Vancouver, the two urban areas which have seen double-digit gains in average house prices since mid-2015.
This observation is based on two recent surveys of residential property ownership. The first, Canada Mortgage and Housing Corporation (CMHC)'s Condominium Apartment Survey, has been conducted annually since 2014. This survey, which polls the residency of condominium owners in the 17 major urban areas with the highest concentration of units, reported that the proportion owned by non-residents has remained below 3% during the last two years. Further, in the two census metro areas with the highest condo concentration, Toronto and Vancouver, the rate of non-resident ownership has averaged 2.6% over the past four years and currently stands at 2.5% and 2.2% respectively.
Further evidence of the limited extent of foreign ownership of residential property in Canada's two hottest housing markets, Toronto and Vancouver, was provided by the initial report of the Canadian Housing Statistics Program (CHSP), a joint project of Statistics Canada and CMHC. This project, which surveyed the non-resident ownership of single, semi-detached, row and condominium apartments, found that non-residents owned just 3.4% of all residential properties in the Toronto census metropolitan area.
Given that the CHSP uses a more comprehensive data base than does CMHC's condo survey, it is not surprising that it found that the percentage of Toronto condos owned by non-residents at 6.5% was somewhat higher than the CMHC survey at 2.5%.
In Vancouver, the CHSP reported non-resident condo ownership at 8.0% vs the CHMC survey at 2.2%. While the more comprehensive data set used by the Statistics Canada–CMHC joint report revealed a higher incidence of non-resident condo ownership, the percentage of single-family homes owned by non-residents in Toronto was a very modest 2% and just over 3% in Vancouver. This low rate of non-resident ownership of single-family dwellings reinforces the view that a lack of supply rather than excess offshore demand is fuelling the acceleration in single-family house prices in Toronto and Vancouver, which have increased by 43% and 60% respectively over the past three years.
Looking forward, we expect that the Office of the Superintendent of Financial Institutions (OSFI) mortgage financing stress test, which introduced stricter lending criteria to both new and existing homeowners applying for a mortgage after January 1, 2018, will dampen housing demand in the first quarter by disqualifying a number of first – time buyers and causing second-time buyers to adopt a wait-and-see approach before re-entering the market.
Also, while there is a further potential drag on housing demand in the form of higher interest rates, persisting low inflation should continue to temper the Bank of Canada's efforts to adopt a more restrictive monetary policy stance.
Midway through the year, the dampening effect on house prices of OSFI's new stress test and higher interest rates on house prices particularly in the Greater Toronto Area and in Greater Vancouver, should be more than offset by two key factors.
First, over the past four quarters net interprovincial and international in-migration into Ontario and British Columbia has been exceptionally strong.
Second, as reported in a recent Royal LePage national survey, a significant increase in percentage of millennials aged 25 to 30 planning on purchasing a home will boost the number of potential first-time home buyers in all regions and particularly in Ontario and Quebec.
Share of Non-resident Condominium Apartment Ownership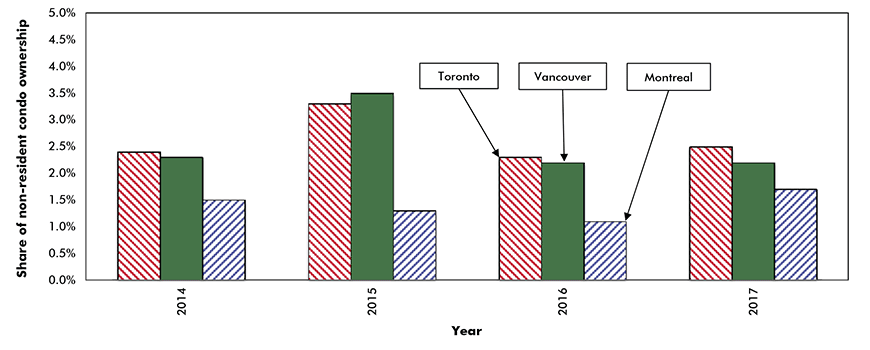 Data Source: Canada Mortgage and Housing Corporation/Chart: ConstructConnect/ CanaData.