Driven by the second largest net inflow of international immigrants on record plus natural increase (births minus deaths) of 111,400, Canada's population rose by 1.3% y/y (+480,000) in 2017. This was the largest absolute population gain since 1989.
The contribution to population growth due to immigration, 77% in 2017, has been trending gradually higher since 1983 while natural increase has been shrinking as a result of lower birth rates.
Across the country, the combination of net international immigration and interprovincial migration had a particularly large impact on Ontario, Quebec, Alberta and British Columbia. First, after posting a record-setting gain (216,727; 1.6% y/y) in 2016, the population of Ontario rose by 233,953 (also +1.6% y/y) in 2017. Over the past two years, the province's population has exhibited its largest gain since 1989. As with the country as a whole, international immigration, totaling 170,500, accounted for approximately seventy percent of the increase in the province's population. After seeing a steady outflow of Ontarians to other provinces between 2003 and 2015, net interprovincial migration turned positive in 2016 and boosted Ontario's population by 22,143 in 2017. Over the course of 2017, natural increase in Ontario totaled 41,317 compared to 41,591 in 2016 and well below the average of the past five years (47,061).
Fueled by back-to-back increases of 109,000 and 117,000 international immigrants, Toronto's population has risen by 229,000 over the past two years. Given this unprecedented inflow of newcomers, it is not surprising that the metro area's rental vacancy rate (1.1%) is at a seventeen-year low.
Despite a decline in natural increase from 22,800 to a fourteen-year low of 18,800 in 2017, Quebec's population rose by 0.9% y/y to 8.4 million in 2017. Like Ontario, the bulk of the province's net population gain stemmed from a 33% increase in international migration which is getting a boost from the recent influx of 14,825 asylum seekers entering the country from the United States.
It should be noted that although these individuals entered Canada via Quebec, they are free to move elsewhere in the country as soon as they have completed a security screening. As it has for the past 45 years, Quebec continued to experience an exodus of residents to other provinces in 2017. However, consistent with the significant increase in full-time employment over the past year and a concomitant rise in the province's job vacancy rate, the outflow of Quebecers to other provinces dropped by 37% y/y to a five-year low of 7,600 in 2017.
Weighed down by a high unemployment rate caused in large part by a low-oil-price-induced drop in energy investment, Albert's population growth slowed from 1.4% y/y in 2016 to 1.3% in 2017, its lowest since 1995. Although the contribution to population growth from natural increase remained close to its five-year average, the inflow of migrants from outside the country slowed sharply after posting a very strong gain in 2016.
With respect to interprovincial migration, it is worth noting that virtually all the net outflow of Albertans to other provinces occurred during the first half of the year. Coincident with the stabilization of oil prices early in the third quarter and the concomitant pickup in employment, the province once again experienced a net inflow of migrants from other provinces in second half, 2017.
Although the strengthening in oil prices has brightened Alberta's economic prospects somewhat, the heightened uncertainty regarding the province's difficulty in getting its crude to market, coupled with recently announced plans to curtail production by Husky Energy and Cenovus Energy, will probably overshadow the outlook for Alberta's population growth over the near term.
Despite the mid-2016 imposition of a 15% foreign buyer tax on homes over $2 million in the Vancouver Regional District, British Columbia attracted 49,600 migrants from outside the country in 2017, 47% more than the 33,700 who arrived in 2016. This, the second largest inflow of foreign migrants on record, was partly offset by a retreat in net interprovincial migration. The large influx of international migrants and the fact that the volume of Vancouver housing starts contracted by 6% y/y in 2017 suggest to us that upward pressure on Vancouver house prices will persist through 2018.
In light of the federal government plan to admit in excess of 300,000 international migrants per year to Canada over the next three years, we expect Canada's population to grow in the range of 1.0% to 1.3% through 2020. Also, the sustained inflow of international migrants to Toronto and Vancouver will probably cause apartment vacancy rates in both CMAs to remain close to their current extremely low levels and cause house prices to trend higher over the near term.
Population growth for Canada and the provinces in 2017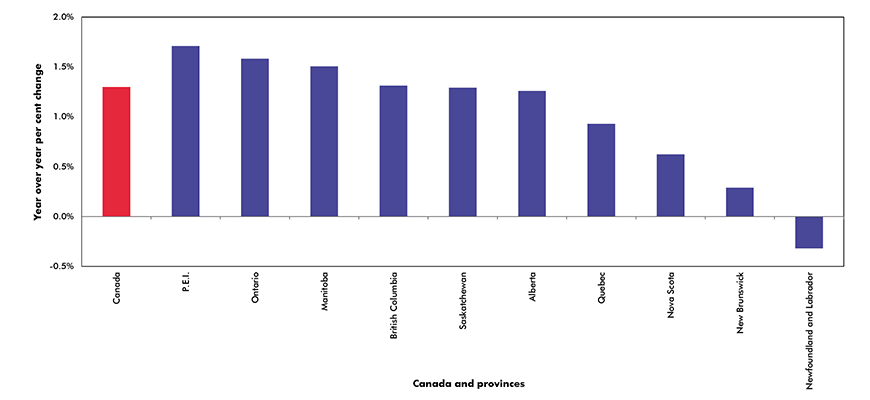 Data Source: Statistics Canada.
Chart: ConstructConnect — CanaData.