In April, we reviewed the results of the most recent 2017-18 Statistics Canada annual survey of non-residential capital spending plans and the Business Development Bank of Canada's Survey of Investment Intentions.
The former, based on a sample survey of 25,000 private and public organizations, and the latter, based on a survey of 4,019 business owners with one to 499 employees, both reported that a majority of firms in the private sector were planning to invest less in 2018 than they did in 2017.
It is particularly interesting that the very weak outlook for private sector investment in 2018 indicated by these two surveys followed a 19% y/y increase in 2017 and occurred against a background of extremely low interest rates which most expect to move up very little over the next twelve months.
If this very weak outlook for private sector investment was a "one off" event it would be easy to ignore. However, this is not the case. Non-residential investment per worker (i.e., the amount firms spend to enable their employees to be more productive), has consistently been lower in Canada than in the majority of countries who are members of the Organization for Economic Cooperation and Development. This observation was highlighted in recent studies published by the Fraser Institute and by the C.D. Howe Institute. In addition, Jack Mintz, the President's Fellow at the University of Calgary, and William Robson, President of the C.D. Howe Institute, have also expressed serious concern about Canada's persisting weak pattern of business non-res investment.
The Fraser Institute article, authored by Phillip Cross, former chief economic analyst at Statistics Canada, highlights the fact that over the past 20 years, non-residential business investment as a share of GDP in Canada has been very low relative to other developed countries.
Indeed, between 2000 and 2009 non-res investment as a share of GDP averaged 11.3%, placing us 15th among the seventeen major OECD countries for which data is available. Between 2009 and 2014, the ratio of non-res business investment rose to 12.6% and we moved into 8th among the seventeen developed OECD countries. However, in the wake of the energy boom, between 2015 and 2017, our investment spending as a share of GDP has dropped to 11%, the second lowest among the 17 OECD countries.
The article published by the C.D. Howe Institute titled Equipment Failure: Feeble Business Investment Costs Canadians the Competitive Edge puts a slightly different perspective on Canada's persisting pattern of underinvestment. The Institute highlights the fact that since 1991 Canadian firms have tended to invest less per worker relative to other countries and significantly less than in the United States, the market for 75% of our goods exports. For example, for every dollar the average firm in the OECD invested in plant and equipment in 2017, firms in Canada spent 67 cents and compared to the United States we invested just 55 cents. This implies that workers in Canada are on average a third less competitive than those in the OECD and have a 45% handicap versus workers in the United States.
Both C.D. Howe and the Fraser Institute acknowledge that many factors have contributed to Canada's persisting subpar pattern of business investment. However, they both put "rate of return on investment" at the top of the list of its essential drivers. Until recently (i.e., January 1st of this year), corporate tax rates (federal plus provincial) in Canada at 27% were significantly lower than in the U.S. (35%). This tax advantage has evaporated with recent sharp cuts to the U.S. corporate tax rate to 26% (lower in some key states, i.e. Ohio, Washington and Texas which don't have corporate taxes).
Obviously, firms can only invest funds that are left after taxes, operating costs and labour costs. High hydro rates in Ontario, the manufacturing heart of the country, are also a significant drag as noted in a recent speech by Don Walker, CEO of Magna International. For those who question the positive impact of lower taxes on investment, it is worth taking a look first at Ireland where low corporate taxes have been a catalyst for strong economic growth. Much more compelling evidence comes from our neighbour to the south where, according to a recent Wall Street Journal article, capital spending is up by an estimated 24% y/y in the first quarter due in large part to recent corporate tax cuts.
Unless both federal and provincial governments take positive steps to reduce the barriers to private sector investment, the ensuing further deterioration in labour productivity will definitely have a negative impact on Canadians' standard of living over the not so distant future.
Non-residential business investment
per worker, Canada, OECD and United States*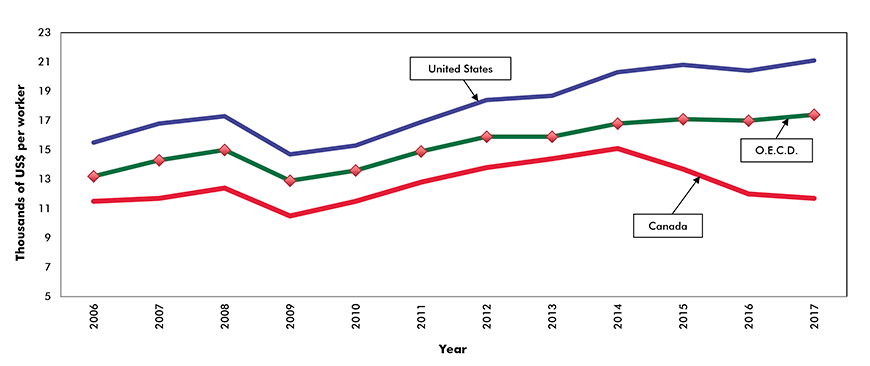 * Values for 2017 are estimates.
'Capital' investment is on machinery, equipment and construction.
Data Source: OECD, Statistics Canada, C.D. Howe Institute.
Chart: ConstructConnect — CanaData.