Based on its latest job numbers, Toronto's economy is definitely in overdrive. Year-to-date (January to May) total employment in the Toronto Census Metro Area (CMA) is up by 72,000.
Moreover, the +72,000 figure was the largest gain during the first five months of the year in more than 18 years, and resulted from a 77,000-rise in full time hiring that more than offset a 5,100 decline in part-time employment.
Surprisingly, almost a third (23,500) of the jobs added so far this year are in manufacturing. Significant staff increases also occurred in health care and social services (+25,500). Also, fuelled by an expanding tech sector, employment in the professional, scientific and technical services sector increased by +22,000 over the past five months.
Despite the very strong year-to-date gain in total employment, Toronto's unemployment rate edged up from 6.1% in January to 6.3% in May due to a 93,500 rise in the CMA's labour force. This compares to a drop of 7,800 during the first five months of 2018. This exceptionally strong labour force growth is largely due to an estimated inflow of 100,000 to 125,000 (mostly international) migrants which more than offset a modest outflow of individuals to other parts of the province.
While there is strong evidence that the more restrictive mortgage regulations introduced by the Office of the Superintendent of Financial Institutions at the beginning of last year contributed to a very sharp (-16%) drop in sales of existing homes in 2018, sales in the first five months of this year are up by 10.5%.
Driven by a stronger pattern of demand over the past several months, house prices in the GTA have started to move higher after remaining essentially flat during 2018. Factors contributing to this solid increase in demand include the above-noted strong growth of full-time employment and net migration together with persisting relatively low mortgage rates.
Against this background of strengthening demand, new residential construction remains severely depressed. Since the beginning of the year, the total volume of housing starts is down by 23% due to a 60% drop in starts of single and semi-detached units and a 20% fall in apartment starts, which have more than offset a 45% rise in starts of row dwelling units.
Given this weak beginning to 2019, we expect housing starts in the Toronto CMA to total in the range of 35,000 to 37,000 this year and 37,000 units to 39,000 in 2020, after posting a total of 41,100 in 2018.
Looking forward, net migration should continue to fuel population growth in the Toronto CMA over the near term. This prospect is reinforced by a potential increase in the number of Hongkongers leaving the island and coming to Canada (mainly Toronto and Vancouver) in the wake of recent protests against proposed extradition legislation.
However, in light of the weak pattern of new residential construction, we expect that average house prices in the CMA will trend steadily higher into 2020 due primarily to higher prices for low rise, single, semi-detached and row units. The impact should be partly offset by some moderation in prices of condo apartment units.
The best way to describe the outlook for non-res capital spending (capex) in Toronto is "mixed". Turning first to spending on infrastructure, construction spending in the Toronto CMA will definitely get a boost from an estimated one billion increase in spending on public sector projects including transit, roads, bridges, sewers and watermains.
Major transit projects on the drawing boards or underway include the Ontario Line Transit Expansion, the Young Subway Extension, the Scarborough Subway Expansion and of course the Eglinton Crosstown which is scheduled to be completed by 2021.
Excluding spending on infrastructure, the fact that non-res construction intentions are down by 5% year to date due to declines in planned spending on industrial (-25%) and institutional (-7%) projects suggests that non-res construction will not make a positive contribution to Toronto's economic growth in the near term.
This prospect is reinforced by the likelihood of a slowdown in office construction due an unprecedented volume of new office space under construction — the bulk of which is located in the Central Toronto area bounded by Bloor St. in the North, Don Valley in the East, Bathurst St in the West and Lake Ontario in the South.
John Clinkard has over 35 years' experience as an economist in international, national and regional research and analysis with leading financial institutions and media outlets in Canada.
Toronto: Population Change, Net International Migration and Housing Starts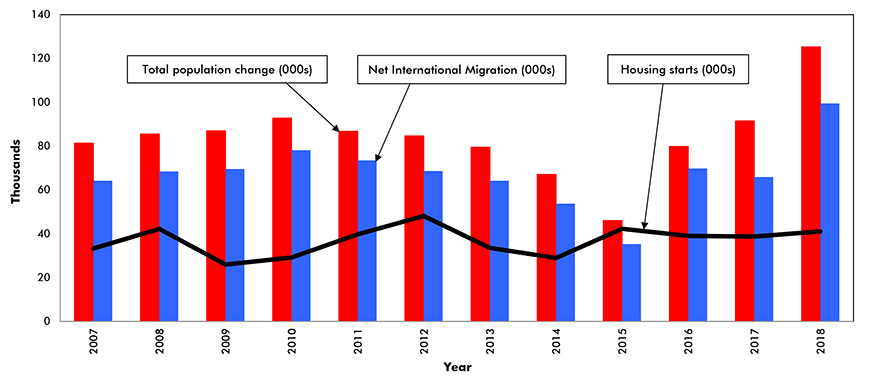 Data Source: Statistics Canada/Chart: ConstructConnect — CanaData.