In a Broader Context, Timing of Coronavirus Fortuitous or Not?
Okay, I'm an alarmist. Sorry to say, but there's a big picture to consider beyond just the coronavirus outbreak. In many nations, COVID-19 ramifications have occurred virtually overnight, attracting all the attention and lifting anxiety levels to unprecedented heights.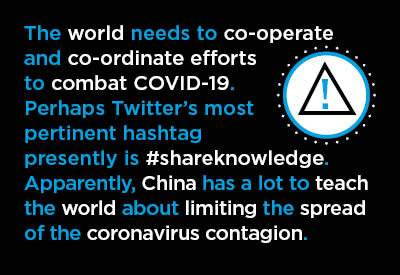 The new guiding principle to live by is 'social distancing' in order to 'flatten the curve'. Both terms, in single quotation marks, refer to limiting contact with others to at least slow the spread of the disease and lessen the demand on already stressed medical resources.
The ongoing coronavirus crisis, however, is not going to happen in isolation. Other disasters, which naturally occur every year, won't simply disappear.
There will still be hurricanes. There will still be tornadoes. There will still be wildfires.
Only time will tell, whether in the U.S. and Canada, the timing of the coronavirus onset, at the beginning of spring, is fortuitous. In a best-case scenario, COVID-19 will be under control when hurricane and tornado seasons strike later this year. (Although severe flooding is another affliction that has severely vexed certain regions in recent years – e.g., the U.S. agricultural heartland in the upper Midwest and the Ottawa River region of Canada.)
To prepare for a worst-case scenario, ‒ i.e., a piling on of coronavirus and other calamities at the same time ‒ contingency plans should be put in place now.
Contingency Plans for Other Disaster Mobilization Efforts
Tropical storms and hurricanes along the Gulf and Atlantic Coasts and prolonged periods of drought, followed by fires, that have ravaged vast sections of California, have traditionally placed heavy demands on first responders.
With coronavirus concern so widespread, however, many of those highly trained individuals are now needed elsewhere. Also, there's another potential problem to consider. Illness or sequestration may take away the ability of many front-line workers to answer 'muster' calls.
What is needed, under the auspices of some government agency or body, is the maintenance of a roster of who is available to be sent wherever needed when adverse non-coronavirus trouble strikes. Perhaps this is a role that would be best assumed by the military.
Furthermore, and specifically relevant for the construction industry, the rapid rebuilding of damaged property (e.g., destroyed home and store replacement) that has typically followed on the heels of previous horrific events will now be much delayed.
Economists' Badgering
Trillions of dollars are going to be spent by our governments on disaster relief. It will be mostly new money, not drawn from a storehouse of wealth. In fact, it will be mainly generated through quantitative easing, which is a fancy way of saying it will be printed like Monopoly money.
Economists have become notorious for lecturing politicians on this subject. Economists assert that governments should be putting aside 'rainy day' funds during good times, to be used when circumstances eventually 'turn south', which they always do. The next recession lurks just over the horizon.
Such warnings by economists are also almost always ignored. In the good times, messengers warning of future gloom are viewed as killjoys.
Well, who's right now? Furthermore, history has shown that even when this lesson is taken to heart for a short while, it's set aside in a few years' time when the next expansion period again seems unstoppable.
Wrong Wrong Wrong to Fight with China
All indications are that the novel coronavirus originated in China. An assignment of blame, however, should it ever become relevant, is a task best left until well in the future.
Ebola came out of Africa and nobody holds the citizens of that continent responsible.
The world needs to co-operate and co-ordinate efforts to combat COVID-19. Perhaps Twitter's most pertinent hashtag presently is #shareknowledge.
Apparently, China has a lot to teach the world about limiting the spread of the coronavirus contagion.
Most important, it may be a laboratory in China that develops the first vaccine to halt COVID-19's global march in its tracks. Nobody wants a gap between when such an advance is made and when its positive influence can be disseminated worldwide.
Pushing on a String with Humor
Finally, let me share with you, the reader, one of the cutest tweets I've recently read on Twitter: "In three weeks, we'll all know each other's true hair color."
Sadly, how true … except shame on those of you who've been stockpiling Grecian Formula.
Also, read "14 Sure Bets and Other Thoughts Concerning our Unfolding World".
---
Alex Carrick is Chief Economist for ConstructConnect. He has delivered presentations throughout North America on the U.S., Canadian and world construction outlooks. Mr. Carrick has been with the company since 1985. Links to his numerous articles are featured on Twitter @ConstructConnx, which has 50,000 followers.