Oklahoma City, Salt Lake City & Austin Top City Labor Market Rankings
A relatively easy, but nonetheless effective, way to assess city labor markets is to rank them in two ways: (1) according to year-over-year jobs-count percentage changes, from biggest to smallest; and (2) by unemployment rates, from lowest to highest.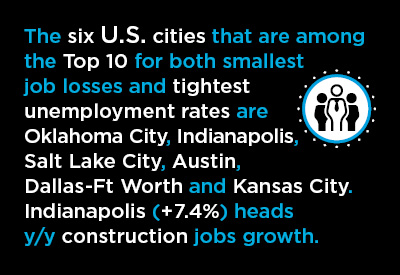 For (1), I'd normally say from fastest to slowest, but that doesn't currently apply. Due to the pandemic, the y/y number-employed changes for all 51 of America's biggest cities are negative. Therefore, the ordering of urban areas according to (1) goes from those with the mildest y/y 'total jobs' contractions (i.e., best) to those with the most severe (i.e., worst).
In Table 1, rankings (1) and (2) are shown side-by-side. Placing them next to each other facilitates a judgement as to which cities are doing best with respect to their labor markets.
The six cities with green shadings in Table 1 are among the Top 10 for both smallest job losses and tightest unemployment rates. The half dozen labor market winners are Oklahoma City, Indianapolis, Salt Lake City, Austin, Dallas-Ft Worth and Kansas City.
There is a second tier of 'reasonably decent' labor market cities based on the fact they're among the Top 10 for either (1) or (2), but they fall just outside the upper echelon in the other category. Those three cities are San Antonio, Birmingham and Denver.
A couple of features of these rankings stand out. First, three of the nine cities are in Texas. The Lone Star State remains a powerhouse for employment prospects. Second, all nine cities are located to some degree (most, to a considerable degree) in the interior of the country. None are port/harbor cities.
Pre-COVID, attention was mostly paid to urban growth along America's coastlines.
Table 1: Best U.S. City Labor Markets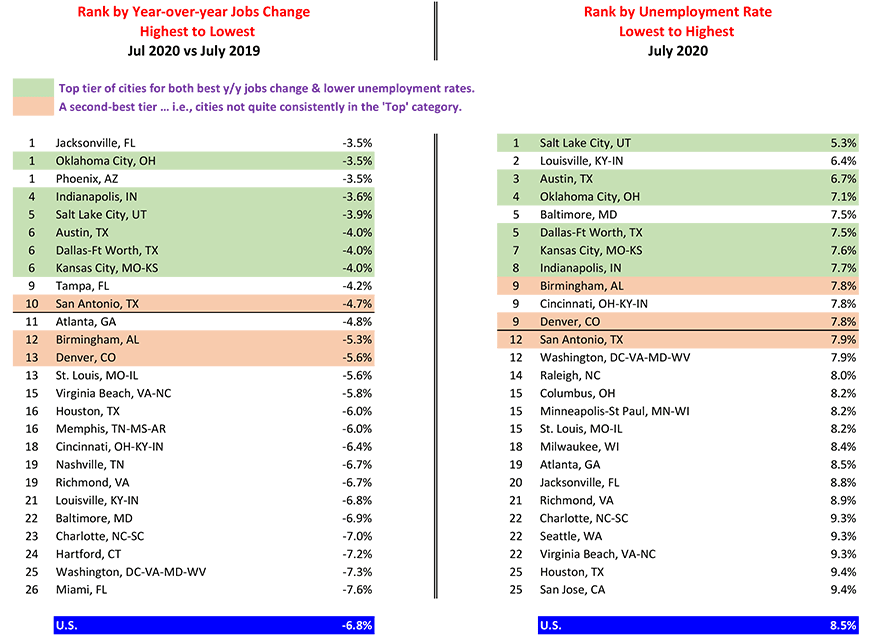 Based on not seasonally adjusted (NSA) data. Cities are metropolitan statistical areas (MSAs).
When the ranking numbers are the same, the cities are in a tie. … Posting online shows 51 cities.
Data source: U.S. Bureau of Labor Statistics.
Table: ConstructConnect.
Indianapolis, Kansas City & Salt Lake City Lead in Construction Employment
City labor markets depend on a variety of industrial sectors, some of which (e.g., 'leisure and hospitality') have been far more seriously impacted by the pandemic than others.
In the Spring of this year, when many facets of local economies were under lockdown, construction was often allowed to proceed because it was judged 'essential'. One offshoot has been that, as of July, the number of construction jobs was level or up year over year in 16 of America's biggest population centers.
Which cities are in those 16? Interestingly, they include eight of the nine cities mentioned as having the best labor markets overall in the first section of this Nuggets report.
Indianapolis (+7.4%) heads the y/y construction jobs growth listing. Kansas City (+5.8%) is in fourth spot, with Salt Lake City (+5.0%) in fifth. Austin (+3.0%) is seventh and Birmingham (+1.0%), tenth. (San Antonio, Dallas-Ft. Worth and Oklahoma City are essentially flat in y/y construction employment.)
For many cities, a good labor market overall is aided by strength in construction employment.
Only Denver among the opening section's nine cities (i.e., those assessed to have the best overall labor markets) has had a dismal experience with construction employment, -7.7% y/y in the latest month for which data is available.
Other cities (i.e., other than the nine listed up front) recording good y/y construction jobs growth in July were Milwaukee, +6.3%; Baltimore, +5.8%; and Tampa, +3.6%.
At the other end of the spectrum, with double-digit percentage declines in construction employment as of July, were Minneapolis-St. Paul, -10.3%; New York, -11.9%; San Francisco, -12.0%; Boston, -12.9%; Philadelphia, -13.2%; and New Orleans, -19.9%.
New Orleans has lost one in five construction jobs over the past year.
Labor Markets in Canada's Million-plus Population Centers are Ranking Poorly
North of the border, labor market data is available for 33 census metropolitan areas (CMAs or, in other words, cities) each month from the government's major statistical agency, Statistics Canada. The latest metrics for those 33 cities are ranked and arranged in the same fashion as has been done for American cities in section one of this article.
In this instance, Canadian data (for August 2020) is a month ahead of what is available for the U.S. (July 2020). (Often, it's the other way around, with U.S. retail sales, for example, appearing a month ahead of their Canadian equivalents.)
At the top of the rankings for year-over-year jobs change and unemployment rates in Canada are mostly mid-sized or smaller population centers. The exceptions are Montreal appearing ninth for y/y jobs change, -4.1%, and Ottawa-Gatineau in ninth spot for a relatively low unemployment rate, 9.2%. As the nation's capital, Ottawa-Gatineau brims with stable government jobs.   
Toronto, Calgary, Edmonton and Vancouver – i.e., the other cities along with Montreal and Ottawa-Gatineau that comprise Canada's six cities with populations of a million plus – all rank among the bottom ten for year-over-year jobs growth.
Montreal, Vancouver, Edmonton, Toronto and Calgary show up even more poorly in the unemployment rate ranking. They claim five of the six lowest rungs on the ladder.
Table 2: Labour Markets in 33 Canadian Cities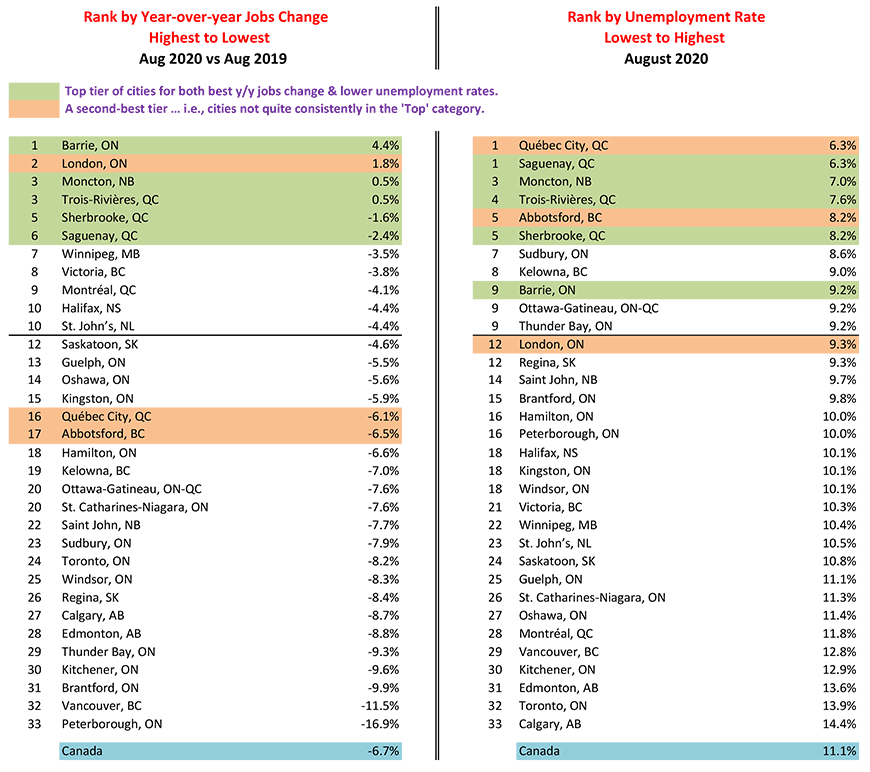 Based on averages of latest three months, seasonally adjusted (SA) data. Cities are census metro areas (CMAs).
When the ranking numbers are the same, the cities are in a tie.
Data source: Statistics Canada.
Table: ConstructConnect.
---
Alex Carrick is Chief Economist for ConstructConnect. He has delivered presentations throughout North America on the U.S., Canadian and world construction outlooks. Mr. Carrick has been with the company since 1985. Links to his numerous articles are featured on Twitter @ConstructConnx, which has 50,000 followers.