At +311,000, the U.S. number on net jobs creation in February, as calculated by the Bureau of Labor Statistics (BLS), was okay. It was neither truly exciting, nor in any way disturbing. It was down from the +504,000 performance in January, but it wasn't the kind of figure that would signal a recession has arrived on everyone's doorstep.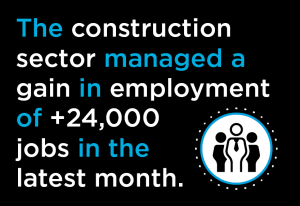 And that's what we're all watching for, indications of slowdown in the economy that might take it into negative 'real' (i.e., inflation-adjusted) GDP change territory. That's not what was delivered in February's jobs report.
But there's a recent alternative labor market reading which, specifically for the construction industry, is concerning. It comes from the Job Openings and Labor Turnover Survey (JOLTS) and we'll delve into that in a moment.
The U.S. economy-wide seasonally adjusted (SA) unemployment rate in February ticked up a little to 3.6% from 3.4% in January. On a not seasonally adjusted (NSA) basis, the U rate stayed the same as the month prior, at 3.9%.
The construction sector managed a gain in employment of +24,000 jobs in the latest month. The last time there was a drop in the number of construction jobs was 13 months ago, in January 2022, at -4,000 positions.
Construction's NSA unemployment rate is now 6.6%, about the same as it was 12 months ago in February 2022 (6.7%).
The 'leisure and hospitality' industry accounted for the biggest bump in employment in February, +105,000 jobs. It was followed by 'education and health', +74,000 jobs. In ConstructConnect's starts database, big hospital projects are appearing with considerably more frequency than they did a year or two ago.
The one sign that total consumer and business demand, under the assault of the Federal Reserve's tighter interest rate moves, may be waning comes from employment in the 'transportation and warehousing' sector, -21,000 jobs in February.
Compensation increases are still elevated, +4.6% year over year hourly and +4.0% y/y weekly for 'all jobs'. Construction workers, as a subset of 'all jobs', are out in front on both counts, +5.3% hourly and +4.2% weekly.
When the wage analysis is limited to non-supervisory personnel (i.e., leaving out bosses), the y/y advances are even more dramatic, +5.3% hourly and +4.4% weekly for 'all jobs' and +6.1% hourly and +5.3% weekly for construction personnel.
JOLTS Construction Openings Plummet
The numbers on construction employment in the Labor Situation report help restore calm after the stunning and upsetting findings that were released in the latest (January 2023) Job Openings and Labor Turnover Survey (JOLTS) report.
For the construction sector, January's JOLTS report delivered a rude shock. Suddenly, there was a huge month-to-month plunge in onsite job openings, with a retreat from 488,000 to 248,000. The numerical decline, -240,000, was by far the most severe in the history of the series dating back to January 2000. It was a drop of nearly half (see Graph 1).
It's difficult to know how much credence to give to the JOLTS' construction 'openings' freefall. Just one month prior, in December 2022, the figure moved in the opposite direction, rising by +140,000, the largest month-to-month climb in the history of the series. The truer picture probably lies somewhere between the +140,000 and the -240,000 numbers.
It would be understandable if construction 'openings' were moderating, primarily due to gathering weakness in new housing construction. But have they truly fallen by -50% in just one month?
Graph 3 shows that 'openings' for all jobs throughout the economy are a tad off their peak, but they are still abundant and well above their pre-pandemic performances.
Graph 1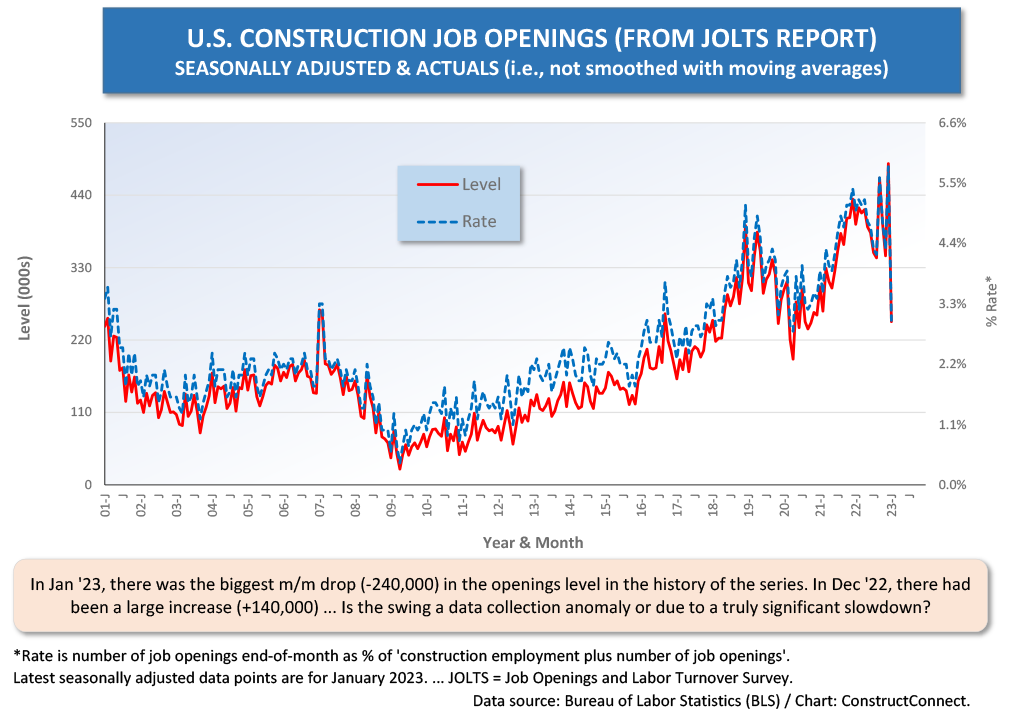 Graph 2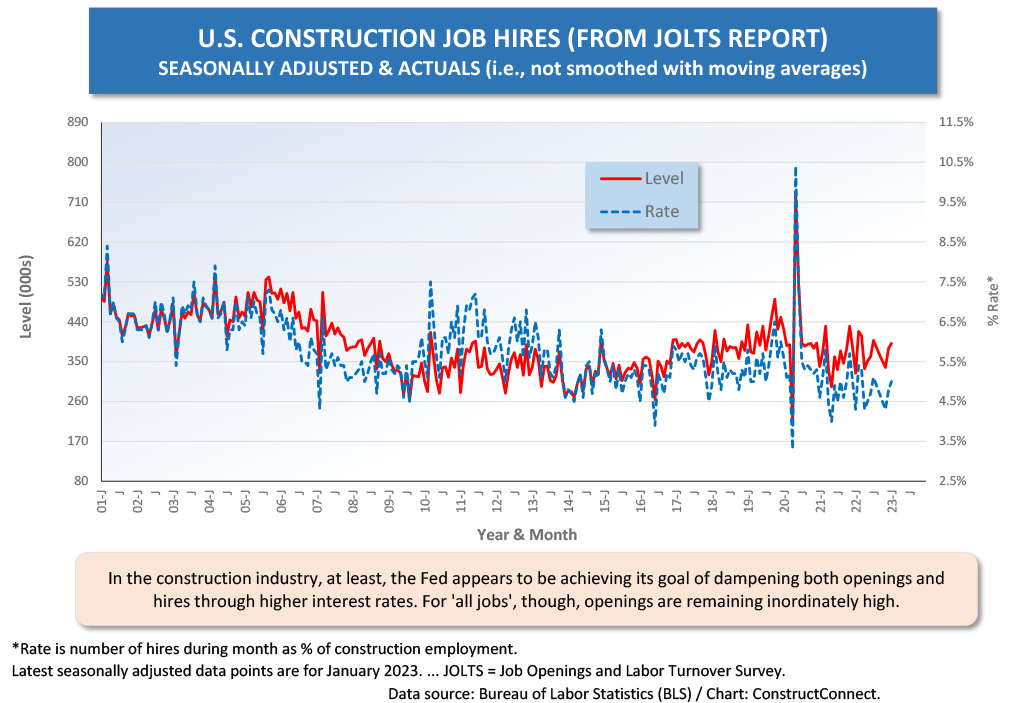 Graph 3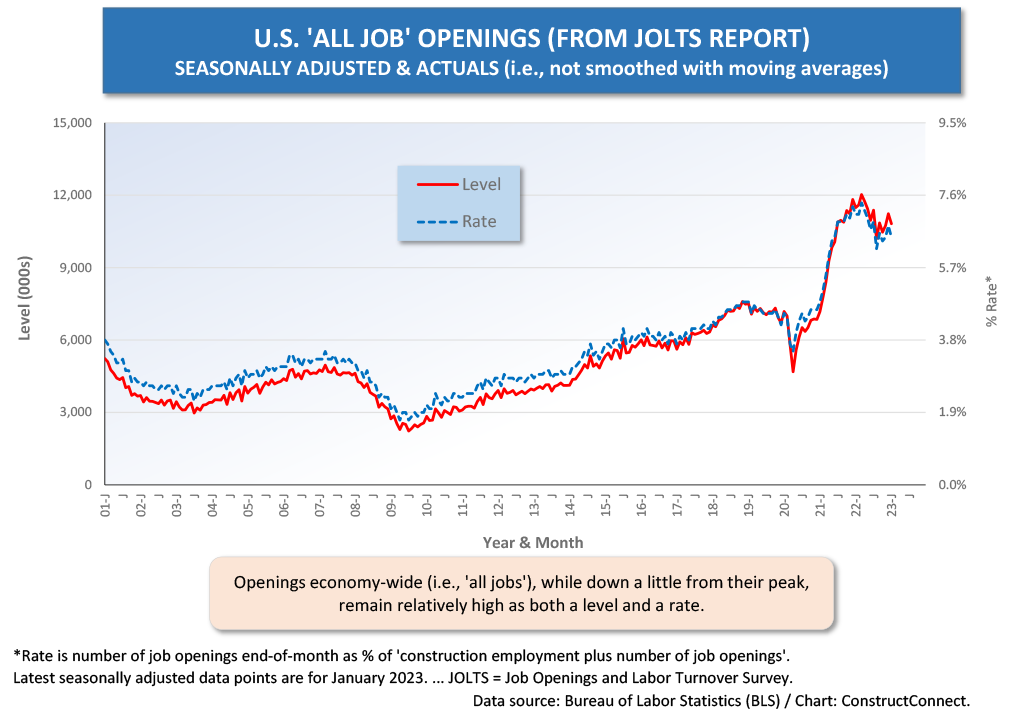 Graph 4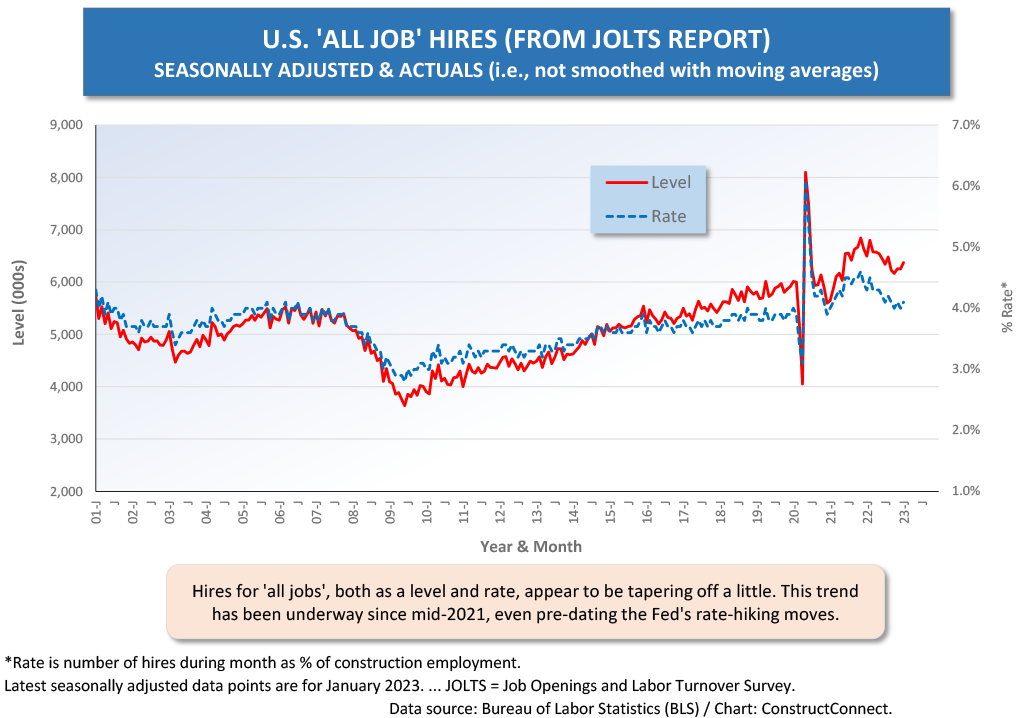 ---
Alex Carrick is Chief Economist for ConstructConnect. He has delivered presentations throughout North America on the U.S., Canadian and world construction outlooks. Mr. Carrick has been with the company since 1985. Links to his numerous articles are featured on Twitter @ConstructConnx, which has 50,000 followers.