Protecting workers in workplaces against COVID-19 requires a safety plan with a suite of controls, says a Ministry of Labour, Training and Skills Development (MLTSD) representative.
"You need to understand that you are not going to protect people by just doing one thing, you need to look at all aspects," said Chris Boccinfuso of the Occupational Health and Safety Branch with the MLTSD, during a webinar hosted recently by Workplace Safety and Prevention Services. "As you build your safety plan and you know all those aspects and put that suite of controls together, these are the things that are going to keep people safe if everybody is in on it."
Broad pillars of a safety plan outlined
Under the Ontario Reopening Act, any business that is allowed to remain open is required to have a safety plan. Boccinfuso outlined the broad pillars to deal with COVID-19, beginning with communication and providing information.
"The whole internal responsibility system is really built around sharing information and having everybody inside an organization able to work together and share to keep everybody safe," he said. "Providing information, instruction and supervision to workers and making sure that supervisors understand their duties."
There needs to be an ongoing dialogue between workers and supervisors, he added.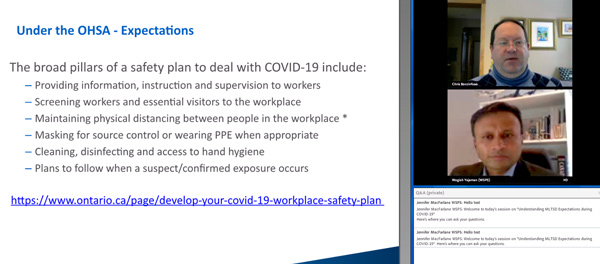 "People are getting tired, there is COVID fatigue out there, people are tired of wearing a mask, people are tired of being careful not to touch their face," Boccinfuso explained. "We've reached the point where it's really important to reinforce these things and not necessarily in a punitive way but in a reinforcing way."
Workers need to be actively screening, distancing and cleaning
Screening of workers and essential visitors in the workplace is important, as is the need for employers to exclude sick people from their workplace. The Ministry of Health recently revised its screening tool to include more questions.
"You need to be taking steps as an employer and a supervisor not only to make sure that workers know how to screen but also to make sure that screening is being done," said Boccinfuso. "They need to take some sort of steps to verify that this training has happened and push those people who are higher risk back home, get in contact with Public Health and follow the direction laid out in those tools."
While physical distancing is a basic measure that can be implemented in workplaces it is sometimes difficult to do.
"Inside the workplace you need to be structuring the work in such a way that people maintain as much physical distance as possible at all times," said Boccinfuso. "We know there are times when you have to work close to someone and that's the time when you need additional controls.
"Sometimes source control masking is appropriate, sometimes it's PPE (personal protective equipment). Anytime a worker is within two metres of someone without a mask on they need to be in PPE. There is no getting around that. They need to have on some sort of proper face covering and eye protection."
Cleaning, disinfecting according to guidelines and access to hand hygiene is also key.
"Alcohol-based hand sanitizer with over 60 per cent alcohol should be readily available or access to soap and water," Boccinfuso said. "Make sure high contact surfaces are being cleaned regularly."
Employers should also have a plan to follow when a suspected or confirmed exposure occurs.
Employers need to prepare to deal with positive COVID-19 cases
Boccinfuso said employers may be notified by Public Health that a worker has tested positive for COVID-19 or alternatively a worker may inform them that they or a member of their household has tested positive.
"You need a plan on how to deal with that and that means I need to know when people were in my workplace, I need to know the areas they were working in, I need to be able share that with Public Health, I need to make notification to a variety of people," he noted.
If the worker believes they contracted COVID-19 through the workplace there is an obligation to report it to the MLTSD, the workplace health and safety committee or representative and the trade union if applicable within four days. Any occupationally acquired illnesses should also be reported to the WSIB within three days of receiving notification of the illness.
"More and more it has become difficult to determine whether or not it was workplace acquired," said Boccinfuso. "If you cannot definitively say it was not acquired in your workplace then reporting is appropriate."
Follow the author on Twitter @DCN_Angela.