Whoever said a power lineman's job was easy never spent a week working long hours up a pole restoring power in frigid temperatures after a snowstorm or in torrid heat after a hurricane.
For many linemen at K-Line Construction Ltd. it is part of the job because the New Brunswick-based contractor has built a reputation as an emergency call-up for utility companies throughout Atlantic Canada, Quebec and the U.S. eastern seaboard in times of major power outages.
K-Line's first foray into disaster work was after the ice storm in 1998 in Quebec. Since 2012, the contractor's work has "grown significantly" from 15 workers on seven power restoration crews to 70 linemen on 30 crews today, says Mark Keenan, senior manager of power operations for the family-owned business that operates out of Beardsley, a small town in Carleton County, N.B.
Keenan, who says those workers typically climb poles to repair or splice wiring, repair switches and transformers, replace poles and remove tree debris, attributes the company's rapid growth largely to the increasing frequency and severity of storms.
Keenan, a seasoned power lineman who had retired after 36 years for a New Brunswick utility company, was pressed back into service for K-Line on a part-time basis in 2012. A number of other utility company retirees have committed to on-call emergencies for K-Line during outages.
Earlier in November, the contractor was in New Hampshire and Maine to help restore power after high winds and rain, he says. While the company was there for only 10 days, it represented about 10 per cent of K-Line's total hours for 2017 because linemen worked as many as 17 hours a day without a day off.
In September, as Hurricane Irma passed through Florida, K-Line's crews were in Orlando and eventually moved to the west coast to help bring power services back on. The heat, humidity, snakes, alligators and spiders were issues unfamiliar to them back home in New Brunswick, says Keenan.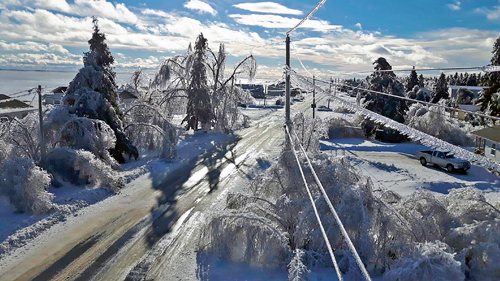 Removing large trees and branches off power lines can be tricky and dangerous. Ensuring all lines are grounded is paramount to protect lineman at work because residents with improperly installed power generators can cause "backfeed" which can "energize a line to full voltage," explains Courtney Keenan, purchaser for K-Line, whose job description includes "doing just about anything else" when the company is pressed.
He says crews and their line trucks were among about 500 trucks organized in a staging area on a dog race track in Florida because there wasn't enough space to park trucks at motels. Some of those motels also faced bed shortages.
"At times our workers end up sleeping in their own trucks and we have pictures of people sleeping in the wood chips in the back of chipper trucks," explains Mark Keenan.
The Keenans say while disaster work is difficult, it can be rewarding.
"You get disgruntled residents and the boys (lineman) get quite fatigued working 15 to 17 hour days, but there is a great satisfaction in completing the work for residents," says the company's purchaser.
And many residents are not shy about showing their gratitude — sometimes in unusual ways.
In Florida, for example, a number of residents did the linemen's laundry as the power was restored.
"There's the good and bad in everything," adds Mark Keenan. "We look at our guys as superheroes… our guys feel that they are really needed and are even prepared to work through holidays (Christmas)."
While the company's growth projections depend in part on changing weather, Keenan says continuing to increase business in the U.S. is also dependent on continued good relations between the two countries.
"Communications between our governments has to remain positive, to allow our borders to stay open. They really need us (Canadian contractors)…when major storms come up the East Coast," he says.
K-Line started as a two-man company with a bucket truck in 1980. Today it has about 350 employees and 20 subsidiary companies in New Brunswick, Nova Scotia and Florida. Its business includes a telecommunications division.