As engineering schools go across Canada, the faculty on campus at the University of Prince Edward Island in Charlottetown generally flies under the radar.
But the three-year-old accredited engineering school, known as the Faculty of Sustainable Design Engineering (FSDE), is starting make some noise, drawing attention to itself in Canada and even the U.S. for its unusual curriculum and hands-on approach to learning.
"We really set out to do something different," says Nick Krouglicof, dean of the faculty, noting traditional programs such as mechanical engineering "are well covered" at universities in Atlantic Canada.
"When we started this, there were a lot of people questioning sustainable design (and our approach to teaching). Now they really see that it is kind of the way the future is going."
The teaching focus at the faculty goes beyond classroom learning. Each semester students are responsible for designing projects with community or industry clients.
Krouglicof says in the real world, engineers and fabricators are sometimes at odds because engineering designs are not always seen as practical to build by fabricators.
The FSDE takes that issue seriously, he says, noting students, particularly in third and fourth year, are required to develop a prototype or a proof of concept project for industry clients. They are encouraged to seek advice from technologists on issues like machining, welding and how to find ways to modify designs for ease of fabrication.
The idea is "to give students an appreciation for what the trades do and how they can better adapt their designs for manufacturing," the dean points out, adding "they are like junior engineers for these clients," and they also get paid for their work.
He says last year some students built a prototype for close to $15,000, which was money funded by the industry client.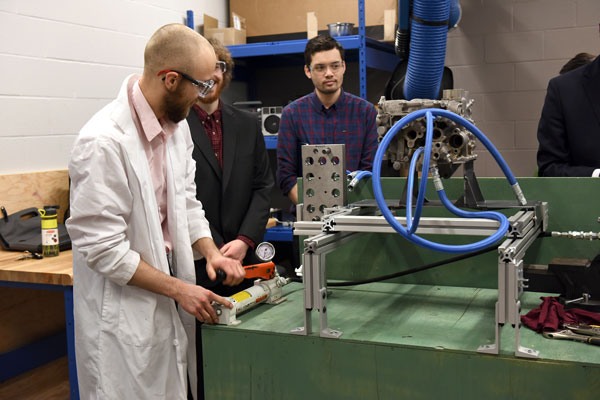 "In a typical university, you might give the students a modest budget" of a few hundred dollars, he says. "We go well beyond that."
Another project saw second-year students patent a prototype design for an automated system for oyster farming.
The dean says its community partner for first-year students is Parks Canada which has offered "a wide range of projects" as far away as Labrador. They have included power solutions for an off-grid interpretation centre, an environmental waste management system and transit zones that eliminate sand dune disturbance for visitors along ocean beaches.
"Often the students have to visit the site, look at ideas and then propose solutions," he explains.
The design courses represent about a quarter of the curriculum for the undergrad degree program but other classes incorporate a practical side as well. An example is a material science course where students weld parts, evaluate them under a microscope and conduct strength tests.
"They are not going to be welders but it gives them an appreciation for what is involved."
Krouglicof says feedback from employers has been "very positive," particularly from small companies that require employees with broad-based skills.
"They like our students because not only do they have technical skills but they also have professional skills," he says, which helps them deal with clients and the trades.
"We know we have been pretty successful because 34 per cent of the projects now are from returning companies."
The school's first-year intake is about 120 students but Krouglicof says eventually there will be 540 in the undergrad program — the Bachelor of Science in Sustainable Design Engineering.
Technical people on staff include a welder and a machinist, two engineers, an electronics technician as well as mechatronics (intelligent computer control systems) and bioresource technicians.
The faculty's premises includes one large classroom and a number of "clinic bays or small labs" where students do their projects. Small meeting rooms are available for planning and brainstorming.
"A lot of people talk about hands-on learning. We built a building that supports that model," he says.
Along with the undergrad program, the faculty has a Masters in Sustainable Design Engineering and administrators are looking at adding a PhD program soon.
The school's focus is in line with the agenda of Engineers Canada — the national organization that regulates engineering practice in Canada — which prescribes that all engineering designs now be sustainable.
A design's carbon footprint and recyclable qualities were not issues when Krouglicof was in engineering school.
"It (the field) has come a long way," he says.