A year ago when electrician Emily Van Toever and machinist Sam Petrie decided to set up a Facebook group to connect with other women in the building trades in Prince Edward Island, they had no idea where it would go.
Today, with 65 members actively working in the trades, Women Building P.E.I. (WBPEI) is developing strategies and support mechanisms for women in the field
"Any problems a member might have onsite, we provide community support from the collective experience of the group," says Van Toever, pointing out that members go beyond social media connections by organizing meet-ups to discuss issues.
Along with addressing concerns workers might have with their male colleagues, the group will also help members in need for other reasons. As an example, the WBPEI organized a benefit for one of their members diagnosed with breast cancer.
"Eventually, we hope to be able to tackle pretty much every obstacle that females experience working in the trades," she says.
"Or at least provide direction for services or support."
Van Toever explains WBPEI was set up largely in an effort to help address the attrition rate of women in the construction industry.
While 50 per cent of women entering construction stick it out to reach red seal level proficiency — up from only 33 per cent a decade ago — retention should be higher, she says.
Van Toever applauds programs like Trade HERizons in P.E.I., which "does a great job of recruiting women into the trades. We see this (WBPEI) as adding one small piece…to creating a stronger support group for women emerging into the industry."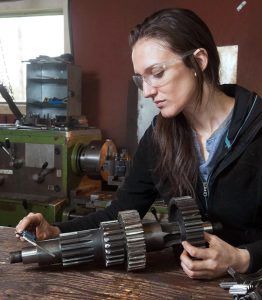 Feelings of isolation are a common theme among women in the trades in Canada's smallest province, she says.
"It is few and far between when you see another woman on a trade site."
BuildForce Canada's statistics indicate only four per cent of the workers on construction projects in P.E.I. are women.
"We are absolutely under-recruited," says Van Toever.
But since 2017 the number of women in construction has been increasing, driven by building expansion, according to BuildForce.
Most women work in the non-residential sector, which is atypical in other provinces.
A continued strong pace of growth in P.E.I. — it is projected to have the highest GDP in Canada in 2019 — will be determined by the pace of housing construction to attract immigrants, however, says Van Toever.
Treated well by her co-workers at Hansen Electric Ltd., the largest electrical contractor in the province, she says the company's management team is "very supportive of a diverse workplace."
Overall, Van Toever says she doesn't face many issues with her male counterparts on jobsites, although sometimes men from other trades have issues with women onsite. It rears itself at times when they keep an eye on her work "to see if I know what I'm doing."
She says the story can be different for some women, especially on smaller jobsites where women workers are less apt to report hassles with male workers or bosses because they fear it will affect their future job opportunities.
"They don't want to be branded whistleblowers," she says.
Attitudes have to change among men.
"I think for a long time the construction industry has benefitted from the skills of only one gender but diversity is an absolute solution to the scarcity we're going to be facing of our skilled workers," she states. "Underemployed women on the island are a fantastic solution to that need."
Van Toever says WBPEI's long-term goal is to create a shop-based centre offering women a tool library and hands-on trades workshops to help them develop skills and confidence.
"What we are hearing is women want time on the tools and a supportive environment. Sometimes they are not given that chance at work."
While the group received a small federal funding grant, Van Toever says it has largely been self-supporting. WBPEI has applied for not-for-profit status.
Van Toever, who obtained her red seal certificate as an electrician early in 2019, says she got into the trade five years ago after finding it difficult to land work with her Bachelor of Science degree qualifications.