While apprentice carpenter Andrea Buikema carves her way to a satisfying carpentry and design career she still finds time to inspire potential future tradeswomen through the TRCA's Girls Can Too summer program.
As a child Buikema often accompanied her homebuilder father on site visits to his projects and she credits that experience for her interest and eventual entry into the construction industry.
"I always loved going to visit my dad on job sites as a kid. You can learn so much just from always being exposed to it."
But that career door didn't open right away. After graduating from high school, she enrolled in the two-year interior decorating program at Algonquin College. She took that training one step further by completing the one-year National Kitchen and Bath Association's kitchen and bath course which the college offers to post-graduate students.
She then set out on her own and started a design firm, A. Buikema Design Co., where she worked with homeowners to create kitchens and bathrooms which suited their lifestyles.
"After working as a designer for a few years, I began to realize that I really wanted to know more about the installation side of things. All too often I was reaching out to my dad, who is a carpenter, wanting to know more about renovations and how houses are put together."
So she made the "big leap" and has been working as a carpenters' apprentice for the past three years for her father's construction company, Otto Buikema Carpentry, where she trains under him and a supervisor. She has one more academic session to complete before writing her Red Seal in general carpentry exam.
In addition to her full-time job, Buikema, 27, still finds the time and energy to operate her design company on a part-time basis and last year also started a small side project to teach women basic carpentry skills. Called the "Country Build Club" it consists of workshops and videos which she send outs weekly to help clients with their own home projects.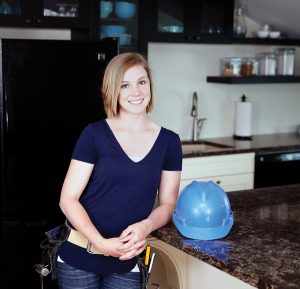 And in 2017 she also accepted an invitation by the Toronto and Region Conservation Authority to be one of the instructors at its summer Girls Can Too program. Conducted at the Bolton Camp just outside of Bolton, its purpose is to teach basic construction skills to high-school female students. Buikema, who was a return instructor in 2018, will also be conducting two-day sessions a week over the four-week-long program this summer, as well as participating in a mother-daughter build day.
"We have a few different building projects this year," she says. "One will be a unique trail kiosk, a copy of the one we built last year. There is also a garden project, which I have not yet seen the plans for. Regardless of the projects, we always cover tool safety, how to use the various tools properly, and skillfully.
"By having the girls build the projects themselves, they are able to see how we break down the project into simple steps, which is something they can use time and time again, when they work on future projects. Often during lunch or downtime, I share with the girls what my job is like, and they're able to ask questions about carpentry, and schooling."
As she lives in Prince Edward County, which requires staying at least one night in hotel, Buikema was asked to explain her motivation to drive all the way to Bolton. Her answer was that she "really loves" the message behind the Girls Can Too program.
"I love that they (the TRCA and program sponsors) are giving girls an opportunity to try something that is typically only marketed to boys," she says. "We definitely have an opportunity to make an impact, and influence these girls to step outside that traditional role, and take on a job, or career or even just a hobby that women weren't always a part of."
Buikema is currently exploring ways in which a similar program can be established in Prince Edward County.