The strike by unionized sheet metal workers in Ontario's ICI sector is now its eighth week and it's become clear the work stoppage is having a significant impact on projects across the province.
"It is starting to have a major effect on worksites," said Construction Employers Coordinating Council of Ontario executive director Wayne Peterson on June 25. "They cannot put drywall in, they cannot do a lot of the work until the sheet metal, ductwork and so on goes in.
"There is no-one there to do the work and it is stopping other trades from doing their work."
John Mollenhauer, president and CEO of the Toronto Construction Association, said most construction jobs have tight timelines so any disruption in the flow of work is a problem.
"A great many projects are affected by the sheet metal strike," he confirmed. "The impacts are very different depending on the stage of construction but targeted delivery deadlines are typically tight and most don't have sufficient schedule contingency to weather a prolonged delay of one or more critical trades."
Neither the union nor the Sheet Metal Contractors' Association would comment on negotiations but Sheet Metal Workers' and Roofers' Local 30, with 3,500 members in the Toronto area working in the sheet metal, roofing and siding and decking sector, has been keeping its members informed via Facebook several times a day.
The main issues appear to be hours in a work week – working four days versus five – and control of hiring rosters at hiring halls.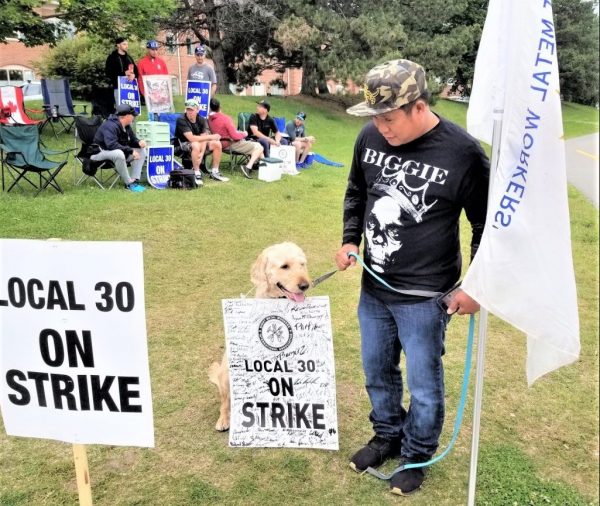 Peterson, noting what amounts to a blackout on information from the bargaining table, said sheet metal contractors had not contacted him with concerns but other contractors had.
"They are not telling me anything on the sheet metal side," he said. "Some of the other major contractors are calling, asking how long is this going to go on and when might things be resolved."
"I think they don't want to negotiate in public. Both sides are in a very precarious position. I feel for the union business reps that have to get re-elected. Same with the contractors, they are hurting. Future work could be in jeopardy because of this."
Peterson said Toronto negotiations appear to be holding up a province-wide settlement.
"Most of the issues outside of Toronto have been agreed upon," he said of other locals. "They would rather be off strike right now."
Peterson said generally the Toronto local has to sign off on any agreement but there is a precedent for another process. In 2001 the Toronto sheet metal local was at odds with others around the province and finally the provincial rank and file voted in favour of a deal despite Toronto not signing off.
Further negotiations were scheduled for June 25 and 26.
A full-page memo from Local 30 posted on Facebook June 24 said union negotiators met with the contractors association June 19 with hopes talks would last into the night if required. But the contractors were said to have walked out at 7 p.m.
"We can only assume that the contractors association was frustrated by our members' staunch resistance to demands for concessions on hours of work, overtime and democratic controls over our hiring halls," the post stated.
The memo said the union had offered concessions on apprenticeship ratios, siding and decking work, worker mobility and workforce supply.
Further concessions were offered since then, with a package prepared by members on June 21 and 22, but they were also rejected by the contractors, the Facebook memo indicated.
Peterson noted that the twin issues of work weeks and hiring protocols had been divisive in most sets of negotiations undertaken in this year's open period, which officially launched March 1, but in most cases the negotiators got around the problem by simply taking the issues off the table.
Provincial legislation mandates that collective agreements between the province's 25 ICI trades and their unionized employers are of three years' duration, with March 1 this year marking the end of the latest round of three-year deals.
In addition to the sheet metal sector, the ironworkers and their employers remain unsigned but there has been no strike action taken and the ironworkers remain on the job.