As if anyone hasn't noticed, women's bodies are generally differently shaped than those of men.
Not only do women tend to be smaller, their feet are narrower both in width and at the ankle and their hands are smaller, according to various work attire experts.
And if there's one thing most women hate — on or off the construction site — it's clothes that don't fit properly and are uncomfortable to move around in while working.
It's also a safety factor, notes Stacy Kennedy, a sales associate at Direct Workwear Ltd. in Edmonton, a firm which also sells its wares online at directworkwear.com.
"If you can't move fast enough to get out of the way because your clothes are too tight or don't give, that's a problem," she says.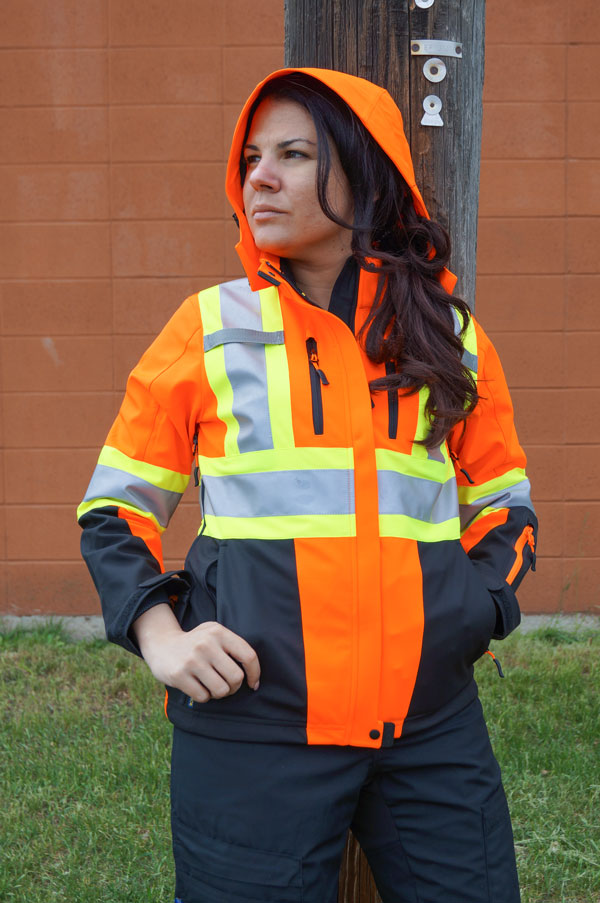 With the growing numbers of women in the trades and on construction sites across Canada, Kennedy says business is booming.
"It's a totally different world now than five, let alone 10 years ago," she says.
"Whereas women were five to 10 per cent of our sales, now it's 40 per cent and growing to half of our business."
A 2014 report for the New York Committee for Occupational Safety and Health found personal protective equipment (PPE) such as respirators, fall protection harnesses, safety shoes, gloves, coveralls, hard hats and safety goggles may be too large for many women.
These are issues the sector has been addressing over the last few years because it's a health hazard when respirators don't protect adequately against chemicals, and a safety hazard in cases where loose clothing and gloves get caught in machinery or when overly large boots cause tripping.
Many women may opt not to wear poorly fitting equipment, putting themselves at risk of injury, the report found.
Direct Workwear, a family-run business founded 30 years ago, recently opened an outlet in Fort McMurray where there's a growing population of women working in construction and in the oil and gas sector.
Like Ontario-based Moxie Trades which started up in 2006 creating workboots for women, the trend of women in the trades has opened up new markets for all kinds of work wear such as gloves, safety vests, work pants, overalls, fire resistance wear and PPE.
The trend is also noticeable in the United States where more companies are springing up designing and selling work wear for women.
Kennedy says Direct Workwear works with local suppliers to get women's work wear made with more hip room and shorter inseams.
"We've also got some (clothing) with stretch panels which have the wear panels in the high-wear areas so they get both protection and comfort of movement," she says.
Having leg zippers is also a bonus for female construction workers since they get the same bathroom break time as the guys but it takes them a lot longer to disentangle from their work clothes and get them back on, says Kennedy.
"Also sizing is sometimes an issue because there are some very petite women at a size 0-0 and they have trouble finding work wear," she adds.
Kennedy says for unusual fits, they'll even tailor the work wear accordingly for a custom fit and source whatever fabrics are required such as Flame Resistant and add reflective safety strips as required along with custom embroidery of company logos and names.
"Women are particular and they don't mind paying an extra $20 for work wear which fits properly and is comfortable rather than just grab a man-sized item off the rack," she says.
"They also want to look good as much as possible. It's a boost of confidence for them."