A female construction worker shared the story of her journey from labourer, to carpenter, to site superintendent during the College of Carpenters and Allied Trades graduation recently and told students sometimes life — and career choices — can be unexpected.
"I really want to share my story of how my construction career came to be," Lilianne Dobbs, a superintendent with PCL Constructors Canada, told the graduating class at a ceremony in Vaughan, Ont. "It was not in my plans and quite unexpected. I was convinced I was going to be a hairdresser which also happens to be a skilled trade but obviously not the one I ended up pursuing."
Dobbs had some advice for the new grads as they begin their careers.
"There are so many amazing opportunities available to you and the rewards are so many," Dobbs said.
"There are so many ways that you can use and expand your skills. Your learning will never be done, take advantage of that."
Dobbs grew up in a family of construction workers. When she was four years old, her father built her family home and she remembers helping to clean up the scraps in the yard.
"I guess that's where my inclination towards construction might have started," she noted, adding her father always encouraged her to consider a career in construction.
"Many nights he came home and would say to me 'you should work in construction, you would like it,' " said Dobbs.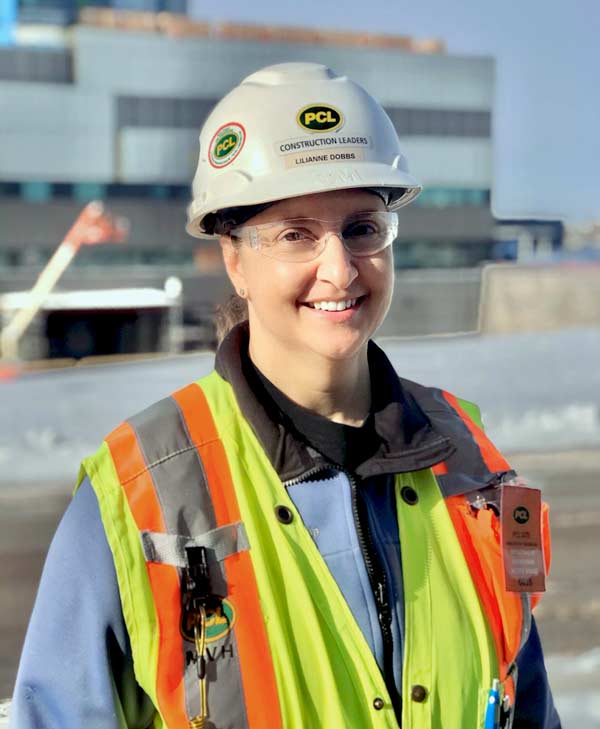 Instead of registering for hairdressing school out of high school, Dobbs decided to take a year off to work and save money. One morning her dad said he was taking her brother to the hiring hall and asked if she was coming.
"I hesitated for a moment then I said OK and off we went," she recalled. "While he was filling out the forms my dad asked the guy 'do you take girls?' The dispatcher said 'ya, we take anything.' At the time construction was booming and there were not enough workers available so anyone that showed interest was accepted. There I was standing beside my dad, not so sure about myself and this had just become very real."
Dobbs and her brother attended a three-week training session and were dispatched just before Christmas in 1987.
"They needed two labourers for a one-day pick and shovel job," she recalled. "By the mid-morning I could barely open and close my hands. I will never forget that feeling… At the end of the day the superintendent told us he was happy with our work and had other projects he could send us both to."
In the new year, she started working.
"During that time our superintendent and foreman had started talking to us about taking carpentry apprenticeships," she said. "At first I thought it was I wasn't interested because of my hairdressing plans but I was enjoying the job and the environment I was in so I started seriously considering it."
She joined the Carpenters' union in the summer of 1988 and started her apprenticeship.
"By then any thought of hairdressing was long gone from my mind I knew this career was going to be fun and far more lucrative," she said.
When the recession hit, she was laid off for a few months and worked on and off for different companies for the next few years before getting steady work with PCL.
"PCL was shifting gears in Toronto from being a self-performing contractor to more of a project manager role," Dobbs explained. "They no longer required all the carpenters they had so some were offered positions as superintendents. I started off nervously because I didn't think I knew enough to tell other trades what to do, I was just a carpenter after all. However, I was assigned to special projects and working on smaller jobs. I soon learned that I didn't need to know it all. I had to facilitate making it happen."
Safety is a priority for her.
"Anyone who has worked on a project with me knows I am a stickler for safety to the point that all the workers on the site think I'm the safety lady, I get called that a lot," said Dobbs.
Her first major project was an interior renovation at the Eaton Centre in Toronto.
"It's been over 21 years that I have worked as a superintendent and I've really enjoyed it," she stated. "I love this industry and the feeling of accomplishing something each day, something you can see. I enjoy working with people and being part of a team. The projects are diverse and so rewarding. You drive by them years later and the memories are good ones and you carry a feeling of pride about how you were involved."
Her favourite project was working on the Cassie Campbell Community Centre in Brampton, Ont.
"I was entirely in charge of it from an empty field to the completion of the project," said Dobbs. "Every time I drive by there, years later, I get a great feeling to see the facility that was built for the community."
Follow Angela Gismondi on Twitter @DCN_Angela.