Getting up early, dressing and heading out to work is a normal, every day feature of life for the vast majority of people — unless they are struggling with mental health challenges or addictions.
Turning their lives around takes courage, personal commitment and lots of helping hands, among them a George Brown College program in Toronto which offers a path to a construction sector job.
"Construction jobs aren't for everyone," warns Gianni Rotondo, job coach/developer, Augmented Education at George Brown who oversees the Construction Craft Worker Foundations Program, the only program of its kind in Ontario.
"As every construction sector person knows, it's early morning starts, physically demanding work on dusty, noisy, dirty sites which are cold in winter and broiling in summer."
Still, for some of the 30 students or so who are accepted into the five-month program, it's a chance to learn some basic construction skills, work with tools, learn safety procedures and get into a routine which, in 73 to 75 per cent of cases, leads to a full-time job working in the sector for decent wages, Rotondo says.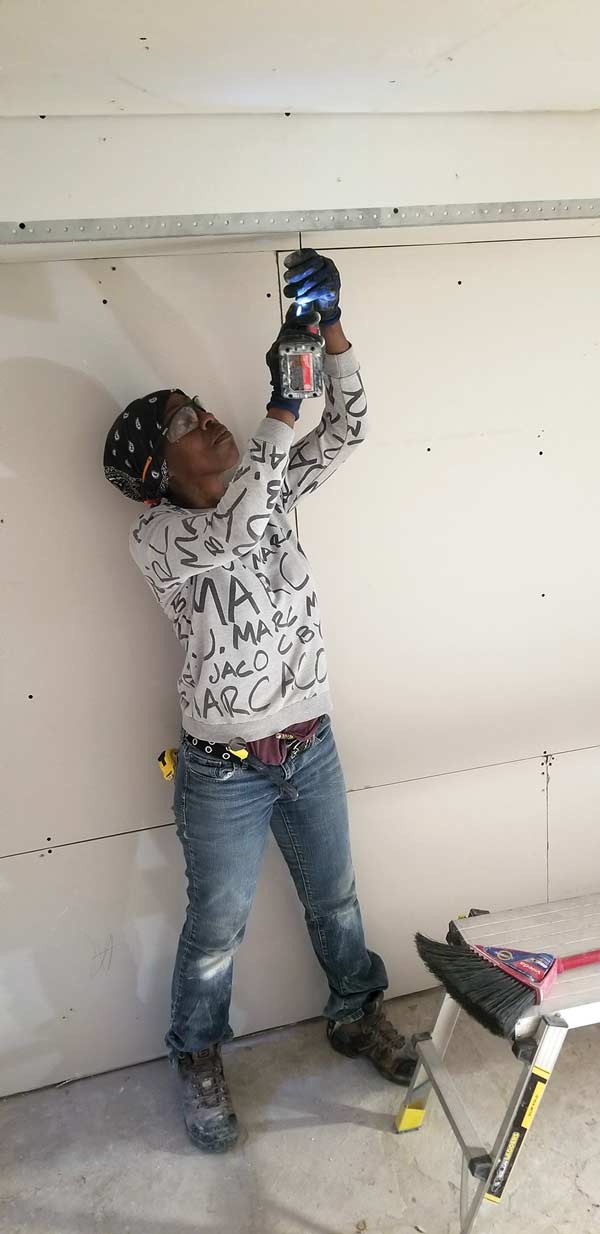 For some, like Sharon Marcus, construction is a second career option.
After 25 years in nursing, much of it in the emergency ward, she felt she had hit the wall and wanted to do something else.
"I took some time off to deal with a family issue and I wasn't sure what I wanted to do," she says. "The program let me explore. It's such a wonderful thing and very different and hands-on."
Being in her 50s, however, meant no one was going to hire her to see if she could cut it. The George Brown program, however, gave her a hands-on taste of what working in the sector might feel like and she took to it like a duck to water.
She graduated as the top student and valedictorian and was on her work placement when the Daily Commercial News caught up with her.
"I wasn't scared away when I went down to find out," she says. "In fact, I was more intrigued."
Despite the long trek by transit from her home at Bathurst St. and Steeles Ave. every day to the college, she persevered and is now mulling which areas of construction she wants to specialize in.
Safety training might dovetail nicely with her background in front-line medicine but there are so many options, and she's just taking her time.
Construction work is more physically demanding in some ways but nursing isn't a walk in the park either with patients to lift and move around plus being on your feet all day.
The thing she doesn't miss, however, is the emotional toll nursing takes.
They can hit the ground running with basic safety and skills
— Gianni Rotondo
George Brown College
"Taking a hammer to a wall in the reconstruction and demolition work I'm doing now is very satisfying. You get some real satisfaction tearing down a room and then rebuilding it."
What's more, the program is completely free to the students; but not all stick with it like Marcus. Some drop out in the school phase, other find that construction sites aren't for them.
For those who do stick around, however, it's life changing.
"We started a similar program in culinary for those with addiction and mental health challenges and it has been very successful," says Rotondo. "So we looked at construction."
Subsequently, the craft workers' program was developed with the Ministry of Training, Colleges and Universities and the Labourers' International Union of North America (LIUNA).
"It's a level-one training," he says. "We work with them to get to a job transition. Once they get a job, then they start to learn Level 2 through the union or on the job. It's for entry-level jobs."
Students will learn basic skills, from wearing proper personal protective equipment to navigating a construction site, working with power tools, basic framing, dry walling, mudding, painting and basic renovation and restoration work.
"They can hit the ground running with basic safety and skills," Rotondo says.
Students start in April and get 30 to 35 hours of class time where they'll also do some hands on work mixing cement, laying masonry, framing, finishing, learning how to operate a fork lift and working on platforms.
"Towards July, we start working on resumes and cover letters to help them find a job placement where they can get 160 hours on the job," Rotondo adds.
The program is externally funded through the Ontario Disability Support Program, Training, Colleges and Universities, and the City of Toronto as well as the George Brown Foundation which does a lot of fundraising for both the culinary and construction program, he says.
"As part of this they get their work boots, hard hat and work gloves," he says. "All told the value of the program is about $12,000 to $15,000 for each student."
There are many points of entry for graduating students, Rotondo says, not just with LIUNA locals 183 or 506.
"Lots of small construction companies want entry-level people for renovations and restorations," he says.
The program has job coaches who not only guide them with the construction skills but work on their soft skills as well, to better position them to be able to work in the construction sector.