In April 2019 when Ontario Premier Doug Ford announced the province would be spending $28.5 billion on four new transit lines, including over $11 billion on Toronto's Ontario Line, Kevin Bryenton immediately began to run the numbers.
The new line, targeted for completion by 2028, will be 15.6 kilometres long with over half of the route planned to run underground and 15 stations proposed.
That's a lot of work for iron and rodworkers, the trade union executive realized.
"The Ontario Line is huge," said Bryenton, president of the Ontario Iron Workers District Council. "I mean, $11.8 billion on the Ontario Line, we know there's going to be lots of action, with all those bridges and tunnels."
The civil works portion including the rebar work is done at the front end, and that's usually 30 per cent of the total package, Bryenton said.
He figures there will be 400 to 600 of the union's ironworkers engaged on the project for five years. The median hourly wage rate of ironworkers in Ontario in 2019 was $40. So that's a half-decade of good paydays on that project alone.
But the announcement also served to heighten the ironworkers' awareness of the need for recruiting and training.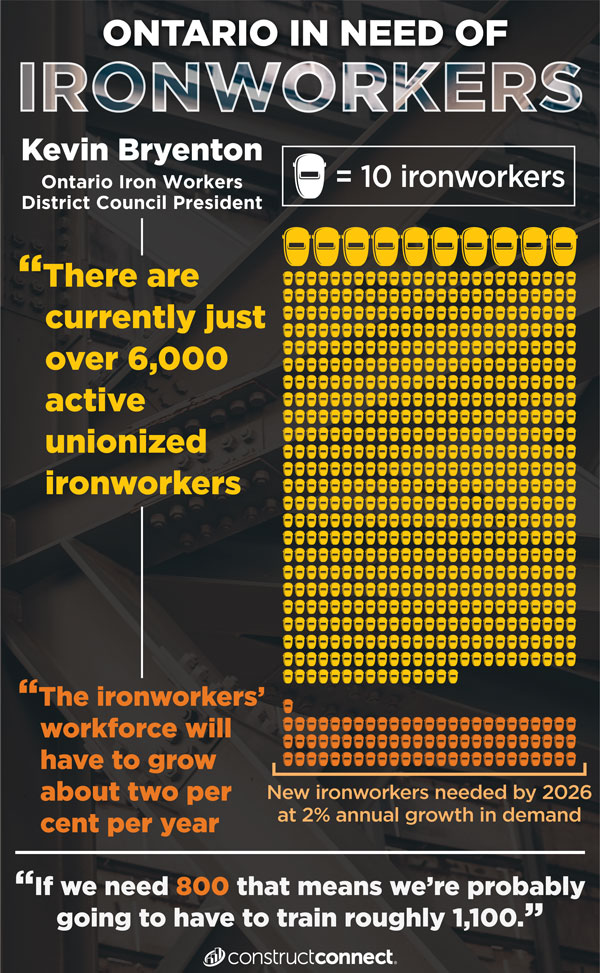 There are currently just over 6,000 active unionized ironworkers across the province and with steady growth in the construction sector predicted over the next few years, Bryenton says the ironworkers' workforce will have to grow about two per cent per year.
With many thousands of trades workers retiring in the next decade, most trades are consumed with recruitment and training but it was Ontario's ironworkers and rodworkers who were in the spotlight last month when Minister of Labour, Training and Skills Development Monte McNaughton announced a $4-million package for six Provincial Building and Construction Trades Council of Ontario projects.
Three of the projects involve ironworkers including a pre-apprenticeship program for 460 workers to receive an introduction to rodworking tasks typically used in transit and light rail bridge construction.
With that funding the Ontario Iron Workers District Council will provide two weeks of in-class training and an eight-week work placement and those who successfully complete the program will be registered and employed as apprentices.
"We've been doing a review of the demographics now for over a decade and getting metrics to the actual question marks around what the exodus of baby boomers means. We've been pretty good at addressing that," said Bryenton.
With the province continuing to ramp up its slate of transit projects in recent years — projects in the works and in construction include the Finch West LRT, Eglinton Crosstown LRT and extension, extensive GO Rail expansion, the Hurontario LRT, Ottawa LRT, GO RER, Union Station Enhancement, the Scarborough Subway Extension, Yonge North and now the Hamilton LRT – the Ironworkers have been stepping up their analysis of projects to come up with more precise workforce requirements.
"We keep our ear to the ground," said Bryenton.
The Ironworkers might know, for example, there will be 14 bridges to build on the eastern 407 extension but not how construction of those bridges will be undertaken. Some contractors favour precast over cast-in-place, and if a winning bidder involves a Spanish contractor, Bryenton said, "They have a different way of looking at the world, how the money is bonded and the partners are determined."
Another example of important intel was the Ironworkers' tracking of the Gordie Howe International Bridge project.
"We didn't know exactly what kind of bridge it was going to be until about a year in advance of the project," said Bryenton. "We knew there was going to be concrete piers. So we can guarantee that it's going to be 'X' number of reinforcing ironworkers that are needed."
The Ironworkers also learned there are going to be 27 outbuildings on the Windsor side and 18 on the Michigan side.
"A building's a building. We know they're going to remain structural steel and it's going to be this much work.
"We get an idea as soon as we can and then we try to plan for it that way."
Bryenton said reinforcing steel contractors are very astute and good sources.
"They know even before the bids are fully out that these are going to be cast-in-place…so we get an advance on that."
As for demographic and economic data, the Ironworkers consult widely with such sources as BuildForce Canada, Infrastructure Ontario, the Reinforcing Steel Institute of Canada and Workforce Planning Ontario and they also call up contractors to gain insights. The latest BuildForce Construction Forecast report indicates for the GTA, in five of the next seven years there will a tight market for ironworkers.
"We kind of went into the weeds a little more to get the kind of numbers we were looking at," Bryenton said.
"We were trying to err on the side of caution in terms of our retention of those incoming applicants and how many we're actually going to keep. If we need 800 that means we're going to have to train roughly 1,100 because we're only holding on to about 70 per cent of our first intake."
Follow the author on Twitter @DonWall_DCN.