Avoiding complacency, learning from mistakes and sharing best practices even with rivals will help Ontario contractors survive and thrive through the next phases of the COVID-19 pandemic, participants in a League of Champions (LOC) safety webinar were told recently.
The Aug. 18 LOC event was billed as COVID-19 Best Practices — What Has Worked? Presenters were Craig Sparks, national safety manager of Maple Reinders, who revealed how his firm learned to make use of extensive incident-tracking flowcharts after an inconvenient shutdown of an Alberta jobsite; Michael Mancini, health and safety manager of Matheson Construction, who discussed his firm's rigorous use of self-assessment questionnaires; and Elias Makhoul, health, safety and research excellence specialist at Modern Niagara, who spoke on developing comprehensive institutional response plans.
Mahkoul and LOC chair Craig Lesurf stressed the need for constructors to remain vigilant as the months pass before a vaccine is found.
"It is absolutely crucial we do not let off the gas right now," Makhoul said, noting the low numbers of COVID-19 infections in the construction sector. "We cannot forget what we did the last six months to curb things and get to where we are now.
"We are doing really good, but we cannot let off the protocols."
Lesurf remarked, "If we don't become complacent we are going to be able to reduce the amount of infections and push back on the cold and flu season.
"We need to continue to be diligent with face coverings. A lot of people say, 'it's my right not to wear one.' That's right, it's your right not to wear one, you can just stay home. Anyone that needs to move about has to wear a face covering, not just for yourself but for everyone else."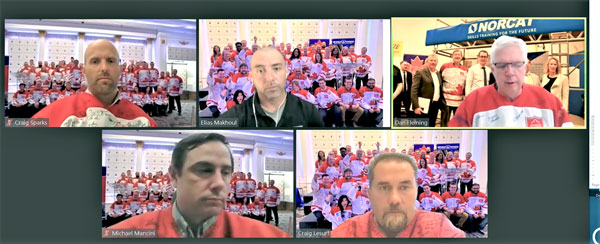 The Alberta misadventure, Sparks recounted, developed when an employee on her first day on the job complained she was not feeling well and was tested for COVID-19 and found positive. With inadequate protocols in place at the time, many of the other workers at the project called Alberta Health and were instructed to self-isolate for 14 days, while the site received a deep clean.
"As a result, the project was shut down for two weeks, 45 workers sat at home and missed two weeks of pay and many emails were sent back and forth with the client regarding the confirmed case and shutdown," Sparks said.
To ensure a positive case is handled less damagingly next time, Sparks said, the firm's pandemic committee created two set of flowcharts, one for worksites and one for offices, to deal with different eventualities, and importantly, developed definitions of such terms as "close contact," "secondary contact" and "confirmed COVID-19 case."
With close contact, Sparks explained, the affected parties are to be removed from the site to self-isolate for 14 days, while with secondary contact, the worker is only required to self-monitor.
If the more sophisticated protocols had been in place at the Alberta jobsite, Sparks said, Maple Reinders would have directed six people to self-isolate, not 45; they would have deep-cleaned one area instead of multiple areas; they would have lost zero days of production; and they would not be dealing with a financial claim.
"And the stress and anxiety levels would have been much less," he said.
Mancini reported on Matheson's extensive use of assessment forms that ensures workers are fit to work every day. The firm is using Microsoft forms and Mancini said one recent count indicated they had 14,690 Daily Self Assessment forms compiled.
It is working very well from the point of view of identifying red flags, he said. The knowledge confirmation covers every aspect of health and safety possible including where first aid stations are, the minimum PPE required on each job and even confirming each worker knows Matheson's safety slogan — Serious About Safety.
Emails noting failures are brought to the attention of site supervisors.
"If there is a follow-up, this email is kicked to the site team, there is a notification that a particular worker did not satisfy the knowledge check verifications, and they would have to follow up on a one-on-one basis with that worker," explained Mancini.
"The reality is from that perspective they are ensuring the worker is aware of all requirements of the orientation before they access the site and it gives the site team the ability to focus on workers who may need assistance."
Mancini reminded the viewers that the whole sector benefits by sharing health and safety best practices.
"It's important to share safety practices beyond the borders of your companies," he remarked.
"We all know safety is not proprietary and we should be sharing successes through these kinds of webinars."
Follow the author on Twitter @DonWall_DCN.