The annual National Student Bid Competition hosted by The Construction Institute of Canada usually comes with a host of challenges, but the COVID-19 pandemic was a twist nobody expected this year.
CAPP Construction Ltd., a team from George Brown College comprised of Matthew Altomare, Francesco Colella, Ryan Parisotto and Massimo Petricca won most accurate and complete bid and most professional bid.
"I felt very honoured to win top honours in this prestigious competition," said Altomare. "My team and I are disappointed about the (awards) gala being cancelled because of the connections we could have made in the construction industry, although I am sure we will have many opportunities to expand our networking in the future."
While the team was able to finish most of the work before the pandemic started, it did force them to rely more on technology and virtual meetings instead of meeting in person to work on the project.
"As we adapted, we figured out ways to share work and collaborate through video chats and phone calls," said Colella. "We were able to overcome this challenge quite easily since we had most of the estimating portion of the proposal complete and were able to use the required software at home."
The simulated bid competition gives students a chance to experience the competitive nature of the construction industry by taking them through a realistic bidding and tender process. Participants in the competition take on the role of general contractors and respond to a request for proposals.
"The purpose of the competition is really to raise awareness and help people understand what happens in the bidding and tendering process in the construction industry," said Craig Lesurf, honorary chair of the competition and president of Gillam Group.
"We try to give them real-world experience with a real-world example."
This year's project was the KMPG Tower – SmartVMC site by SmartCentres. The 15-storey Class A office building is located at the Vaughan Metropolitan Centre in Vaughan, Ont. It includes 65,000 square feet of retail and amenity space, 300,000 square feet of office space and is targeting LEED Gold certification.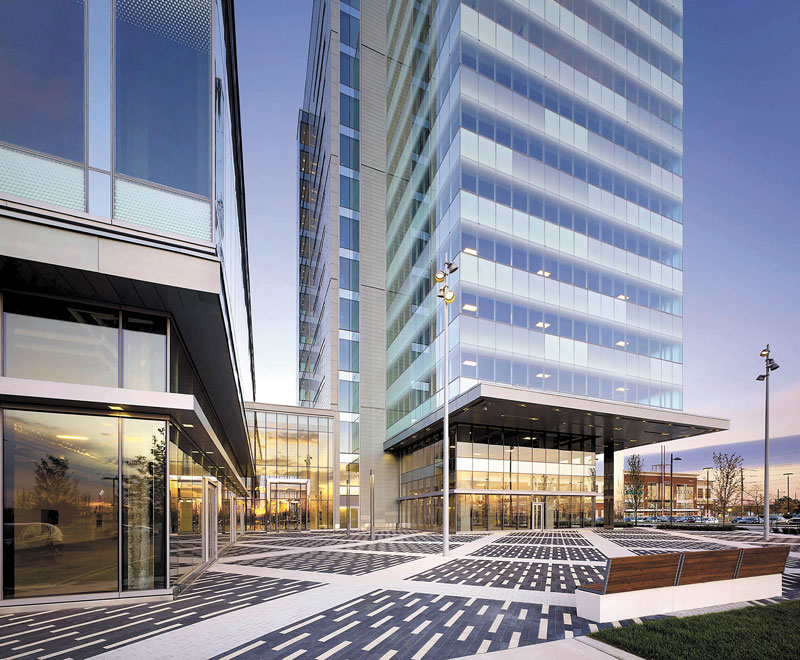 "In the past, it's been more of a private, institutional-based selection, such as schools and community centres," explained Compton Cho, director of design and preconstruction for SmartCentres, who helped co-ordinate the competition. "Part of what we tried to do was diversify the projects as well as the region the projects are coming from. Some regions typically don't get to see projects of this magnitude, so it gives them that exposure as well."
Eighty-nine teams comprised of three or four members registered. Sixty-eight intended to submit and 36 closed. The number was significantly lower this year due to the pandemic.
Unfortunately, some schools shut down before the end of the competition, making it difficult for teams to complete the contest. Organizers extended the duration for submissions and accepted proposals only electronically instead of requiring a hard copy delivered in person as well.
"There is no question COVID-19 impacted everybody's ability to get it finished," Lesurf noted. "We still got a good respectable number of submissions and good quality."
Some of the challenges the CAPP Construction team faced were balancing the workload with other classes, assignments, exams and part time jobs. Access to technology and programs was also an issue.
"Not all of us group members were able to use programs like PlanSwift or Bluebeam on our laptops and had to alternate between a couple, along with staying late at the campus to use those programs on their laptops," explained Petricca.
Lessons learned include time management, collaboration, communication and prioritizing.
"The biggest lesson learned through this competition is how to properly manage time as well as successfully communicate in order to organize the project and be able to stay ahead of it the whole time," said Parisotto.
Institutions from coast to coast took part in the competition including the British Columbia Institute of Technology, Southern Alberta Institute of Technology (SAIT), Saskatchewan Polytechnic, Petrel College of Technology, Centennial College, Ryerson University, George Brown College, Georgian College and Nova Scotia Community College.
HDRM Construction of SAIT won the innovation award. This is the first time the school participated in the contest. The team includes Haneen Alshammas, Masood Akhtar, Dexter Yanes and Reinald Karl Pascual.
Closest to Target Price was awarded to Kingsman Construction from George Brown College made up of Aaron Kingsbury, Tomer Sviridov, Eric Mezgec and Yashwinth Varadarasa.
"The bid competition is a great hands-on learning opportunity for students that gives them an authentic learning experience in the controlled out-of-classroom setting similar to the real-world bidding process," said Tulsi Regmi, professor of construction management at the ADZ School of Construction Management with George Brown College.