Ten construction and building-related companies in Moncton are opening their wallets to raise $1 million over a decade that could be targeted to programs to help marginalized young people in New Brunswick.
Led by founding members LuMar Electric and Martell Custom Homes, the group is called Build for the Future (BFTF). Its first-year goal is to raise $100,000.
Mario LeBlanc, CEO of LuMar, says it is not new for individual builders to raise money for good causes, but he believes this initiative could have "a bigger impact" than a single event because there are 10 players committed to 10 years.
BFTF has partnered with the United Way of Greater Moncton and Southeastern New Brunswick on the project.
The idea for the mega-fundraiser came about from LeBlanc's brother Marcel, a financial adviser who volunteers on the local board at the United Way.
"When he told me there was no construction-specific group raising money, I was sure we could have a big impact."
Pierre Martell, owner of Martell Custom Homes, says it took LeBlanc and him about seven months to develop the program.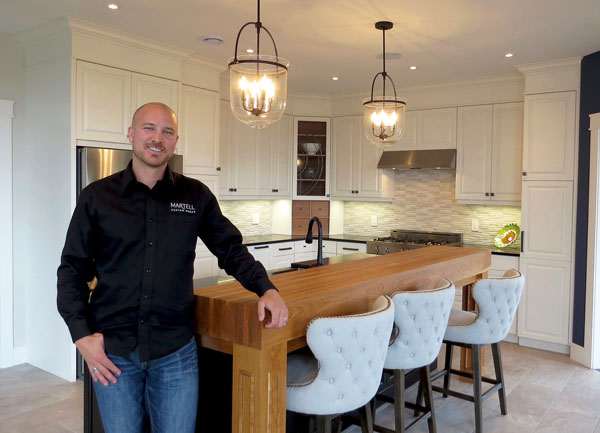 "The majority of that time was figuring things like the name, reserving the domain name, creating social media sites, working with Peach Marketing and ironing out all the details with the United Way," he explains.
In November the pair started reaching out to additional companies to form the 10-member executive board, Martell says, adding he was nervous knocking on doors because he thought the pandemic might discourage companies from pledging to help.
About 95 per cent of the companies LuMar and Martell solicited, however, were quick to sign up. Those companies are Ritchie's Flooring, Premiere Plumbing and Heating, Acadian Construction, Fundy Pros, Home Hardware, Atlantic Windows, TriForce roofing and Spitfire Designs.
"When we said we will contribute $100,000 to the community (every year for 10 years) the response was unbelievable. It was really an easy pitch for us," LeBlanc points out.
To meet annual targets, ideas for fundraising include soliciting building companies for direct donations and setting up payroll deduction plans. LeBlanc also sees industry focused skills competitions or family barbecue picnics as possible money raisers, once the pandemic has passed.
The group also plans to solicit the suppliers of materials and equipment for support for donations, possibly through a percentage of their sales or the supply of materials and tools for various fundraising events.
"It brings the suppliers as ambassadors under your own campaign," LeBlanc says.
BFTF, which was formed Dec. 1, turned to the United Way for administration and organizational guidance.
Martell says it is the first time the United Way will allow a fundraising partner to decide where the monies are spent within its umbrella of organizations.
He says BFTF leans towards youth support agencies such as YOU Turns, an in-school program that helps marginalized youth get back on track.
"Supporting youth, getting them off the streets, off drugs…will truly create a better tomorrow for our province."
Once the pandemic has passed, Martell sees a place for mentoring troubled young people on construction sites as well "to just show them a brighter light on what sometimes can be a very dark tunnel for them."
Martell, who says the construction industry is brisk in Moncton, points out that the United Way was "pleasantly surprised" when the construction group approached administrators with BFTF.
"Because of COVID and a lack of events, they are short something like $400,000 so our $100,000 couldn't have come at a better time, according to them," he says.
He suggests the city's active construction pace is partly because homeowners, who cancelled vacation plans because of the pandemic, have redirected that money towards home renovations.
"We had guys selling their houses in Florida and Arizona, bringing that money back up here and building the dream homes they always wanted," he adds.