It's not the largest infrastructure project ever undertaken in or by Peel Region but the $200-million Burnhamthorpe Water Project might be compared to a giant chess game with a lot of players.
The project will impact a large swath of downtown Mississauga and, in particular, its city centre. Now underway and continuing to 2021 a series of new watermains, sanitary sewers, and storm sewers will be placed in and near the city centre which is the site of the City of Mississauga civic centre, the city's central library, the Square One Shopping Centre, plus office buildings and condominiums.
Designed by consulting engineers Hatch, the project is intended to accommodate growth in that district of another 25,000 residents and 20,000 employees by 2031.
There will be five different contracts, although what is known as Contract 1/Contract 2, will be awarded to the same firm.
Last fall the first step in the multi-phase venture commenced when Dom-Meridian Construction Ltd. started the open cut installation a 400-mm watermain, a 375-mm sanitary sewer and a 600/700-mm storm sewer on Square One Drive, plus a 750-mm watermain on the adjacent Hurontario Street.
However, the largest and most complex component will be the tunnel installation of a 1,500—mm watermain underneath Burhamthorpe Road (Contract 1/2).
Stretching from Grand Park Drive in the west to Cawthra Road in the east, it will require the excavation of four shafts for the tunnel boring machine. Tenders were closed on Feb. 9 and an award winner is expected to be announced shortly.
The project will most likely will be a 24/7 operation and the winning firm will be given a certain amount of leeway to make operational decisions including "which (tunnel) direction it wants to head," says Heather Jefferson, project manager with Peel Region's water division.
However, the section in the Burhamthorpe Road/Hurontario Street area must be completed by late 2019 or early 2020 so as not to interfere with the City of Mississauga's Hurontario Light Rapid Transit (LRT) project, she says.
To be built along Hurontario north from Port Credit to Steeles Avenue, the LRT will loop around the city centre.
In emphasizing the urgency of the tunnel scheduling, Jefferson points out that "the LRT will be right on our heels."
The tunnel contractor will also be responsible for an array of other works along Burhamthorpe including a 600-mm waterline.
And that's not all. The same contractor will also be chosen to micro-tunnel a 1,200-mm sanitary sewer on Duke of York Street from Burnhamthorpe north to Rathburn Road and then east almost to Hurontario.
Layered on top of all these regional projects are a myriad of private sector ones, both within and near the city centre, and that combination "will certainly have an impact" in terms of truck traffic and machinery movement, she says.
To meet that challenge the region is employing a mix of strategies such as trenchless technology at crossings, selective operating hours and night work.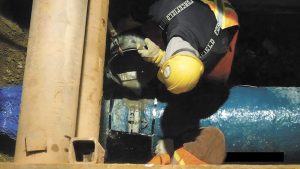 A case in point is the measures being followed by Dom-Meridian Construction. In mid-November construction activity on Square One Drive "stopped cold" at the request of developer Oxford Properties so that Christmas shopping traffic wouldn't be impeded.
In January Dom-Meridian returned to the site, but is now working nights from 10 p.m. to 10 a.m., says Jefferson.
Other initiatives which will be taken in order to reduce the construction inconvenience include limiting contractors' deliveries to off-peak hours, installing acoustic hoarding at sensitive locations and coordinating with the City of Mississauga Transit (Mi-Way) to limit delays in bus service.
In addition, a regional 'Ambassador' will be conducting a public information campaign and will keep businesses and residents informed about project developments, says Jefferson.
Geoff Wright, commissioner of transportation and works at the City of Mississauga, says there is close cooperation between the two government levels to inform residents of scheduled construction in their areas.
In underlining the project's importance, Wright says it will improve water supply and provide water and wastewater infrastructure upgrades that support growth in downtown Mississauga.
As for the Hurontario Light Rail Transit Project, it's currently in procurement. Last August a Request for Proposals was issued by Infrastructure Ontario and Metrolinx to three pre-qualified shortlisted teams to design, build, finance, operate and maintain it. The eventual winning bid team will have a defined construction schedule by the end of this year, says Wright.