Two students at Laurentian University's McEwen School of Architecture (MSoA) in Sudbury, Ont. who recently won $10,000 in a design ideas competition were up against stiff competition from around the world.
"For us, one of the coolest parts of this (competition) was seeing teams from France and Singapore and other places talking about their dreams for Sudbury," says Aidan Lucas who teamed up with Maeve Macdonald for the win in the Sudbury 2050 Urban Design Ideas competition.
Initiated by the MSoA to generate design ideas to revitalize the City of Greater Sudbury's urban core, Sudbury 2050 drew about 100 submissions, including working professionals and post-secondary students from 28 countries.
Lucas and Macdonald, both architectural graduate students in their sixth year at MSoA, won in the student category for their submission titled Re-Stitched, a theme that saw the two weave together different areas of the city.
Macdonald says some of the "districts" or neighbourhoods in Sudbury that they studied already have "a patchwork" of like uses, such as an area with several high schools, a library and the school of architecture.
Terrance Galvin, a professor and the founding director of the MSoA, says he was impressed by the pair's submission which broke down the city fabric into districts, including innovation, Indigenous culture and a densified entertainment and retail neighbourhood in the core.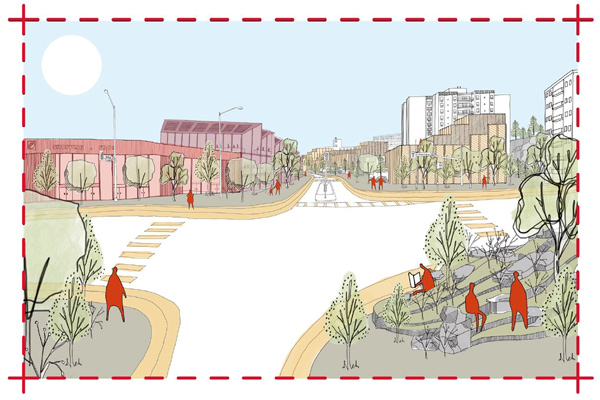 "Like you stitch a piece of clothing together, they were trying to tie things together," he says.
Macdonald says their submission began with "mapping out ideas on trace paper…and applying layers of information we had gathered or thought up."
In some ways the research was easy, Lucas says, because the pair had indirectly been studying the city over the past six years through school projects aimed at downtown Sudbury revitalization initiatives.
He adds he was impressed by the number of solid design ideas from students all over the world.
The competition brought about 30 submissions in the student category.
In an open separate category, which included entries from working design professionals, there were another 70 submissions.
"Maybe some of these ideas from the competition will be brought to fruition in a few years," Macdonald says.
The two students haven't figured out what to do with the $10,000 cash prize.
Seed money for an entrepreneurial investment in Sudbury is a possibility one day.
Lucas says when he first heard that Re-Stitched won, he was "very loud. It was a great surprise."
The competition's jury was comprised of architects, academics and community representatives.
Among the sponsors of the competition was the Carpenters' District Council of Ontario and Element5, a mass timber design/manufacturer.