The founder of the One Planet Living framework for the development of sustainable communities told a recent webinar audience that the future of shared space lies in expanding the principles of sustainability to include health and happiness, culture and community.
U.K.-based Pooran Desai, co-founder of Bioregional Development Group and CEO of One Planet, was the featured speaker at an event presented by the Toronto chapter of the Urban Land Institute on April 22, Earth Day. The agenda also had a panel moderated by Desai that included members of the development team involved in Guelph's Baker District Redevelopment project, one of only two projects in Canada to receive endorsement under the One Planet Living sustainability framework.
Starting with the 100-unit BedZed project completed in the U.K. in 2002, Desai said he has led teams in developing sustainability strategies for over $30-billion worth of zero carbon real estate projects in over 30 countries.
"What I really learned from that project is…we really realized that we have to think lifestyles," said Desai of that first zero carbon community. "And that started us on this journey about really looking at sustainable communities where a whole sustainable lifestyle is made easy, attractive and affordable for people."
The One Planet Living framework includes health and happiness, equity and local economy, culture and community, land and nature, sustainable water, local and sustainable food, travel and transport, materials and products, zero waste and zero carbon energy.
The BedZed project set a new benchmark for how people could live with personal connectedness, Desai said.
"I lived there for 18 years, and the average person in this development knew 20 of their neighbours, which is something like four times the U.K. average. So really creating that great neighbourliness, and I know that also helped this community and residents there through the COVID period."
BedZed also achieved high technical standards as well — 80-per-cent reduction in space heating, 50-per-cent reduction in electricity consumption, energy run on renewables and 65-per-cent reduction in car use.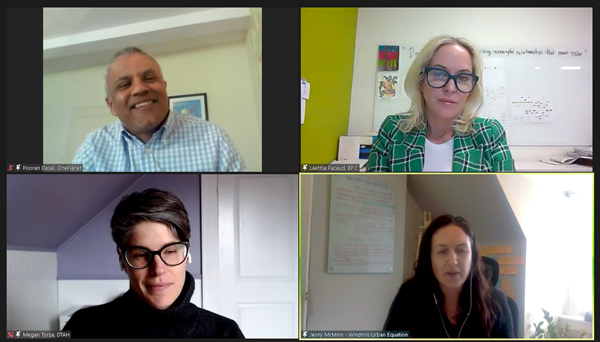 "There is a direct connection between what we do as real estate developers and the fate of penguins in Antarctica, or even the impact on our own health locally, and actually throughout the world," Desai said. "The interconnectedness of things is at the core of the new thinking that we need in order to avoid the problems and create healthy systems into the future."
One Carbon Living is not a certification system, Desai explained, but rather a framework with a recognition process.
"We purposefully wanted to keep it very flexible, so that we could get the best solution for any particular location or any particular set of circumstances."
Downtown Guelph's Baker District project will deliver a mixed-use community with two residential towers, a new main library branch and institutional and retail uses. Windmill Development Group was selected to partner with the City of Guelph and the developer's design team is led by DTAH, with Diamond Schmitt Architects designing the library.
Jenny McMinn, partner with Windmill, explained her firm has taken to finding and partnering with firms that are as keen on the One Planet Living philosophy as her firm is.
"It's a really simple story, very hard to achieve, and we're constantly working on and learning how to do that, but we found it to be a really great tool that people could connect with," said McMinn. "You can understand that we need to live within the bounds of our planet. And so we found that the tool itself helps to create a really clear North Star set of organizing principles."
Guelph City Council voted to formally approve the new library in October last year with a budget of $67.1 million. Construction is expected to start in 2022 with completion by 2025.
The city fully supports the One Planet Living principles that Windmill wanted to follow from the outset of the project, McMinn said.
"That goes beyond the bricks and mortar that we have direct control over as a developer, and starts to ask some questions around food and food processes and so that actually emerged as a key scientific need for us to address," she said.
"We've since been focusing on delivering across the spectrum of the 10 One Planet Living principles, but focused on sustainable food, zero carbon and sustainable transportation. I think the outcome is continuing to emerge."
Follow the author on Twitter @DonWall_DCN.