A retired military veteran says his gratitude to the Carpenters' Union and Renos for Heroes (R4H) defies words for their work on a 40-foot accessibility ramp constructed to his Port Elgin, Ont. home's front door.
"I thank those guys from the bottom of my heart," says John David Doyle, who suffers from post-traumatic stress disorder, a bad back and a brain tumor that has taken away much of his mobility.
Doyle retired from the Canadian Armed Forces in 2017 after nearly 32 years of service. He served in the infantry and saw tours of Cyprus, Croatia, Kosovo and Afghanistan.
The ramp allows Doyle to get to his driveway and back yard easily with a walker. Before it was installed he was virtually shut-in without the assistance of his two sons Colin, 17, and Tommy, 20, to pick him up and take him up or down the porch stairs.
"Now I can do that on my own and go sit in my back yard whenever I want to."
The ramp was completed by two members of Carpenters' Local 2222 Kincardine and three members from the Carpenters' District Council of Ontario (CDCO).
Mike Humphries, who is on the board for R4H, says when he heard about Doyle's situation he moved quickly to fast-track the project, connecting R4H to Local 2222. At the time Doyle was in a nearby hospital that would not send him home until the ramp was completed.
Ryan Plante, business manager for Local 2222, says he was more than happy to be part of a crew of volunteer carpenters that could speedily get the job done. From concept to completion it took about two weeks.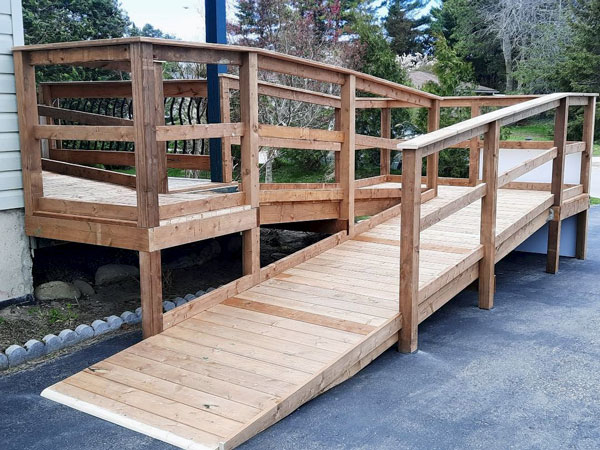 Doyle's wife Michelle describes the Carpenters' Union as "a Godsend" for completing the job so quickly. Prior to connecting with R4H and Local 2222, the Doyles received quotes from contractors to build the ramp in eight to 12 weeks.
What's more, contractor quotes were $8,000 to $9,000, more money than the Doyles could afford.
While R4H normally covers material costs, lumber and fasteners were estimated at $4,000 for the project, for the Doyles, Local 2222 chose to pick up the tab, allowing R4H to "redistribute the money to another cause," says Plante.
"This veteran is in our back yard and we thought we could help him and Renos for Heroes out. They can't always do it all on their own."
Plante and local business representative Josh Neitzel along with Humphries and two other members of the CDCO volunteered to build the ramp, completing it in less than a week at the end of April.
Coming off the home's existing deck, the ramp, which has a reverse turn, is close to 40 feet long.
"From the homeowner's perspective, I think this was a great service because they had an immediate need and we were able to get it done within a couple of weeks of their inquiry," Plante says.
"Being able to help out on the tools for somebody who sacrificed for our freedoms and is in a time a need…it was a good moment."
Plante says the Carpenters' Local sees it important to give back to the community through goodwill projects such as this one.
"It's not just something we want to do from a financial standpoint either."
Jim Caruk founded R4H about 10 years ago, aiming to help retired military veterans in times of crisis.
"We try to bridge the gap with what the government won't do. We step in and do projects, usually small like this."
Helping military veterans is not new to the Carpenters' council.
"The locals have been instrumental in providing labour and fundraising for Renos for Heroes whenever they can," says Humphries, who is the veteran liaison representative for the CDCO.