In an unusual twist to what an architectural firm does, a Toronto-based architect is developing smart tech solutions for integration into the early stages of building designs.
"We realized that we can help to design smarter buildings by having technology (built) right into the fabric of them from day one," says Zenon Radewych, principal architect, WZMH Architects.
Radewych is the team lead of the firm's Innovation Lab, a research and development arm of the design firm.
"What we do is take (smart) digital ideas — designs we make on a computer — and sketch them and make real working prototypes."
That's not typical for an architectural firm, he says, noting smart technology is usually developed by tech companies in isolation of design firms.
The R&D lab has come up with more than 20 ideas since it was born in late 2017. While some of those ideas will never go beyond the concept stage, others are expected to reach the market soon. Devices based on DC low-voltage microgrid systems are a case in point.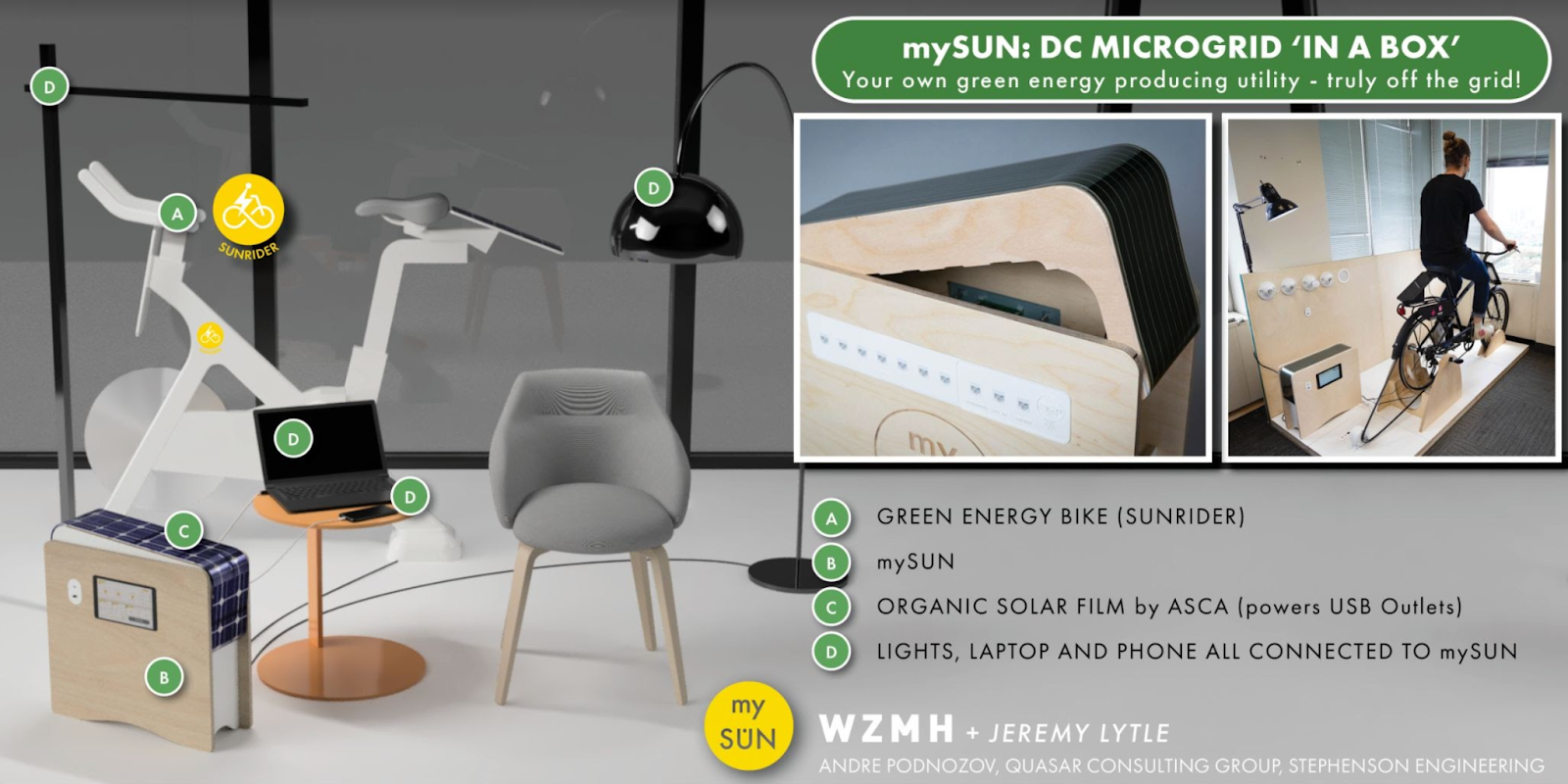 Radewych says the low-voltage system the lab has been developing is comprised of energy loads operating through small battery plants or solar plants. The idea is to "share and move power in buildings in a much more efficient way" than the traditional grid.
He believes DC low-voltage systems could have an impact on the design world not just locally but globally as architects everywhere look to address increasingly rigorous sustainable building design standards.
One of WZMH's inventions based on the low-voltage system is MySun, a portable DC-voltage box that uses solar powered batteries to run items such as a light fixture, computer or fan. The box has "a very small solar film" to capture energy from solar or artificial light, Radewych says.
Describing it as "your own utility plant," he says a series of MySun DC boxes can "talk to each other so you can make a building truly smart."
The lab is working on a second prototype of MySun which will include a mini, filterless air-purifier to clean air, even of potential viruses, he says, noting he is hopeful MySun can be marketed in a year or so.
The architect also recently designed a prototype "energy bike" called the Sunrider. The idea is to plug a bicycle pedalled to generate power directly into the firm's DC microgrid.
While DC low-voltage power is not new, the built environment still relies on AC infrastructure.
"We know we can never eliminate AC power, but we know we can push it as far back in the building and have more of a DC low-voltage highway."
Seeing it as "an international solution," Radewych says portable DC power systems could be practical for people in remote locations around the world where the cost of power is expensive or simply unavailable.
One of WZMH's lab's projects expected to be in service on a building at the University of Toronto possibly next year is an intelligent structural panel (ISP) — "a strong, but lightweight panel" used in place of traditional structural material for floors and shearwalls such as reinforced concrete and steel decking.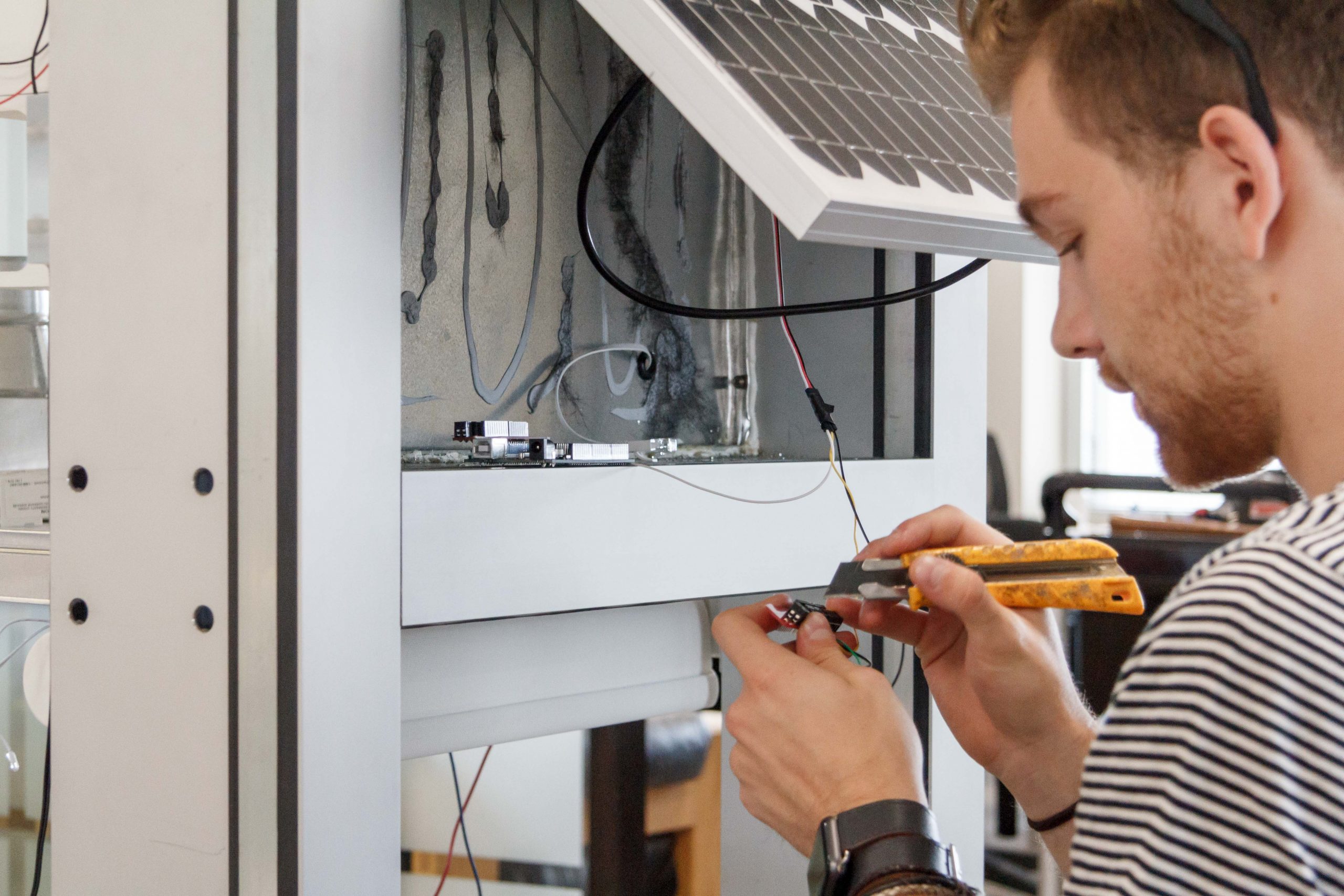 The panel combines the Internet of Things (IoT) and a prefabricated sandwich steel plate panel. The panel's "intelligent layer" features plug-in ports for everything from HVAC and lighting to security systems and elevators, Radewych points out, adding it eliminates the need for junction boxes.
Microsoft supported WZMH's research into the ISP in the early stages of engineering and it provided some funding, he says, noting that collaboration with tech companies is often the key to getting an idea from concept stage to the next step of its development.
Radewych says the idea for the Innovation Lab was created out of investigations several years ago by the firm into different combinations of building materials with multiple functions in prefab/modular designs.
"That's when we invented the intelligent structural panel," says Radewych.
While the lab is not generating revenue yet, "it is pure R&D," he sees that changing in about 18 months as inventions are fine-tuned and partnerships are forged with investors and technology companies.
The lab operates today with a staff of five to six people doing anything from concept designs in digital format to building models.
Radewych is optimistic the corps of employees will grow to 20 or so in a few years.
"We're excited about the next five years in terms of growth, partnership, revenue and seeing some of our products (established) in the real world."