HAMILTON, ONT. — The Ken Soble Tower in Hamilton, Ont. has become the world's largest residential building retrofitted to the Passive House Standard and achieving the EnerPHit certification.
As the first retrofit of its kind in North America, the 18-storey, 146-unit CityHousing Hamilton (CHH) building has achieved 94 per cent reduction in greenhouse gas emissions and a 91 per cent reduction in heating energy demand, indicates a release, adding at its peak, the total energy required to heat and cool a unit would be equivalent to the energy needed to power three incandescent light bulbs. Located at 500 MacNab St. N. in the city, it is the oldest highrise multi-residential building in the CHH portfolio.
A team specializing in apartment retrofits was put together to meet the Passive House standards including prime consultant ERA Architects, which has expertise in low-carbon retrofits and the force behind the Tower Renewal initiative, and PCL Construction, which has expertise in building revitalization and in-house envelope engineering.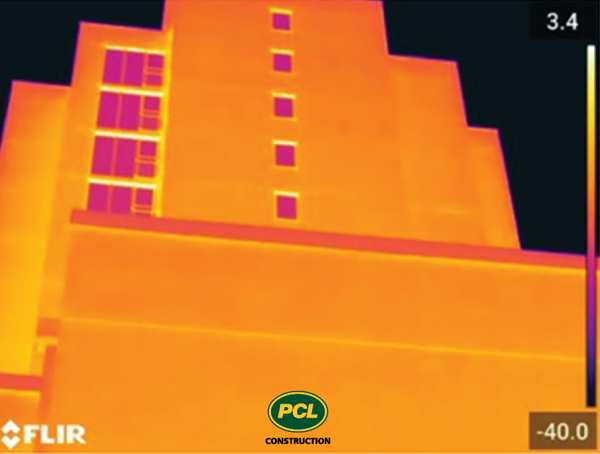 The building is climate resilient, supporting indoor health and comfort during both extreme heat and cold climate events. Building performance was achieved in part through an ultra high-performance building envelope, with exterior and interior insulation that meet stringent airtightness requirements, triple-glazed windows and heat recovery in all building penetrations, states the release. Obsolete and unhygienic HVAC systems were fully modernized to provide fresh air to each suite.
"To achieve EnerPHit certification, the team had to confirm that the final building was constructed and performed as designed which was achieved through a comprehensive air tightness testing and quality management program that was developed by the project team and guided by PCL's in-house envelope engineer and construction team," the release reads.
Through a two-year monitoring process, the tower will become a teaching tool, offering real-time lessons in retrofit design. CHH, in partnership with the University of Toronto, ERA and PCL, will study and measure the impacts of the building on its residents and surrounding environment, including building performance, resident health and safety and economic impacts.