TORONTO – PCL Constructors Canada Inc. (Toronto), SickKids and B+H Architects celebrated a construction milestone recently with the topping off of the new Patient Support Centre (PSC) at the Hospital for Sick Children in Toronto with a beam signing ceremony.  
The centre is a 22-storey education, training and administrative hub for over 3,000 professionals, management and support staff. It will also house the SickKids Learning Institute and a simulation centre for hands-on teaching, supporting over 1,000 trainees, students and learners every year.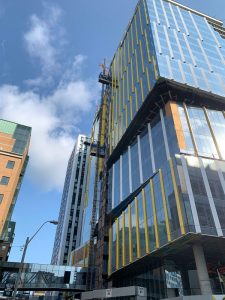 Changes were occurring onsite prior to the building's topping off with the removal of the south tower crane and the start of the roof structure steel. During the summer, the steel erection for the pedestrian bridge connecting the hospital's atrium building to the PSC was completed.
The PSC is kicking off the full campus redevelopment, Project Horizon, that aims to create an "inspired hospital of the future." The renewed campus will eventually include two new towers to provide acute care, core clinical services and outpatient services.
"We've been on this journey for many months now and are so excited to see the first phase of Project Horizon becoming a reality," said Peter Goldthorpe, vice-president, transformation for The Hospital for Sick Children, in a statement.
"Floor by floor, pane of glass by pane of glass, we are finally seeing the future of SickKids come to life. We're thrilled to take this next step to transform the campus and are excited to open the doors of this modern building to our staff, patients and families in 2023."
The Daily Commercial News will have more on this story.