Recently, the Alberta construction industry traded hard hats for hard rock at the inaugural BandJam charity concert.
The event didn't just give the industry the opportunity to spend a night as rock stars, they also raised $50,000 for Edmonton's Lois Hole Hospital for Women.
"I wanted to create something innovative for our industry," said Jeffrey Hansen-Carlson, a director at EllisDon and one of the co-chairs for BandJam. "I wanted something that brought our industry together in a unique way. I go to a gala once a week and I'm getting sick of galas. I wanted to create the 'anti-gala.'"
Hansen-Carlson and his co-chair, Krista Ference, who works with the hospital foundation, worked to organize the charity concert which was hosted at Edmonton's Starlite Room. The team combed the local business community and found six bands willing to raise money and play in the show.
The bands were ECDC, the Ellis Dominators, Kaydee Kay + Jeremy Gray, Street Meat, and Fred Woks the Dog. The Red Hot Holopenos had to miss the show due to a scheduling conflict.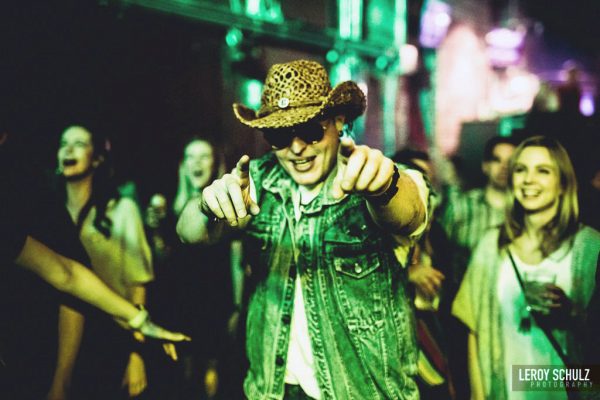 Unlike a traditional battle of the bands format, there was no winner as Hansen-Carlson wanted the event to focus on the goal of raising money for charity and bringing the industry together.
ECDC, the Edmonton Construction Association's band, serenaded the crowd of more than 500 people at the sell out show.
Hansen-Carlson said Jamie Klassen, also of EllisDon, was instrumental in helping organize the event.
"All the bands were surprisingly good and these guys can shred," said Hansen-Carlson. "There was a point in the night that Krista and I high-fived because we realized we had pulled this off."
Hansen-Carlson said EllisDon was immediately supportive of the idea when he began planning it despite not knowing if it would be successful.
"One of (EllisDon's) core values is entrepreneurial enthusiasm, and we don't make up values just to pay them lip service," said Hansen-Carlson.
He added that the team has already begun planning for next year's BandJam.
"It will be a much bigger production and we will have some surprises up our sleeves," Hansen-Carlson said.
The Lois Hole Hospital for Women offers comprehensive, high-risk obstetrical and maternal care and provides surgical treatment of ovarian, cervical and other gynecological cancers. It is a Canadian leader in new treatments for urogynecologic and pelvic floor disorders. The hospital also provides research in mental health for women with anxiety and depression.