BERMUDA—The Canadian Construction Association (CCA) recently presented its 2018 awards of excellence and recognition, honouring individuals, companies and associations that promote and enhance Canada's construction industry.
The awards were presented at the association's annual conference, held at the Fairmont Southampton Hotel in Bermuda. The winners are as follows:
The 2018 Person of the Year Awards were presented to Mary-Anne Bowcott of Westcom Plumbing and Tom Rankin of Rankin Construction Ltd.
Bowcott is a journeyman plumber, class B gasfitter and certified steep-slope roofer and the owner of Westcom Plumbing.
"Mary-Anne is a shining example of the 10 per cent of women that make up the trades in B.C.," indicates a release issued by the CCA. "She has also contributed to increasing the number of women in the industry by taking on numerous female apprentices since the inception of her company in 2015."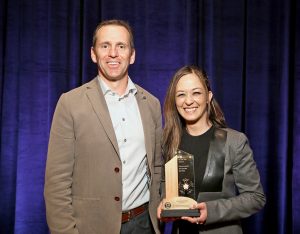 In 1978, Rankin co-founded Stephens and Rankin Inc., a heavy civil construction company, which later became Rankin Construction Ltd. He also created Rankin Renewable Power Inc. "which was involved in the development of policy for wind power that balances the enablement of green technology with minimized impact on the local community," the release stated.
The Excellence in Innovation Award went to Emil Anderson Construction for exploring and implementing innovative ideas and practices, including their work on the replacement of the Vedder Bridge project in Chilliwack, B.C.
Maple Reinders was presented with the 2018 CCA Environmental Achievement Award for "implementing environmentally sound practices and its work in communicating sustainable approaches as viable options," said the release.
A notable project was the City of Edmonton's High Solids Anaerobic Digestion Facility.
Aecon was presented with the 2018 CCA International Business Award "for its efforts in bringing together many countries on one project and establishing future relationships not only for its own business, but for foreign markets as well."
Aecon was recognized for its work on the L.F. Wade International Airport Redevelopment Project in Bermuda.
The Gisborne Group was presented with the 2018 CCA National Safety Award for the implementation and management of its health and safety management system, which has resulted in zero lost-time incidents for the past five years. The company also received multiple awards for its safety program and records.
The Partner Association Award was presented to the Vancouver Regional Construction Association for its work in addressing the individual members' needs in education and communication, leading to increased engagement, and its commitment to bringing new people into the industry.
Tomlinson Group, a family-owned and operated business in the Ottawa area since 1952, received the Community Leader Award for its dedication, through its numerous charitable endeavours, to growing its community.
The Winnipeg Construction Association won the Gold Seal Association Award for its dedication in working with Gold Seal at the committee level, in addition to its ongoing support of the program at its own offices.
Art Winslow of Graham Construction was presented with the 2018 CCA General Contractor Award. He was chosen to lead Graham Construction's Lean and integrated project delivery (IPD) program and served as the project director for Canada's first and largest fully integrated Lean IPD project, the Moose Jaw Hospital.
The Trade Contractor Award was presented to Rhonda Collings, owner and operator of Glenn Collings Ltd., a mechanical contracting company in Gander, N.L. since 1997. Her focus has been enhancing the Newfoundland and Labrador Construction Association (NLCA) board governance and increasing engagement. She also joined the CCA as a board member in 2016.
Chris McNally, a contractor from the Hamilton, Ont. area, where his family business has been involved in underground tunnelling since the 1950s, was presented with the Civil Infrastructure Award. McNally became chair of the CCA Road Builders and Heavy Construction Council in 2008.
The Manufacturers, Suppliers and Services Award was given to Jean Pouliot, who started his first business at the age of 16, and now serves as president of Produits Metalliques PMI, a position he has held since he took over from his father in 1988. He also serves as president for Prometek Inc, which designs and manufactures electrical transmission and distribution products.
"I would like to congratulate the CCA award winners, who are an inspiration to all, and encourage everybody to apply for next year's awards," said Zey Emir, CCA's immediate past chair, in a statement.
"It is a pleasure to highlight the innovative approaches of our members that raise the bar for the industry. It is also heartwarming to hear about how our members support their communities."
Videos from the awards ceremony and a list of past recipients is available at awards.cca-acc.com.