John Bockstael, the newly appointed chair of the Canadian Construction Association (CCA), has four priority areas he'd like to tackle throughout the year: workforce attraction and retention, innovation, governance renewal and community engagement.
Bockstael, the president CEO of Bockstael Construction Limited, officially took over the role from Zey Emir, president of Revay and Associates Limited, at the CCA's annual general meeting and conference in Bermuda at the end of March.
"We're going to be repositioning our image to be more attractive to technology savvy people and millennials so we can fill the projected retirement gap and spark productivity gains through innovation and technology," he said, adding the workforce shortage is something he will be particularly focused on.
"That issue has been with us for a long time and it probably won't go away. We need to recruit big numbers to replace workers, add new workers to meet the rising volume and, at the same time, pay attention to diversity to include women in our workplace and various immigrant and Indigenous populations to make sure we can get them integrated into our workforce."
Governance renewal is a top priority for the CCA, he noted.
Nine CCA members — two CEOs and seven industry members from across Canada — have been appointed to a committee that will be making recommendations.
The committee will be assisted by CCA president Mary Van Buren.
"We've hit our 101st year this year and CCA has gone through a lot of changes in the last 18 months from onboarding a brand new president, developing a new strategic plan and updating our logo," Bockstael said. "This is an extensive process but in the end it will maximize our efficiency, and help us be more responsive and improve our engagement with members. "
The CCA is anticipating the recommendations later this year and finalizing the program at its next board meeting and AGM in March 2020.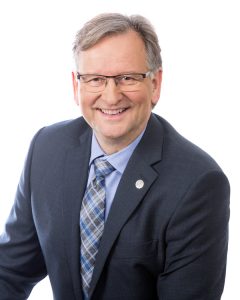 As president CEO of Bockstael Construction Limited, which is one of the largest regional general contractors in Manitoba and a fourth-generation, family-owned business, Bockstael brings a unique perspective to his new role as both a contractor and a professional engineer. He is Gold Seal Certified and holds an ICD.D designation from the Institute of Corporate Directors.
Bockstael joined the CCA board in 2005 and over the years he has chaired the General Contractors Council and Standard Practices Committee and eventually joined the executive in 2010.
He served 14 years on the board of the Winnipeg Construction Association including two as president.
Bockstael is also the outgoing chair of Canadian Construction Innovations, an organization that CCA has partnered with.
"It's been said that Canada is lagging behind other countries when it comes to innovation," Bockstael explained. "We're all pretty anxious about the strength of the foreign competition that's entering our market and we should be. I don't think we can expect to be a powerhouse in technological advances if we're trying to go it alone and racing against our competitors. I think we all seek competitive advantages for business reasons but that approach slows overall adoption. Our focus on this file will be to foster greater collaboration and total industry involvement."
With respect to the workforce, the association facilitated a small workshop to discuss the opportunities and barriers faced by underrepresented groups, Bockstael said.
"The outcome of this workshop was the creation of a work group composed of both members and non-members to create a baseline of perceptions of a career in construction," said Bockstael.
"This will hopefully help educate owners and employers on the benefits of inclusivity and will celebrate leaders in diversity."
We're looking to help our firms with implementing recruitment strategies that will meet the needs of our businesses."