Construction leaders expressed frustration and disappointment during a recent webinar discussion on recruitment that young people still seem to be stuck on old negative stereotypes of construction jobs.
Cathleen Peter-Swart, a vice-president with Westcor Construction, convened a panel featuring Nicole Chabot, vice-president at L. Chabot Enterprises, and Eric Gaulin, an executive vice-president with Pomerleau, during a recent Canadian Construction Association conference held online June 15. The webinar was titled No Way is My Kid Going into Construction and as the panellists watched videos produced for the CCA presenting high school students and parents commenting on barriers to youth recruiting, the reasons cited from both sources were frustratingly familiar, they said.
"I am surprised that some of those perceptions still exist," said Chabot.
"I think that our industry has been doing a lot of work to advertise the opportunities that do exist, but as a parent watching the video and hearing from the youth, we still have a lot of work to do because we're still hearing some of those older perceptions of our industry being dangerous or perhaps a lesser or a last-opportunity option. Certainly that's not the case these days."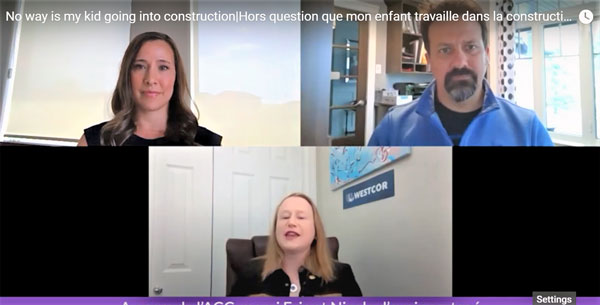 Comments from the students included:
"It could be dangerous, it might not be the right job."
"Why would I have gone into construction when there's better things out there?"
"I think it's just kind of seen as a last-option job."
"I don't think I would consider it just because of the labour that you have to do and it's probably tough on your body and stuff and I am just not interested in that stuff."
"I have zero interest in that to be honest. The physical labour and I feel like I could do more."
"It's a physically demanding job and doesn't require intelligence, (unlike) jobs that stereotypically require a lot of intelligence like programming or something like that."
Parents commented that most of the work is outdoors and not healthy with long hours; that the workplaces are dangerous with lots of accidents; and that seeking a profession such as in IT or being a doctor or lawyer results in rewards such as a nice house, two or three cars and a big TV.
All three panellists observed that the responses reflect stereotypes about the sector that are largely no longer true.
Health and safety standards are now very high, they pointed out; there are lots of jobs in the sector that are not out in the field, including IT, engineering and architecture; and the STEM sector — science, technology, engineering and mathematics — is now well represented.
"From the kids' perspective there were a few that talked about technology and innovation and looking into project management or engineering or designing jobs, so kids are starting to realize that construction is going beyond just hammering a nail or putting bricks down," said Peter-Swart.
"There really is this understanding that the industry is evolving and developing and that we've got technology on our side, so it's really making the industry a lot more exciting."
What's missing, the panellists said, was getting the truth about the sector out to the would-be recruits and their parents. The marketing of the sector.
"A lot of it comes back to marketing and Eric mentioned social media. It is definitely growing in prominence, it's out there and it's in your face, so maybe we all need to get a little bit more up to speed in how we are championing our successes and our opportunities," said Chabot.
"Careers in STEM are very well advertised, they're well promoted and there is actually a lot of crossover with STEM…I think that if we were doing as creative job as they were we'd be seeing a lot more entrance into construction."
Chabot and Gaulin argued that an aggressive sectorwide mentoring program would help alleviate the concerns would-be apprentices have about entering the field.
"I think it's a must if we want to continue to advance and get more people and better skilled people," said Gaulin, adding it's important to get the word out that the industry is changing.
"I do think that the industry would benefit from a formalized mentorship program," said Chabot. "Construction has been around for a long time and with our aging workforce certainly some of them can be very reluctant to share their skillset. Perhaps if we as owners had a roadmap to better equip them to be able to transfer some of that skill and knowledge we'd all be in a better place."
Follow the author on Twitter @DonWall_DCN.