The best way to describe the near-term outlook for non-res capital spending in Canada is lacklustre. This observation is based on the results of two recent surveys of capital spending intentions. First, the Business Development Bank of Canada's Survey of Investment Intentions of Canadian Entrepreneurs reported that investment intentions in 2019 will remain flat compared to 2018.
This pale investment outlook was reinforced by Statistics Canada's Non-residential Capital and Repair Expenditures (CAPEX) Survey which reported that capital spending on non-residential construction and machinery and equipment is expected to increase by 2.5% in 2019, the same rate as in 2018 and just slightly under the 3.5% gain in non-res investment reported in the national accounts that were released on March 1.
Despite the fact that growth of non-financial after-tax corporate profits slowed from 34.6% y/y in 2017 to 4.2% y/y last year, investment spending by firms in the private sector is projected to increase by 2.8% in 2019 after edging up by only 0.7% in 2018. The effects of this acceleration in private sector investment will be partly offset by a slowdown in public sector spending from 5.9% in 2018 to 2.0% in 2019.
According to the Capex survey, spending should increase in 12 of Canada's 20 major industrial sectors this year, one fewer than in 2018. The most significant increases are projected in just four of these sectors led by transportation and warehousing which, after posting growth of 4.2% in 2016, 9.1% in 2017, and 12.6% in 2018, is projected to see capital spending increase by 12.6% to $35.6 billion this year, a record high. Just over half this gain is due to a 19.6% rise in spending on transit and ground transportation projects, the bulk of which are located in Toronto, Montreal, Ottawa, Calgary and Vancouver. In addition, spending is projected to increase in support activities for transportation industries such as airports and harbours, as well as for trucking and pipeline terminals, including the Kitimat LNG project.
After contracting by 11.9% in 2018, spending by utilities is projected to rise by 4.2% to $28.9 billion in 2019 primarily due to a 24% gain in spending on water, sewer and related foundational infrastructure systems which, as noted in "Canada's foundational infrastructure is older in the east than in the west", includes some of the country's oldest engineering facilities. This acceleration in spending on infrastructure will likely offset the impact of a -0.8% decline in spending on electric power generation, transmission and distribution. It contracted by 14.1% in 2018 due to the completion of major projects in several provinces including the Bipole III Transmission Line in Manitoba and renovations to the Beauharnois Generating Station in Quebec.
Although the federal government's recently introduced Capital Accelerated Investment Incentive program, which takes effect in March of 2019, does not match recent cuts to U.S. corporate tax rates, it does enable manufacturers to fully write off machinery and equipment acquired after November 20, 2018 in the year it becomes operational. Although the operating rate of manufacturers was down by 3.7% y/y to a two-year low of 78.5% in the final quarter of 2018, the effect of this program is projected to cause capital spending on manufacturing plant and equipment to increase by 4.9% to a record $19.1 billion this year after posting growth of 18.8% in 2018. Particularly strong gains are expected by chemical manufacturers which should more than offset a 25% retreat in spending by firms in transportation equipment manufacturing.
Following back-to-back declines in 2016 and 2017 and a modest 1.5% rise in 2018, capital spending on health care and social assistance facilities is projected to increase by 10.4% this year, the largest planned gain in this sector since 2010. Projects started in 2018 that should contribute to this increase in 2019 include Laval University's Hospital Centre in Quebec City and the McKenzie Vaughan Hospital in Toronto.
Despite the hostile climate for energy investment in Canada, which is responsible, in large part, for causing oil and gas extraction investment to shrink from $65 billion (28% of total capital spending) in 2014 to a projected $36.7 billion (14.5% of total capex) in 2019, it is still the major source of capital spending in the country.
From a regional perspective, capital spending is projected to increase in just four of the country's 10 provinces, led by British Columbia (+13%) and followed by Quebec (+5.7%), Ontario (+3.6%) and Prince Edward Island (+2.5%). In British Columbia, roughly half of the rise is due to a 36% increase in spending on transportation and warehousing including the expansion of Vancouver International Airport. Following gains of 8.2% y/y and 4.2% in 2017 and 2018 respectively, spending is projected to increase by 5.7% in 2019 in Quebec largely on account of an increase in the spending intentions of manufacturers (+26%), together with gains in transportation and warehousing and health care and social services (+32.6%). Ontario is projected to post a gain of 3.8% largely due to a 17% y/y rise in spending by utilities and a 16% rise in transportation and warehousing.
John Clinkard has over 35 years' experience as an economist in international, national and regional research and analysis with leading financial institutions and media outlets in Canada.
Non-Res Construction & Machinery and Equipment Expenditures – Actual vs Survey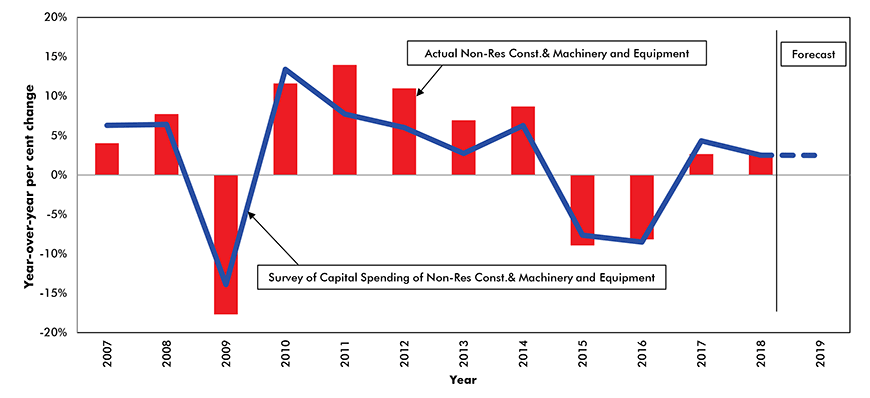 Data Source: Statistics Canada.
Chart: ConstructConnect — CanaData.