ConstructConnect announced today that the latest month's volume of construction starts, excluding residential work, was $29.7 billion, -14.0% versus December 2019's figure of $34.5 billion (originally reported as $34.0 billion). The decline was greater than the usual step back due to seasonality of -10.0%. 'Seasonality' refers to increases or decreases in activity due to favorable or unfavorable weather. Winter qualifies as unfavorable. Read the complete December 2019 Industry Snapshot article here: January's Nonresidential Construction Starts -14% M/M and -11% YTD.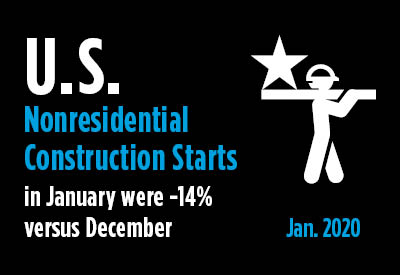 On average, January's drop relative to December during the most recent five years, from 2015 to 2019, was -6.1%. January is a unique month. It stands alone at the beginning of the year. Based on what has happened previously, most of the shortfall of -6.1% versus prior-five-year-average will likely be recovered as upward revisions to January are made in later months of 2020.
A mega project carries an estimated value of one billion or more. In 2019, 'megas' became more prominent in the 'starts' statistics. In January 2020, there was only one such project, a 'people mover' at Los Angeles airport ‒ i.e., an 'elevated guideway train system' as it is described online by LAX.
January 2020 nonresidential starts versus January 2019 were -10.9%. Usually, at this point in the commentary, year-to-date results are featured. But again, January's unique status comes to the fore. January and year to date are one and the same.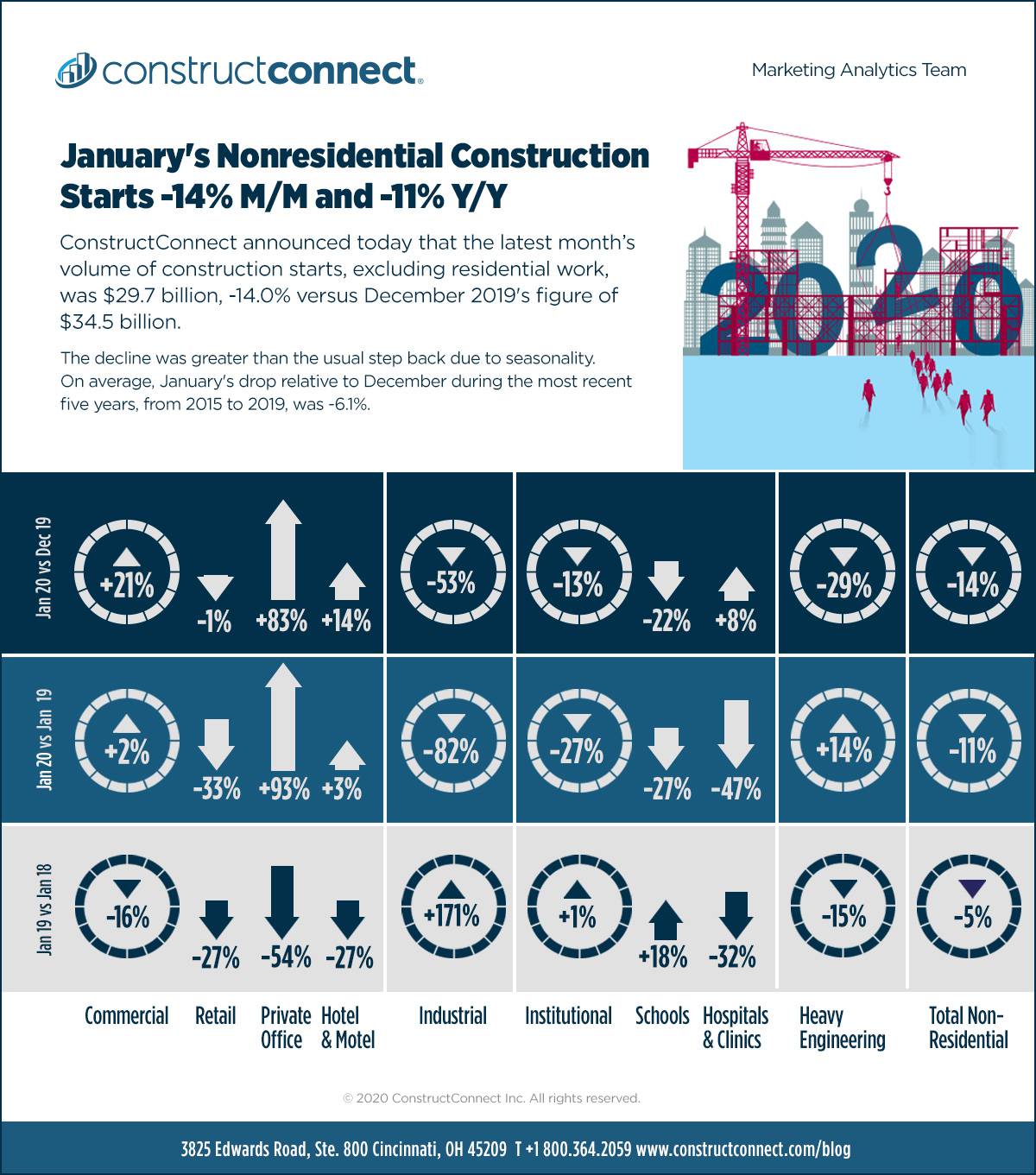 View this information as an infographic.
Construction Overview – Big Jump in Jobs, Just Like January 2019
U.S. total construction employment in January was +44,000 jobs versus December's level. While the +44,000 compares favorably with the monthly average of only +12,000 achieved throughout last year, it loses luster when held up against January 2019's figure of +50,000. January 2019's strength, however, did not hold for the remainder of the year. Particularly in the second half of 2019, there were many instances of weak month-to-month change.
Among major sectors of the economy, construction's year-over-year jobs growth in January 2020 was tied for second place with 'transportation and warehousing' and 'leisure and hospitality' at +1.9%. 'Education and health' claimed top spot at +2.6%. Total U.S. employment was +1.4%. Construction's NSA unemployment rate in the latest month was 5.4%, up from December 2019's 5.0%, but an improvement on January 2019's level of 6.4%.
The latest year-over-year job count changes in other corners of the economy with close ties to construction have been: 'oil and gas extraction', +11.2%; 'machinery and equipment rental', +7.6%; 'real estate activities', +3.0%;  'architectural and engineering services', +2.0%; 'cement and concrete product manufacturing', +1.8%; and 'building material and supplies dealers', +1.4%.
Click here to download the Construction Industry Snapshot Package – January 2020 PDF.
Click here for the Top 10 Project Starts in the U.S. – January 2020.
Click here for the Nonresidential Construction Starts Trend Graphs – January 2020.
---
Alex Carrick is Chief Economist for ConstructConnect. He has delivered presentations throughout North America on the U.S., Canadian and world construction outlooks. Mr. Carrick has been with the company since 1985. Links to his numerous articles are featured on Twitter @ConstructConnx, which has 50,000 followers.