The accompanying table records the 10 largest construction project starts in Canada in June 2020. Also included is the latest trend graph on starts. This looks at 12-month moving totals of the civil and non-residential building categories in Canada.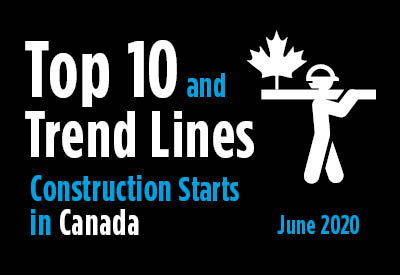 There are several reasons for highlighting upcoming large projects. Such jobs have often received a fair amount of media coverage. Therefore, people in the industry are on the lookout for when job-site work actually gets underway. And, as showcase projects, they highlight geographically where major construction projects are proceeding.
Also, total construction activity is comprised of many small and medium-sized projects and a limited number of large developments. But the largest projects, simply by their nature, can dramatically affect total dollar and square footage volumes. In other words, the timing and size of these projects have an exaggerated influence on market forecasts.
Interactive Visual
Top 10 construction projects of the month – June 2020
REGION
(East to

West)
TYPE OF
CONSTRUCTION
DESCRIPTION

Sq. Ft.
000s

Dollars
000,000s

Quebec
Lachine
Industrial
Amazon Fulfillment Centre / Lachine
405
$100
(1 structure; 1 storey) 3000, rue Louis A Amos
Amazon
Saint-Jerome
Residential
Complexe Domiciliaire Laurentia
160
$50
(2 structures; 8 storeys; 148 units) rue Gauthier & rue Castonguay
Habitations Trigone (9221-6068 Quebec inc)
Ontario
Ottawa
Commercial
Stage 2 Confederation Line Extension
*
$2,600
(2 structures) Multiple Locations
City of Ottawa
Etobicoke
Industrial
Design Build Purolator National Hub / North York
328
$330
(3 structures; 1 storey; 60 units) 325 Humber College Blvd
Purolator
North York
Residential
Saisons Condominium and Townhouse Development- Concord Park Place Block 11
940
$100
(4 structures; 81 storeys; 419 units) 69 McMahon Dr
Concord Adex Development Corp
Oshawa
Industrial
Industrial Buildings One and Two – Thornton Road South
633
$75
(1 structure; 1 storey) 1121 Thornton Rd S
Panattoni Developments
Brampton
Residential
The Sandalwood Townhouses
220
$41
(1 structure; 3 storeys; 110 units) Conestoga Dr & Sandalwood Pkwy E
Royalcliff Homes
Alberta
Rocky View County
Industrial
High Plains Building 5 – New Lowes Distribution Warehouse / Rocky View County
1,241
$120
(2 structures; 1 storey) Township Rd 261
Highfield Investment Group
Edmonton
Institutional
Construction Management Services – Misericordia Community Hospital Emergency Department Redevelopment
59
$45
(1 structure; 1 storey) 16940 87 Ave NW
Alberta Infrastructure
British Columbia
Vancouver
Institutional
Construction Management (CM) Services – MacLeod Building Renewal Project
*
$32
(1 structure) 2356 Main Mall
University of British Columbia
TOTALS:
3,986
$3,493
*A square footage measure does not apply for alteration and engineering work.
Data source and table: ConstructConnect – CanaData.
Trend lines of construction starts in Canada – June 2020
Moving totals of the latest 12 months*
(ConstructConnect Insight Forecast Figures)


*For example, the June 2020 figure is the sum of the monthly numbers for July 2019 through June 2020.
Data source and chart: ConstructConnect Insight – CanaData.