ConstructConnect announced today that the latest month's volume of construction starts, excluding residential work, was $37.6 billion, an increase of 10.5% versus May's figure of $34.1 billion (originally reported as $32.1 billion).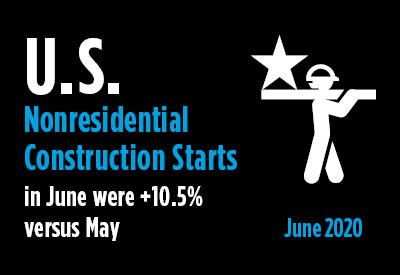 Click here to read the complete June 2019 Industry Snapshot article, 2020's H1 Nonresidential Construction Starts Down by Nearly a Quarter – below is a short excerpt.
This year's June compared with last year's June, though, was -26.8%. And year-to-date starts through the first half of 2019 have been -22.9% (a drop of nearly a quarter) relative to January-June of 2019.   
Due to the onset of the coronavirus health crisis in the spring of this year, the normal seasonality in construction starts has been almost absent. Last year, nonresidential starts in the second quarter were slightly more than 50% higher than in the first quarter. This year, Q2 has seen a nonresidential dollar volume increase of just 11% compared with Q1.
Also, this year to date has not seen the depth of mega project activity (i.e., projects valued at $1 billion or more each) realized last year. For example, June 2019 starts featured three mega projects (a natural gas pipeline in Texas; a wind power project in Wyoming; and a Microsoft campus expansion in Washington state) that summed to $7.1 billion. June 2020 starts included a single mega project (a rapid transit project in Seattle – see Top 10 Project Starts in the U.S. – June 2020) for $1.4 billion.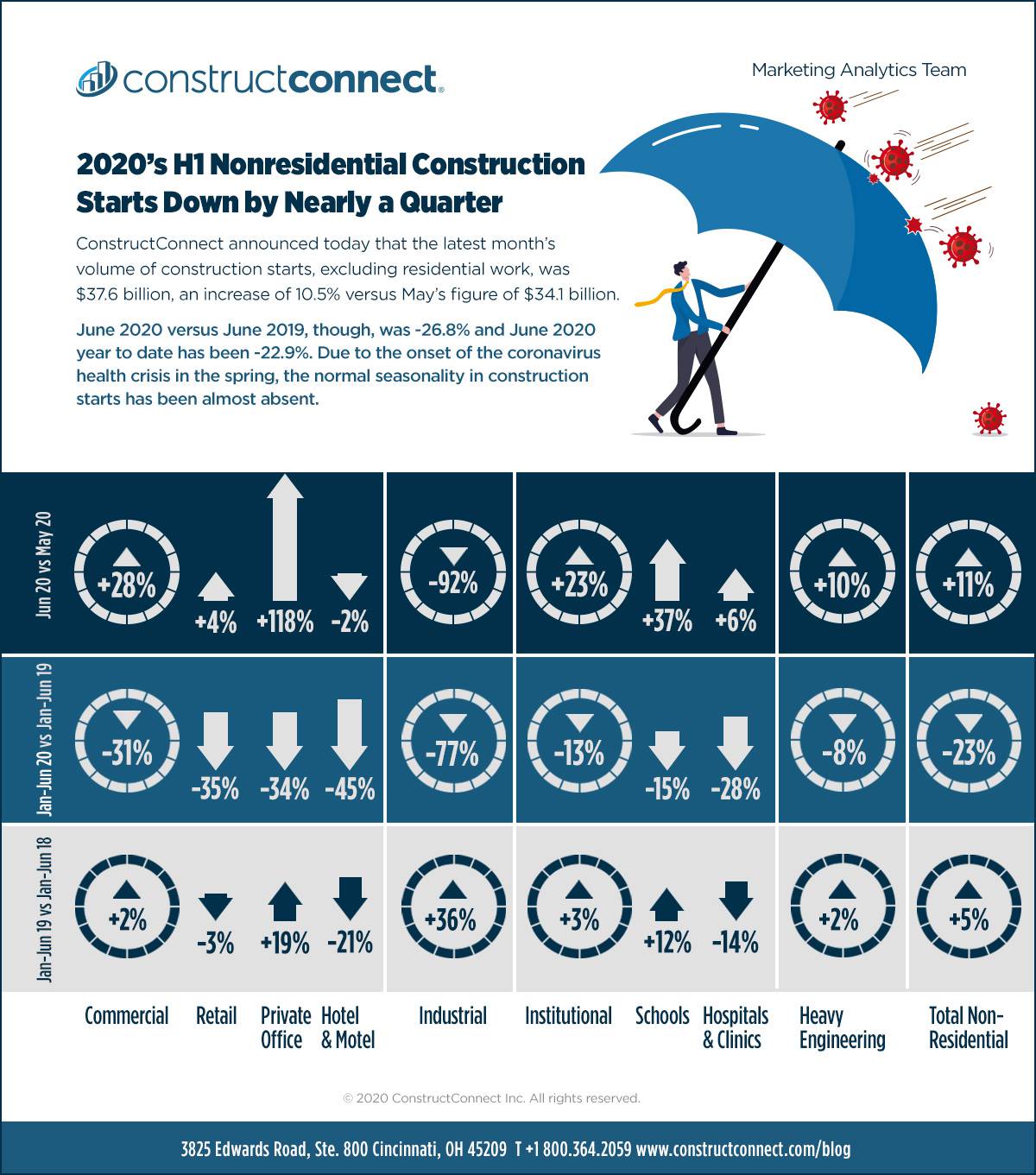 View this information as an infographic.
'Shelter at home' directives meant wide-ranging negative implications for economic and construction activity beginning in late March and extending through mid-June. Recent state and city re-openings, however, do point to better news concerning construction starts from now on provided further COVID-19 incursions don't necessitate extreme retrenching.  
Through the first half of 2020, industrial (-77% year to date) and commercial (-31%) starts have fallen into deeper pits than institutional (-13%) and heavy engineering/civil (-8%). Decisions concerning most industrial and commercial groundbreakings are made by the private sector. Much (but by no means all) of institutional and engineering work is determined by the public sector. Government capital spending, geared towards fulfilling social needs, is relatively more stable.  
Click here to download the Construction Industry Snapshot Package – June 2020 PDF.
Click here for the Top 10 Project Starts in the U.S. – June 2020.
Click here for the Nonresidential Construction Starts Trend Graphs – June 2020.
---
Alex Carrick is Chief Economist for ConstructConnect. He has delivered presentations throughout North America on the U.S., Canadian and world construction outlooks. Mr. Carrick has been with the company since 1985. Links to his numerous articles are featured on Twitter @ConstructConnx, which has 50,000 followers.