Canada's Jobs 'Claw-Back' Ratio Now Exceeds 50%
In July, the total number of jobs in Canada rose by 419,000, according to Statistics Canada, bringing the cumulative figure for the latest three months to +1.661 million. June's number was +952,000 and May's, +290,000.
In March and April, with the economy immobilized by fear of the coronavirus, the shrinkage in the total number of jobs nation-wide was a staggering -3.0 million.
The offset of +1.661 million since April compared with -3.0 million in March-April, yields a 'jobs recovery' ratio of 55.3%.
From the middle portion of Table 1, titled 'Pandemic', it can be seen that Canada's employment claw-back ratio of 55.3% is better than the 37.3% result for the U.S., although it should be noted that Canada's jobs drop in March-April of -15.7% exceeded America's -13.5%.
The lockdown was more sweeping and consistent in provinces than in states.
Canada's seasonally adjusted (SA) unemployment rate in July improved to 10.9% from 12.3% in June. Rather than in April (13.0%), the unemployment rate reached its highest level in May, at 13.3%. A year ago, in July 2019, the proportion of the work force not gainfully employed was 5.7%.
Table 1: U.S. and Canadian Jobs Markets – July 2020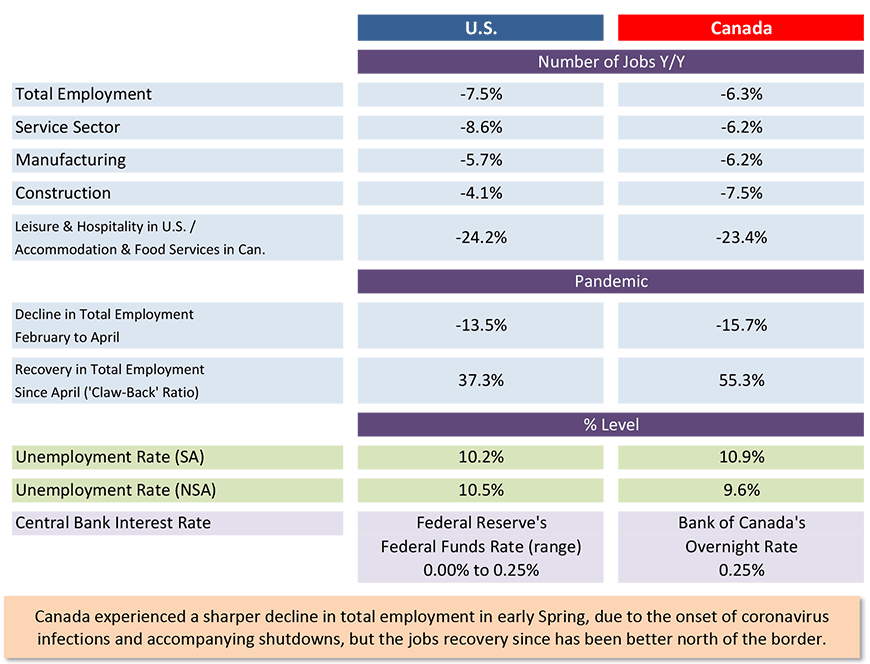 SA is seasonally adjusted / NSA is not seasonally adjusted.
U.S. labor data is from a 'payroll survey' / Canadian labour data is from a 'household survey'.
Canadian NSA unemployment rate 'R3' is adjusted to U.S. concepts (i.e., it adopts U.S. equivalent methodology).
Data sources: U.S. Bureau of Labor Statistics (BLS) & Statistics Canada.
Table: ConstructConnect.
A 60.1% Jobs Recovery Ratio for Canadian Construction
Table 2 sets out many of the key numbers on Canada's labour market, with an emphasis on the progress being made to return to 'normal'.
In April, Canadian total employment was -15.7% compared with February. (February is the benchmark date because it was the last month to provide statistics mostly unaffected by COVID-19). By July, though, the total employment decline versus February was reduced by more than half, to sit at -7.0%.
The manufacturing sector's March-April jobs drop of -17.3% has now been cut to -6.4%, yielding a claw-back ratio of 62.8%.
Construction's early spring jobs retrenchment of -21.2% has been pulled back to -8.5%, yielding a jobs-recovery ratio of 60.1%.
Part-time work that fell by -29.6% in March-April is now only -5.0%, providing a surprisingly strong jobs-recovery ratio of 80.1%.
And employment in the 'accommodation and food services' industry that dropped by half (-50.0%) in March-April is now down by only one-quarter (-25.1%). The claw-back ratio in the sector is 49.8%. (The claw-back figure for the 'leisure and hospitality' sector in the U.S. is 43.3%.)
Finally, the 15-to-24-year-old age cohort which saw more than one-third of its employment positions disappear in March-April, is in a much better position today with a jobs deficit only half as severe, at -17.4%. The young-adults claw-back ratio has been 49.0%.
Table 2: Monitoring the Canadian Employment Recovery ‒ July 2020

Data source: Statistics Canada.
Table: ConstructConnect.
Alberta's Labour Market Struggling; But so is Ontario's
Canadian provincial labour market statistics are set out in Tables 3 and 4 and Graph 1.
Six of the ten provinces are continuing to sport unemployment rates that are in double-digit percentages: Newfoundland and Labrador, 15.6%; Alberta, 12.8%; Prince Edward Island, 11.7%; Ontario, 11.3%; and British Columbia, 11.1%.
The lowest unemployment rates are in two of the country's three prairie provinces: Manitoba, 8.2%, and Sastachewan, 8.8%. Underlying support in those two provinces has been coming from farming activity. (There's a similar situation in the U.S., where the states in the Midwest agricultural heartland are generally turning in better output numbers than the rest of the country.)
Alberta, the third prairie province, is currently being held back by an underperforming energy sector. 
Only two provinces have experienced year-over-year jobs contractions that have been relatively minor: New Brunswick, -1.8% and Manitoba, -3.2%. The others have all suffered through considerable jobs-loss trauma, with Alberta worst at -7.9% y/y. 
Table 4 records that among all provinces, the jobs claw-back ratio is currently best in New Brunswick, at 75.0%, with Quebec solidly in second spot, 70.2%.
Ontario, with nearly 40% of the nation's population, is historically Canada's economic powerhouse. But its jobs claw-back ratio, at just 42.5%, is presently worst among all provinces.  
Table 3: Canada's Provincial Labour Markets – July 2020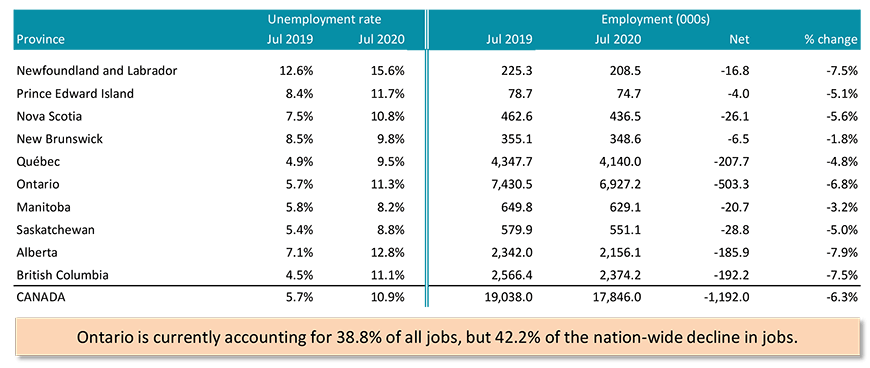 Data Source (seasonally adjusted figures: Statistics Canada.
Table: ConstructConnect.
Graph 1: Canada's Provincial Labour Markets – July 2020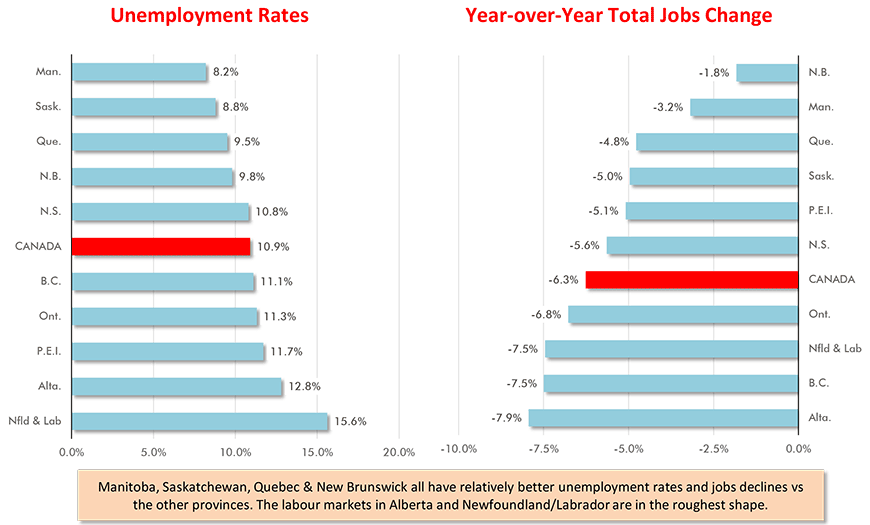 Data Source: Statistics Canada.
Table: ConstructConnect.
Table 4: Provincial Employment 'Claw-Back' Ratios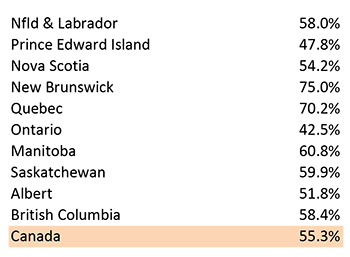 * Recovery in number of jobs since April 2020 as % of Feb-Apr's 'Big Drop' in jobs count.
Background Data: Statistics Canada.
Table: ConstructConnect.
---
Alex Carrick is Chief Economist for ConstructConnect. He has delivered presentations throughout North America on the U.S., Canadian and world construction outlooks. Mr. Carrick has been with the company since 1985. Links to his numerous articles are featured on Twitter @ConstructConnx, which has 50,000 followers.