A who's who of top economists in Canada shared predictions on the pandemic and took a look at 2021 at a webinar recently hosted by the Economic Club of Canada.
Despite "very murky" economic times facing the world, consensus points to "substantial recovery in activity" this year in Canada and around the globe, said Douglas Porter, chief economist with BMO Financial Group.
He told the webinar that a 5.5 per cent rebound is possible in the global economy this year, followed by four per cent in 2022. By comparison, a typical year sees an increase of three to 3.5 per cent.
"As health concerns fade, growth will snap back substantially," driven by fiscal policy support over the past year, he said, adding while the pandemic could delay recovery it won't derail it.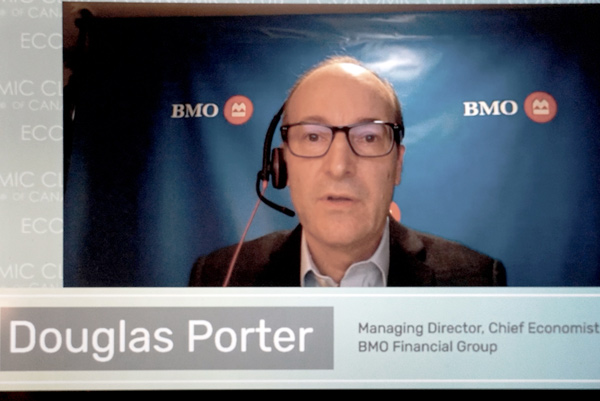 Porter said with the Democrats in control of the U.S. Senate, there could be "enormous fiscal stimulus" that could be in place by the end of 2021.
He pointed out the strength of industrial commodity prices has been surprising, considering this has been "the deepest downturn of the post-war era."
Most major resource prices, other than oil, are up by double digits over a year ago.
Derek Burleton, chief economist with TD Bank Group, projected continued global climate change initiatives this year, regardless of the pandemic.
"You are going to get recovery stimulus that embeds a lot of green," he added.
He said while there has been a political outcry from some provinces to the Canadian government's plans to hike carbon tax through to 2030, the tax is a most efficient way of achieving carbon reductions.
If plans are not derailed, he said, "it's bound to lower demand, spur innovation."
Burleton is confident the oil and gas sector will meet that sector's challenges, "and in fact reinvent itself," he said, noting already a number of major players in the oilpatch are pledging net-zero emissions and investing in green projects.
The National Bank is bullish on 2020, forecasting 3.7 per cent growth, but inflation will be "stickier and higher," Stefane Marion, chief economist with the National Bank of Canada, said at the webinar.
Despite the pandemic, consumers are doing well, showing a 10 per cent "wealth effect," a change in spending habits as assets rise, in 2020, he pointed out, noting the high percentage was unheard of in past recessions.
Marion said while Canada's highly educated workforce will help it adapt to the pandemic, unemployment is at an all-time high for people over 25 who have university degrees.
New ways of working, shopping and learning that promote more decentralized economies will remain after the pandemic, said Craig Wright, chief economist with RBC.
He told the webinar audience that recent data indicates 2.5 million more Canadians work from home then pre-pandemic and surveys suggest about 80 per cent of employees want a "hybrid model" including a work-from-home option after times return to normal.
Through the pandemic there has been a "huge jump" in long-term unemployment — 27 consecutive weeks or longer — a steeper increase at a higher level than downturns in the 1980s and '90s, Wright added.
Avery Shenfeld, chief economist with CIBC Capital Markets, sees central banks standing pat on short-term interest rates for a while.
He said the Canadian dollar's strengthening against its U.S. counterpart in recent months can be concerning for export growth. With the dollar's strength, the Bank of Canada won't rush to hike interest rates ahead of the U.S. Federal Reserve, which might not increase rates until 2023 or 2024.
Jean-Francois Perrault, chief economist at Scotiabank, said while tax reform proposed by president-elect Joe Biden's administration has economic implications on both sides of the border, passing tax reform legislation in the U.S. Senate won't be easy.
Indigenous and Black communities are among groups left "sitting on the sidelines," despite the federal government saying they are integral to economic recovery, said Wes Hall of the BlackNorth Initiative, which wants to end of anti-Black systemic barriers for Black Canadians.
He said positions of authority such as management and board posts need to open up to minority groups such as Black and Indigenous people.
To create the next level of leaders in the business community, these minority groups can't be locked out from obtaining capital from traditional banks any more either, he added.
Carol Anne Hilton, CEO of the Indigenous Institute, said rather than look at the socio-economic gap, focus should be on Indigenous economic strength.
"Canada was built on this concept of the Indian problem and that reflects on our policies and programs."
Hilton said her focus is on building "Indigenous economic architecture" for growth, design, Indigenous impact and strength.
For Carol Wilding, president and CEO of the Chartered Professional Accountants of Ontario, it remains unclear what "the next normal" in 2021 will be.
She said the silver lining for resetting the economic model is "a deeper opportunity" to understand what drives the workforce and the economic recovery.