Delegates attending the recent Canadian Construction Association (CCA) conference heard two trade experts debating the relative merits of pursuing trade with China versus the U.S., but their strongest advocacy came during a discussion on the "obscenity" that is Canada's dramatic decline in trade-enabling transportation infrastructure.
Carlo Dade of the Canada West Foundation said Canada's drop in international rankings from the top 10 in transportation infrastructure to above 30th has seemingly been met with indifference in Canada. Meanwhile, the U.S. drop of two places, from 11th to 13th, has U.S. Secretary of Transportation Pete Buttigieg up in arms.
"It's not just having the infrastructure, but it's having your customers believe that your infrastructure works, believing that you'll have the infrastructure to get supplies to them tomorrow," said Dade, who is director of the Trade and Investment Centre with the foundation.
Canada is much more dependent on trade than the U.S. is, Dade said, noting as an example that 32 per cent of Saskatchewan's GDP comes from exports while across the border in North Dakota the figure is around 11 per cent.
"The Americans dropped two points, from 11 to 13 in global rankings, and you can't get Buttigieg to shut up about it. We dropped 20 points and who in Canada has mentioned this?"
Both the World Bank Logistics Performance Index and the World Economic Forum Global Competitiveness Report documented Canada's decline. The latter had Canada dropping from 10th to 32nd in transport infrastructure.
The CCA and other national business partners have been preparing a report on how to return Canada to the top 10 in global infrastructure rankings, Dade noted, with a set of seven recommendations due to come out later in March. The report looks at the best practices of the U.K., Australia, Malaysia and other countries that have been doing well in comparison.
Efforts to address Canada's infrastructure are getting traction, Dade said, but governments "really need a push to remain there and to remain serious.
"We urge you to join us in pushing to stop this obscenity."
The debate on trade markets was held March 10, day three of the CCA conference. Dade was joined by panel moderator Todd Winterhalt of Export Development Canada and fellow panellist Brian McGuire, CEO of the U.S.-based Associated Equipment Distributors.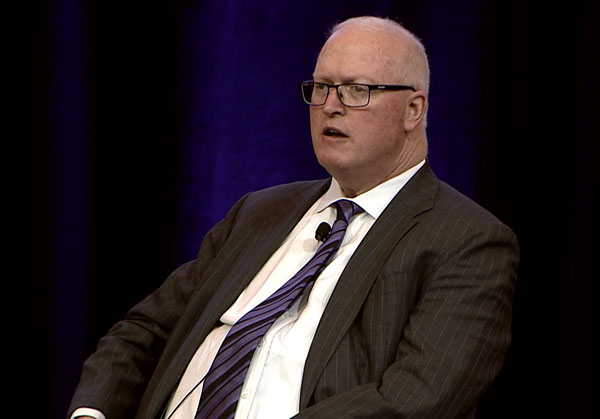 McGuire said the Joe Biden administration's bipartisan infrastructure bill signed into law in November will deliver at least $850 billion of infrastructure spending over the next five years. Buttigieg's Department of Transportation will receive the lion's share of the funds, with $560 billion over five years targeted for tunnels, bridges, roads, transit, ports and airports.
"This is the United States' largest investment in infrastructure since the 1950s," he said, suggesting there would be significant opportunities for Canadian firms.
Winterhalt asked McGuire to comment on what he called the "strange environment" that has overcome trade with the U.S. in recent years, with unpredictable policy decisions and regulatory changes as well as talk of protectionism.
McGuire said the U.S./Canadian trade relationship has always had fluctuations but it remains a powerful trading zone, with U.S. goods and services trade with Canada valued at an estimated $718.4 billion in 2019.
That trade does not go away overnight, he said, even if, as Dade pointed out, Canadian trade with China has grown at 11.5 per cent annually in the last decade while U.S./Canada trade has grown at just 2.6 per cent.
Dade and McGuire said Canada's reputation has taken a major hit globally with the truckers' blockade of the U.S. border.
"Bridges were closed recently, costing millions, some might say billions, of dollars in economic activity across the board," said McGuire. "So Americans look and say, 'Get your bridges under control.'
"Buckle up, these are certainly not normal times in the US. or Canada, anywhere in the world. We've gone from a pandemic to a world crisis with the invasion of Ukraine and I think you're going to see a lot of political volatility coming from the pandemic as areas recover differently."
Dade noted China will soon surpass the U.S. in GDP and it has lifted 800 million people out of poverty. With its state control of the economy and steady growth around the world, it leads the way economically for other Asian and Pacific nations to follow.
It is now the largest trading partner of Brazil, he said, as an example of its inexorably growing influence.
"This is not just about dealing with China," said Dade. "Even if you tried to run away from China, you're still going to run into China in Brazil, in Indonesia. China's spending billions of dollars a year in retooling local trade infrastructure, building ports."
But Canada has one resource other trading nations don't, Dade said – its healthy immigration.
"We have the ability to work with immigrant populations and the countries of origin," he said. "Opportunities in Asia may look daunting, (but) one way to reduce the risk and uncertainty is to look at the talent that exists here within Canada that could help to take you back into markets."
Follow the author on Twitter @DonWall_DCN.