The accompanying table records the 10 largest construction project starts in Canada in June 2022. Also included is the latest trend graph on starts. This looks at 12-month moving totals of the civil and non-residential building categories in Canada.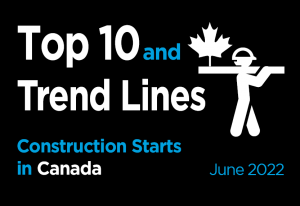 There are several reasons for highlighting upcoming large projects. Such jobs have often received a fair amount of media coverage. Therefore, people in the industry are on the lookout for when job-site work actually gets underway. And, as showcase projects, they highlight geographically where major construction projects are proceeding.
Also, total construction activity is comprised of many small and medium-sized projects and a limited number of large developments. But the largest projects, simply by their nature, can dramatically affect total dollar and square footage volumes. In other words, the timing and size of these projects have an exaggerated influence on market forecasts.
Top 10 construction projects of the month – June 2022
REGION
(East to
West)
TYPE OF
CONSTRUCTION
DESCRIPTION

Sq. Ft.
000s

Dollars
000,000s

Quebec
 
 
Gatineau
Commercial
Place du Portage Phase III Renewal PDP 3
*
$500
 
 
(1 structure) 11, rue Laurier
 
 
 
 
Public Service & Procurement Canada
 
 
 
 
 
 
 
Montreal
Residential
Haleco Mixed-Use Eco-Responsible Housing Complex
400
$200
 
 
(3 structures; 21 storeys; 327 units) 995, rue de la Commune O
 
 
 
 
Société de gestion Cogir/ Ivanhoe Cambridge
 
 
 
 
 
 
 
Sainte-Therese
Institutional
D/B – Rehabilitation Centre for Young People With Adjustment Difficulties (CRJDA)
200
$122
 
 
(3 structures; 2 storeys; 99 units) rue Duquet & boul du Séminaire
 
 
 
 
Société Québecoise des Infrastructures
 
 
 
 
 
 
 
Ontario
 
 
 
 
Mississauga
Civil/Engineering
GE Booth Wastewater Treatment Plant (WWTP) Contract 3 – New Plant 1
*
$215
 
 
(2 structures) 1300 Lakeshore Rd E
 
 
 
 
Region of Peel
 
 
 
 
 
 
 
Barrie
Civil/Engineering
Highway 400 – Structure Replacement
*
$105
 
 
(2 structures) ON-400
 
 
 
 
Ministry of Transportation – Ontario
 
 
 
 
 
 
 
Hamilton
Civil/Engineering
Dickenson Road East Sanitary Sewer and Watermain
*
$102
 
 
(3 structures) Dickenson Rd E
 
 
 
 
City of Hamilton
 
 
 
 
 
 
 
Concord
Residential
Vincent Condominiums / Vaughan
530
$100
 
 
(3 structures; 37 storeys; 750 units) 2851 Hwy 7
 
 
 
 
Melrose Investments Inc
 
 
 
 
 
 
 
Alberta
 
 
 
 
Minburn
Civil/Engineering
Grizzly Bear Creek Wind Facility
*
$250
 
 
(1 structure) AB-16
 
 
 
 
Enel Green Power
 
 
 
 
 
 
 
British Columbia
 
 
 
 
Surrey
Residential
156 Street Phased Residential Development
934
$180
 
 
(1 structure; 6 storeys; 975 units) 8560 156 St
 
 
 
 
Dawson + Sawyer
 
 
 
 
 
 
 
Yukon Territory
 
 
 
 
Whitehorse
Civil/Engineering
MCM-C&M – Faro Mine Remediation Project, Yukon Territory
*
$108
 
 
(1 structure) Multiple Locations
 
 
 
 
Public Works & Government Services
 
 
 
 
 
 
 
TOTALS:
 
 
2,064
$1,882
*A square footage measure does not apply for alteration and engineering work.
Data source and table: ConstructConnect – CanaData.
Trend lines of construction starts in Canada – June 2022
Moving totals of the latest 12 months*
(ConstructConnect Insight Forecast Figures)

*For example, the June 2022 figure is the sum of the monthly numbers for May 2021 through June 2022.
Data source and chart: ConstructConnect Insight – CanaData.
---
Interactive Visual
---
View this video to see how to use the filters in the Interactive Visual.
---
Please click on the following links to download the PDF versions of this month's Top 10 and Trend Lines:
Top 10 largest construction project starts in Canada – June 2022 – PDF
Construction Project Starts Trend Graph – Canada – June 2022 – PDF
---