The total number-of-jobs count in the U.S. rose by +315,000 in August, according to the latest Employment Situation report from the Bureau of Labor Statistics (BLS). At least, +315,000 is the figure that will be featured in media headlines; but it doesn't tell a totally accurate story.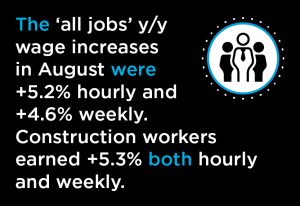 As is usually the case, there were revisions to the two previous months' numbers and this time the adjustments were downwards. When August's total jobs figure of 152.744 million is compared with July's originally reported level of 152.536 million, the gain realized was only +208,000 jobs.
In August versus July, the seasonally adjusted (SA) unemployment rate ticked up to 3.7% from 3.5%; the not seasonally adjusted (NSA) U rate, however, stayed the same at 3.8%.
The SA participation rate in the latest month improved to 62.4% from 62.1% in the month prior.
Even small changes in the participation rate can mean significant shifts in the size of the labor force. With the current scarcity of workers relative to job openings in the economy, any pickup in the participation rate is an occasion for cheering.
The monthly average climb in U.S. total employment this year so far has been +438,000 jobs, which hasn't quite kept pace with the +551,000 average for January through August of last year.
Employment in the construction sector in August rose by +16,000 jobs. This year's average monthly increase of +20,000 jobs has nicely outdistanced last year's average monthly performance of only +5,000 jobs.
At +14,000 jobs, specialty trade contractors accounted for the bulk of August's total payroll advance in construction. The NSA unemployment rate in the sector, though, eased back a little to 3.9% from 3.5% in July. A year ago, construction's NSA U rate was 4.6%.
There are a couple of other numbers in August's report that are encouraging for construction.
Employment with architects and engineers rose by +10,000 jobs. Activity in design services is a good leading indicator for work that will later take place on site.
Plus, employment with building material and garden supply retailers moved ahead by +7,000 jobs in August.
There's also a fascinating observation, based on supplemental data collected for August, that appears in the opening commentary of the latest Employment Situation report. Anyone hoping to see a revival in the number of people returning to their old office stomping grounds will be pleased to learn that the percentage of employed individuals who teleworked in August retreated to 6.5% from 7.1% in July.
The sector hardest hit when the pandemic first reared up was 'leisure and hospitality' and it's disappointing to see that the staffing increase at hotels, motels, bars, and restaurants in the latest month was tepid at best, +31,000 jobs. That's the lowest monthly increase in a year and a half.
The number of 'leisure and hospitality' jobs is still considerably below (-7.2%) February 2020.
Workers are continuing to chalk up big year-over-year gains in nominal earnings although, of course, everyone is complaining about how too-rapid price inflation is leaving them strapped for funds anyway.
The 'all jobs' y/y wage increases in August were +5.2% hourly and +4.6% weekly. Construction workers earned +5.3% both hourly and weekly. The 'all jobs' increases for only production workers (i.e., leaving out bosses) were +6.1% hourly and +5.1% weekly. The comparable advances for construction workers were +5.9% hourly and +6.2% weekly.
All things considered, there's nothing in August's labor market report that is likely to knock the Federal Reserve off its announced action plan of several more significant interest rate hikes to lift the federal funds rate to a position slightly above what used to be considered 'neutrality'.
---
Alex Carrick is Chief Economist for ConstructConnect. He has delivered presentations throughout North America on the U.S., Canadian and world construction outlooks. Mr. Carrick has been with the company since 1985. Links to his numerous articles are featured on Twitter @ConstructConnx, which has 50,000 followers.