A handful of construction economists assembled for a recent economic webinar agreed there would be belt-tightening required in the sector in the near term but there were also promises of a significant boom in the energy sector that would create a wave of megaprojects.
Four economic experts made presentations at the ConstructConnect Fall 2022 Economic Webcast held Nov. 15. One of them, Alex Carrick, chief economist with ConstructConnect, compared the seismic shift that will take place in the mid to long-term, spawning a new generation of large energy projects, to the industrial revolution.
"I am really optimistic about the outlook for construction over the longer term," said Carrick. "I really think there's a move underway that's as important as the industrial revolution at the end of the 1800s and the tech boom at the end of the 1900s. That movement that I'm talking about is the movement whereby the whole world is moving towards net-zero energy by mid-century."
That has huge implications in terms of the need for expanding power generation and for commodities markets, Carrick said. He foresees a commodity supercycle and an explosion in the trades jobs required for those sectors.
ConstructConnect senior economist Michael Guckes expanded on the theme. Given how the pandemic caused a rethink of supply chains and how current geopolitics has nations scrambling to access new sources of energy, he thinks world markets could well split into different spheres with a bifurcated energy market. One would focus on China and Russia, and another would see the U.S. and Canada exploiting their natural gas and other energy resources.
"We know logistical supports will require new pipelines, new ships, new terminals, all these things," said Guckes. "So as that market transforms, there's incredible opportunity there."
Three of the economists addressed whether North American builders will face a recession in the next year.
Kermit Baker, chief economist with the American Institute of Architects, commented, "Mostly indicators that lead to future economic trends are generally pointing down and most economists now feel that the probability of national economic recession over the coming year is quite high.
"However, they also feel that if we do see a recession, it will be a very mild one and that it will be relatively short lived."
Inflation could be tamed by next mid-year and the Fed could stop raising rates as early as the end of the first quarter, and even begin cutting interest rates by early 2024, Baker said.
Ken Simonson, chief economist with the Associated General Contractors of America, described himself as a "little more optimistic" than Baker about the immediate prospects for avoiding a recession, while Carrick said in the intermediate term construction will face uncertainty because of continuing high costs.
Baker discussed a survey of architects conducted last month that reported healthy earnings projected for 2022. About 60 per cent of firms expect revenues at their firms will increase by at least five per cent.
But next year is expected to be a different story, Baker said.
Architecture firms' overall revenues are projected to be flat on average, with only about a third of firms expecting gains.
The survey covered perceived client concerns, with the overall state of the economy topping the list of worries for next year. Next were inflation, rising interest rates, lack of staff and availability of contractors.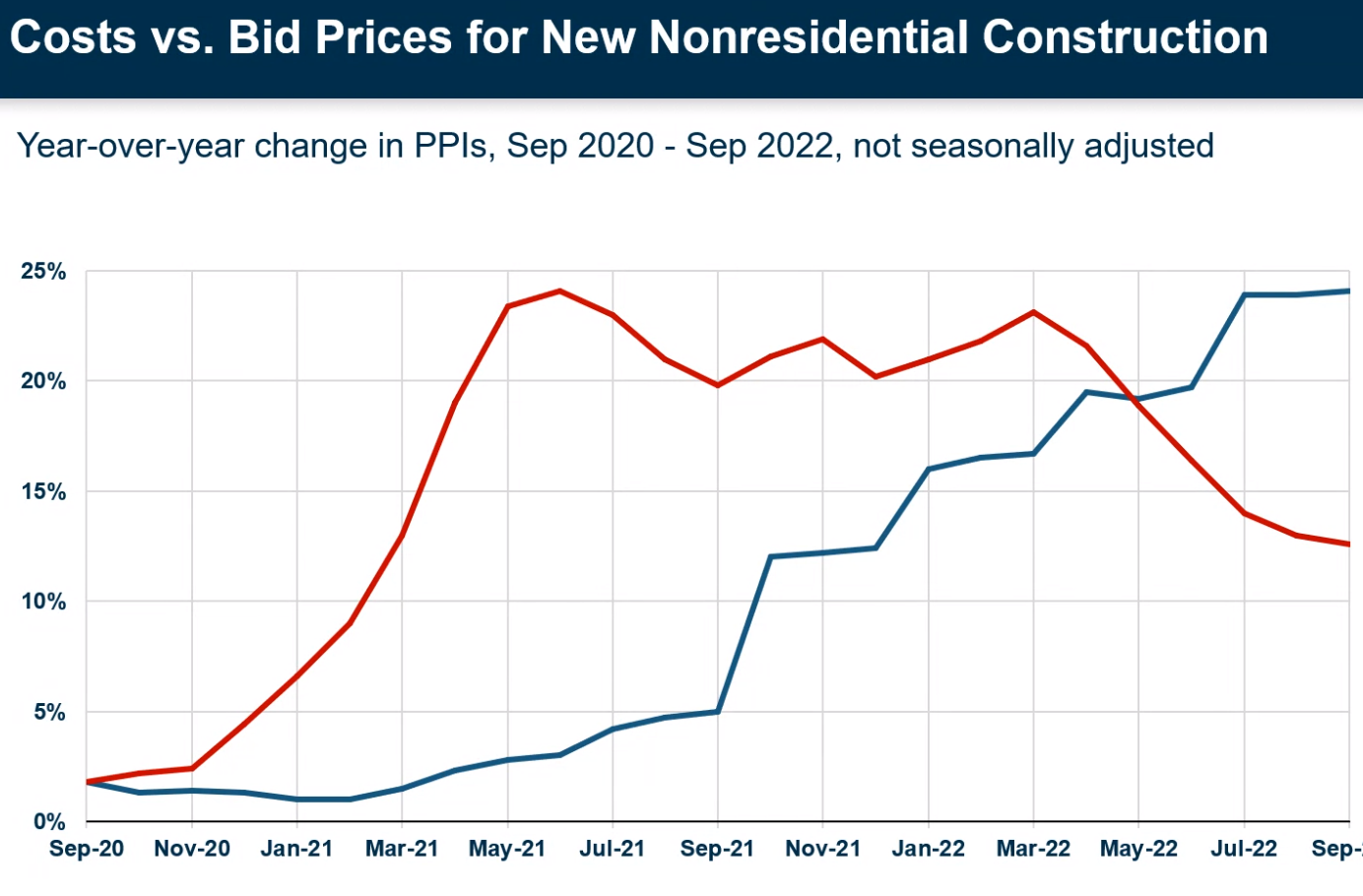 The workforce was also a prime issue raised by Simonson. The pay premium between workers in other industries and non-supervisory workers in construction has always been 20 to 23 per cent, he noted, but once the pandemic hit, other employers had to raise their wages which led to the premium falling to 16 per cent at one point. With the wage gap now smaller, construction jobs look less attractive than they used to.
"There's still the challenge that construction has to be done onsite in any kind of weather," said Simonson. "Other jobs now offer a lot more flexibility, work from home, hybrid, flexible hours, pick your days to come into the office and maybe even be able to take off in the middle of the day if a school calls.
"You can't do that in construction."
On the positive side, the U.S. government has stepped forward with the Infrastructure Investment and Jobs Act, the CHIPS Act and the Inflation Reduction Act, with the IRA offering billions in incentives for alternative energy projects.
"All of these things will stimulate additional onshore manufacturing," said Simonson.
Rounding out the panel was Fonda Rosenfeldt, senior director of product strategy with ConstructConnect. She reported that bid volumes have spiked this year, especially in the U.S., with double-digit growth each month.
On the other hand, Rosenfeldt said, researchers have seen evidence that tech giants such as Meta and Amazon are reconsidering office expansions as they weigh alternate and hybrid work solutions.
Follow the author on Twitter @DonWall_DCN.