Neither the U.S. nor Canadian economies have slowed enough to fully satisfy the central bankers in either country. Also, inflation rates in both nations may be half what they were at their peaks, but they are still viewed as being too rapid and, therefore, some further interest rate hikes can't be ruled out.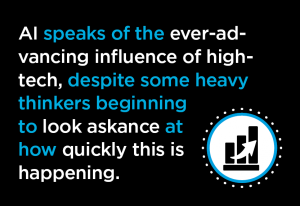 But surely this must be the tail end of the monetary tightening that has been underway since a year ago. Or, at least, that's what stock market investors seem to be thinking.
North America's major stock market indices are currently well up from the lows they reached in October of last year. Two of the indices, the S&P 500 and NASDAQ, are on the cusp of, or have traveled deep into, 'bull' territory (i.e., a gain from a recent hole of +20% or more). As of market closing on May 31, the former was +19.7% and the latter, +28.2%.
It's not just equanimity over the state of the economy, however, that is powering NASDAQ's recovery. A love affair is emerging with whatever companies are identified as spearheading advances in machine learning and artificial intelligence (AI).
The ripple effects from AI across the business sector center on improving product delivery systems, better management of inventory, upgrading customer relations, and enhancing productivity and profitability generally.  
The companies in the front lines of this emerging field include old tech stalwarts, plus some newer attractive 'upstarts': Advanced Micro Devices, Alphabet, Amazon, Apple, IBM, Micron, Microsoft, Nvidia, and Oracle.
Nvidia is a particular darling of the investing set. It makes the GPU (graphics processing unit) chips that facilitate AI and its share price has doubled over the past year. Many of the other companies mentioned have achieved big year-over-year share price increases, or impressive climbs in equity values since bottoming out last Fall.
The increase in Nvidia's capitalization recently propelled it into the trillion-dollar club along with only four other companies to ever reach that milestone: Alphabet, Amazon, Apple, and Microsoft.
AI speaks of the ever-advancing influence of high-tech, despite some heavy thinkers beginning to look askance at how quickly this is happening.
Here's another example of high-tech being embraced in a surprising way. One interesting idea for how traditional retailers, facing abandonment by the upsurge in online sales, may be able to attract back customers in the flesh, is through a now more readily available usage of holograms.
3-D images can show off products better (e.g., how dresses and jackets 'drape' front and back). There's also the possibility of having some favorite Hollywood star from long ago welcome shoppers as they step through doorways.
Finally, as well as NASDAQ has been performing, it's not the hottest stock market in town at the moment. That accolade goes to Tokyo's Nikkei index. The May 31 closing value of the Nikkei 225 was +13.2% year over year and +7.0% month to month.
The Japanese economic story is the inverse of what has been happening elsewhere. For decades, Japan has contended with problems, such as negative nominal interest rates, related to deflation. Now, a return to some degree of inflationary pressure is being warmly welcomed.
Table 1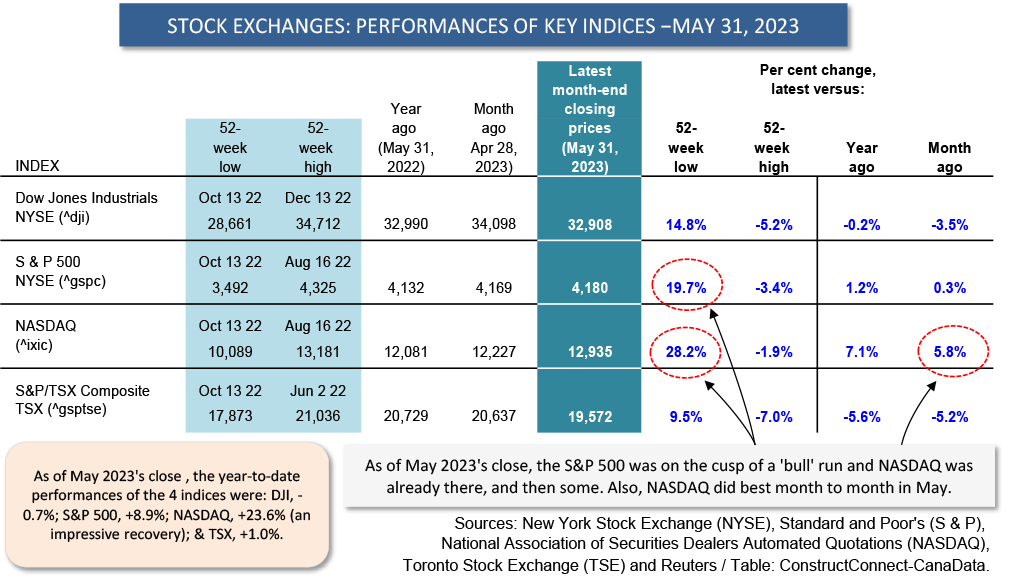 Graph 1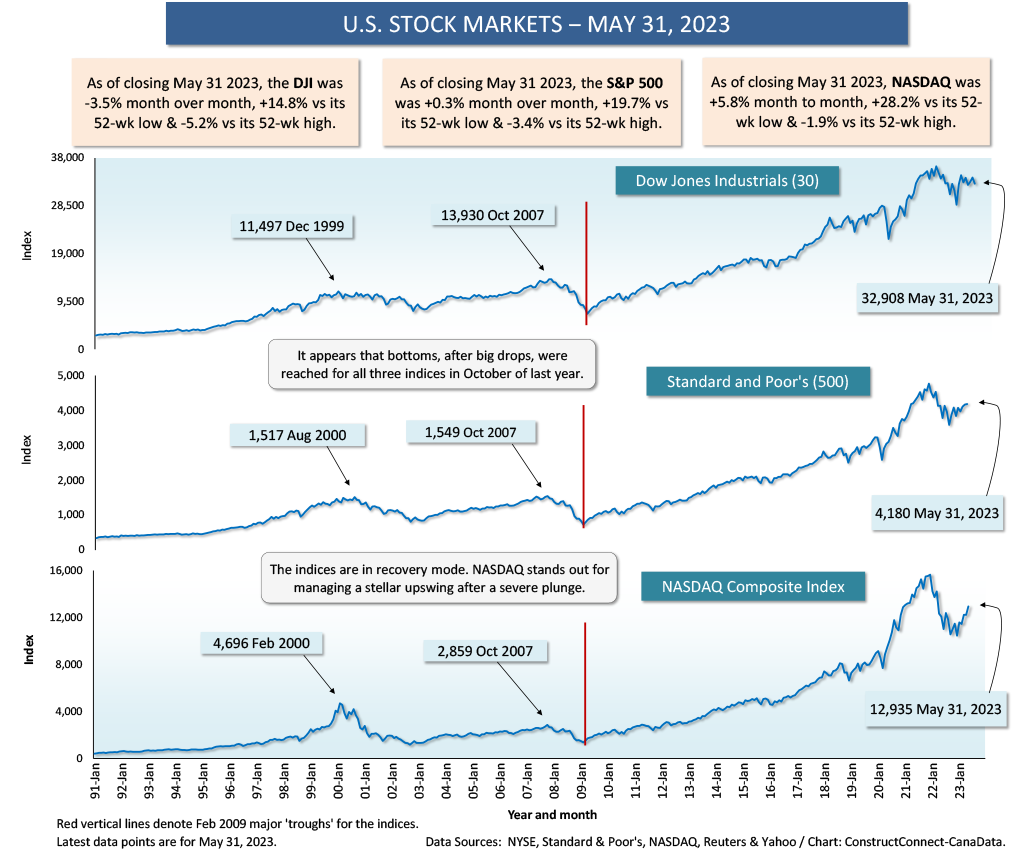 Graph 2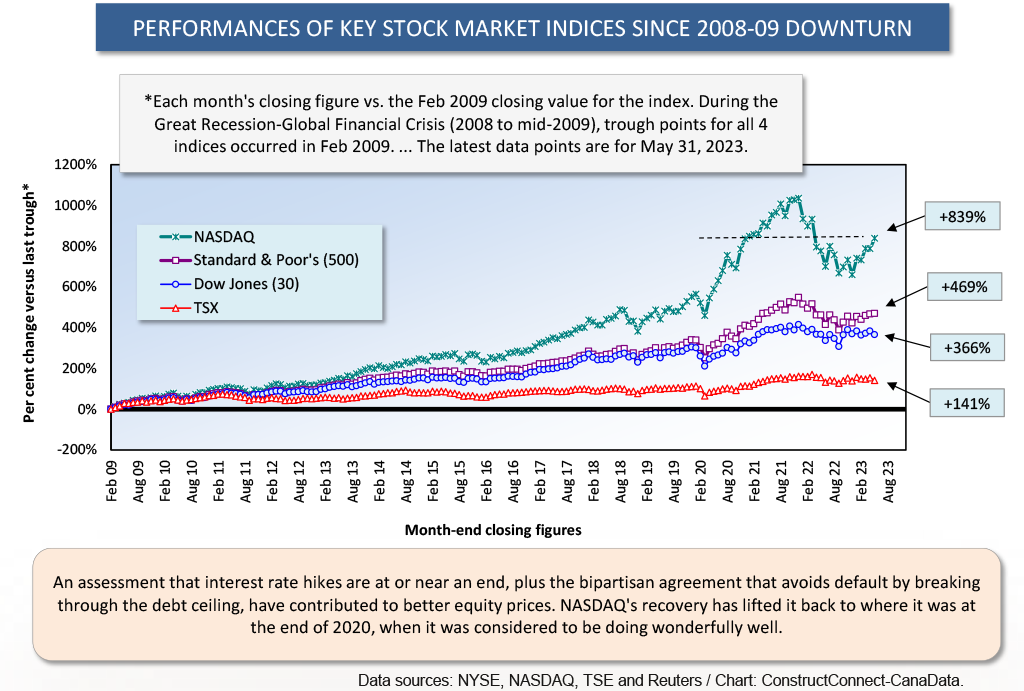 Table 2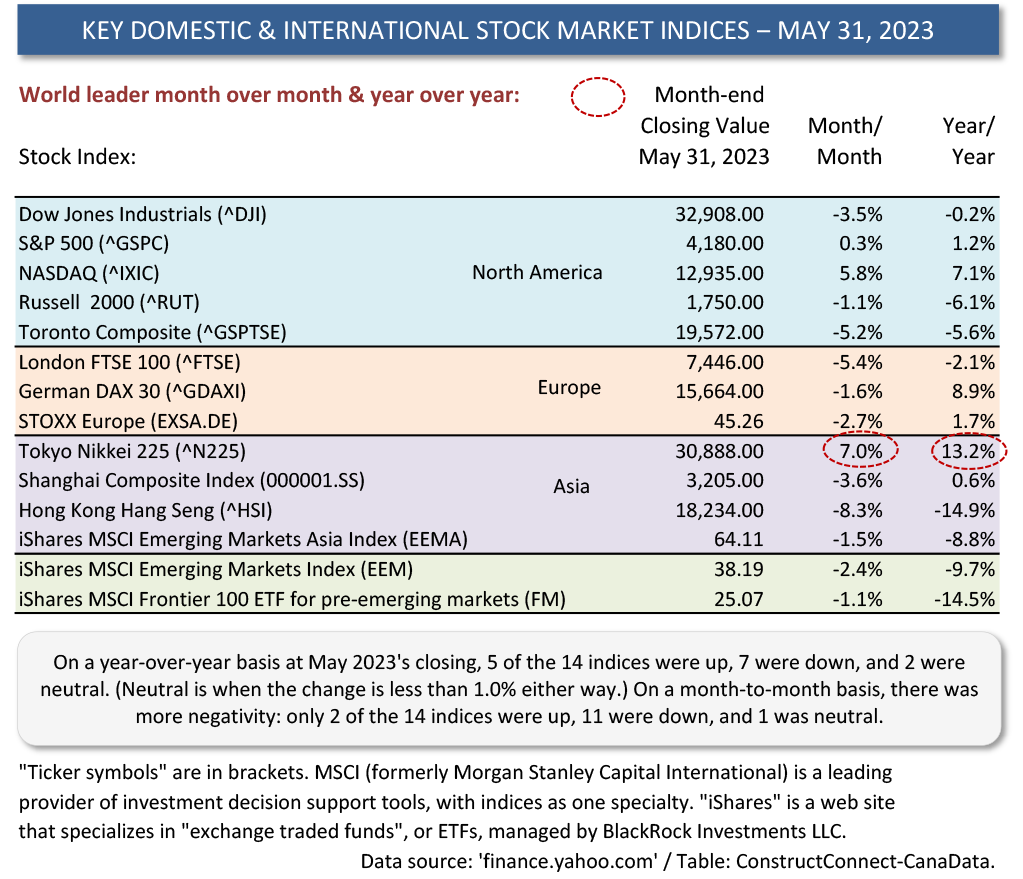 Graph 3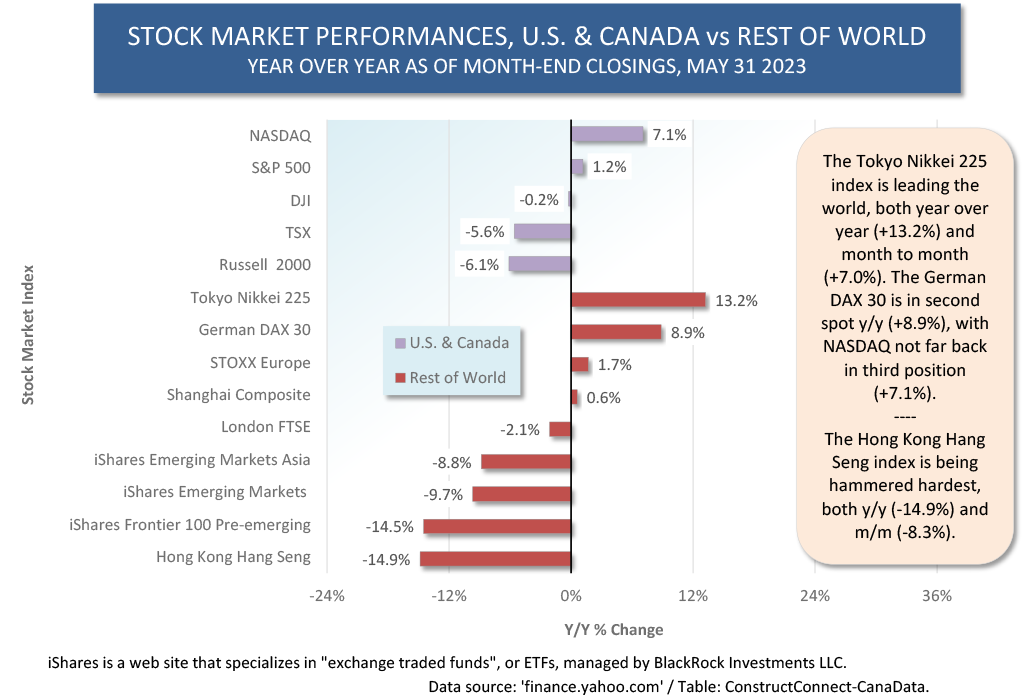 ---
Alex Carrick is Chief Economist for ConstructConnect. He has delivered presentations throughout North America on the U.S., Canadian and world construction outlooks. Mr. Carrick has been with the company since 1985. Links to his numerous articles are featured on Twitter @ConstructConnx, which has 50,000 followers.