Canada's new Governor General Julie Payette announced honours for several giants in the project design and construction sectors amid 125 new appointments to the Order of Canada unveiled Dec. 29.
Landscape architect Cornelia Hahn Oberlander of Vancouver was one of four Canadians named to the highest rank, companion.
Queen's University engineering professor R. Kerry Rowe of Kingston, Ont., a specialist in engineered containment of contaminants, along with Waterloo University engineering professor Keith Hipel, an authority on systems analysis that develops solutions in water resources management, environmental engineering and other applications, were among 35 officers named.
Among 86 new Order of Canada members appointed were real estate and construction magnate Carlo Fidani of Mississauga, Ont.; Vancouver's Richard Henriquez, an urban architect whose portfolio includes Vancouver's Gaslight Square and the New Westminster's Justice Institute of British Columbia; brothers and philanthropists Joseph and Wolf Lebovic of Aurora, Ont., whose Lebovic Enterprises has been a major constructor of condominium residences and single family homes in the Toronto region for over half a century; and Karim Wade Nasser of Saskatoon, a real estate developer responsible for a wide range of commercial, industrial and residential builds and investments in his home province.
Other new members are Toronto's Stephen Otto, a long-time Ontario architectural heritage conservation activist; Gregory Smallenberg of Vancouver, an influential landscape architect and founding principal of PFS Studio with numerous award-winning projects around the world to his name; and engineer Harold Orr of Saskatoon, a pioneer in energy-efficient homes dating back to the world's first Passive House project in 1977.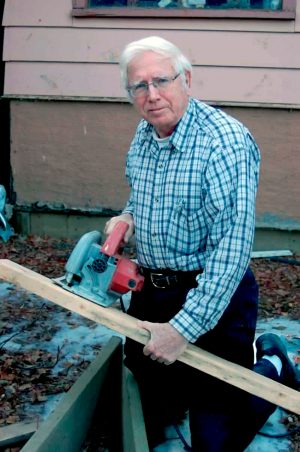 In an interview, Orr discussed a range of innovations he has been involved with over a 70-plus year career in design and construction that began with carpentry work alongside his father at the age of 12.
"I was very surprised," said Orr about learning of the Order of Canada selection. "I've have several honours over the years but this was totally unexpected."
Orr's 1962 master's thesis at the University of Saskatchewan studied an air-infiltration instrument in housing and air tightness has remained his guiding principle in consulting on energy efficiency ever since. Early in his career he designed and built the first blower door, the standard instrument to measure tightness of buildings still in use today.
"The one component that is most important is the one that is usually neglected, the air-tightness component," said Orr, noting other efficiency measures such as insulation are not as effective if there is still rampant air flow through the walls and ceiling.
"Basically what you want to do is put a garbage bag over your house with a twist tie and add insulation."
While he's often recognized for his work on the first Passive House, the Saskatchewan Conservation House, Orr has worked on other smaller jobs that are more efficient than that world standard build.
One recent fourplex renovation project he worked on with his daughter in Regina was rendered so air tight that air flow was reduced from 11 air changes per hour to less than two. The energy cost savings have been dramatic, he said.
His double-wall technique was used by a Winnipeg builder in the 1980s who managed to construct homes with a miniscule 0.12 air changes per hour.
"I don't think anyone else in the world has ever done houses of that tightness," Orr said. "That is basically five times the tightness of the Passive House standard."
Fellow engineer Rowe over in Ontario similarly described solutions he helped develop decades ago that are still as relevant as ever. His resume includes more than 340 refereed journal papers, three books and 330 full conference papers. He is active both in the academic world and in private consulting, with expertise in contaminant migration through soil and rock, landfill design, development of geomembranes and reinforcement of embankments and walls.
"It is probably not typical of the academic sector but it is typical of people who have been successful in engineering," said Rowe of his diverse workload.
"Often one discovers the research you really need to best answer problems (in consulting) hasn't yet been done so that has led me to doing a lot of the research that I've done over more than 30 years."
Asked to name an especially satisfying project, Rowe points to the Halton Waste Management Site in Milton, Ont. as one that remains state-of-the-art 27 years after it was built, with a project life that might go 15 or 20 years more than originally planned. The particular hydraulic containment design was required because the leachate levels in the landfill are below groundwater levels, so an alternative migration method is relied on.
"It was probably one of the first facilities, if not the first, to be designed carefully considering the effects of diffusion as well as leachate flow," he said.
On the other side of the world, he recently worked on an Antarctic diesel spill mediation project that is serving as a model for others in the area.
"Soil is extremely rare in Antarctica and it is a valuable source and can't be wasted," said Rowe.
Presentations and ceremonies honouring the recipients will take place later this year.