OTTAWA – Federal Finance Minister Bill Morneau's last federal budget before the next federal election includes a one-time $2.2-billion top-up to the federal Gas Tax Fund supporting municipal infrastructure.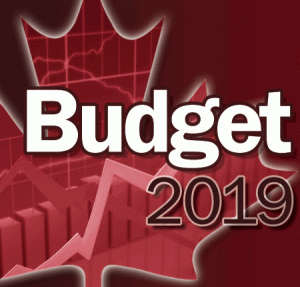 The budget, unveiled March 19, also includes measures to encourage first-time homebuyers buy newly built homes, support construction of 42,500 new rental housing units, boost spending on energy efficiency in residential, commercial and multi-unit buildings in conjunction with the Federation of Canadian Municipalities (FCM) and expedite upgrades to drinking water infrastructure in First Nations communities.
The top-up of the Gas Tax Fund represents a doubling of the government's previous commitment, Morneau said, adding it was part of "building strong communities." This top-up is intended to be spent this fiscal year.
"One of the ways we do that is by making sure that our cities and towns have the resources they need to invest in local priorities, whether it's expanding a public transit route, repairing potholes in the spring or building a new playground or community garden," the finance minister said in his budget speech.
Morneau told reporters, "From what we've seen, we have not been able to get as many projects done in some places, places such as Ontario, Saskatchewan, Manitoba, New Brunswick, as we'd like. So we've put a municipal infrastructure top-up to ensure that more projects get done across our country. $2.2 billion, we think, it's an important demonstration of our ongoing commitment to built infrastructure in this country and we are going to work with people who want to work with us to make sure that happens."
The Liberal government expects to run a deficit of $14.9 billion for 2018-19, significantly lower than the $18.1 billion projected in last fall's economic statement, thanks to higher revenues than anticipated, but Morneau expects the deficit for 2019-20 to rise to $19.8 billion, up slightly from the previously projected $19.6 billion.
The 2018-19 fiscal year closes at the end of March. If the federal budget implementation bill is approved as expected later this spring, the Gas Tax Fund allocations would be forwarded to municipalities to cover projects approved for the April 2018 to March 2019 period.
The top-up is allotted for three streams of projects – productivity and economic growth; strong cities and communities; and clean environment. Examples in the first category include bridges and highways, short-sea shipping, short-line rail, regional and local airports, broadband connectivity and public transit.
The top-up is separate from the 12-year, $180-billion Investing in Canada infrastructure plan announced in 2016. The budget document acknowledged that spending under that program has been slower than anticipated and outlined steps being taken to streamline approvals and improve financial reporting.
The new First-Time Home Buyer Incentive announced by Morneau would allow eligible homebuyers who have the minimum down payment to apply to finance a portion of their home purchase through a shared equity mortgage with the Canada Mortgage and Housing Corporation (CMHC). The program, expected to benefit 100,000 first-time homebuyers over three years, encourages new-home construction by offering first-time buyers a 10 per cent shared equity mortgage for a newly constructed home, twice as much as for existing homes.
The construction of new rental units will be boosted by an expansion of the previously announced Rental Construction Financing Initiative. The CMHC launched the program in 2017, offering $2.5 billion in low-cost loans, and the 2019 budget provides for an additional $10 billion over nine years.
There was also a Housing Supply Challenge announced that will invite community and other groups to develop proposals to reduce barriers that limit new-home construction. The program will run through Impact Canada with funding of $300 million.
The partnership with the FCM will see $1.01 billion spent through three different energy-efficiency programs, with funding through the government's Green Infrastructure Fund. The Collaboration on Community Climate Action will provide financing to retrofit large community buildings and for other programs.
The FCM will also receive $60 million to further its Municipal Asset Management Capacity Fund, targeted to help small communities with limited resources develop asset management plans.
New infrastructure funding for Indigenous communities was announced as part of a budget chapter titled Advancing Reconciliation. The government said it will spend an additional $184.9 million per year above previous commitments over five years for "urgent repairs" to water systems, water operator training and other support programs.
There was also spending pledged for on-reserve infrastructure projects to protect First Nations communities against damage caused by climate change.
Morneau also announced a new set of investments by the Canada Infrastructure Bank (CIB). The CIB will spend up to $1 billion over the next 10 years to increase broadband access across Canada, with the spending expected to leverage at least $2 billion in private capital.
Otherwise, the CIB remains "actively engaged with governments and the investor community on major project opportunities across the country," the budget said.